Middle school XC practice starts soon
Practice starts Aug. 24 for middle school cross country. The XC season lasts through October. Practice will be held at HRMS and at Wy'east Middle School. The program runs Mondays through Thursdays with a couple of meets on two weekend days. Scholarships are available. New runners and those who have not had a sports physical in the last two years must have a sports physical and should contact their physician. Signup can be done through Community Ed and at middle school registration day. For more information, contact Steve Wrye at stevewrye@gmail.com or 541-806-3998.
Middle school XC coaches wanted
Community Ed is looking for middle school cross country coaches for the fall season. Practices are three weekdays a week with one meet a week. Practices are from 3:30-4:30 p.m. Those who are interested can contact head coach Steve Wrye at stevewrye@gmail.com or 541-806-3998.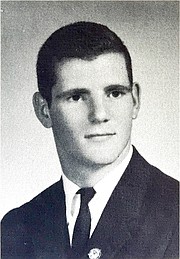 Sports story correction
In Saturday's edition, we ran a story regarding the Hood River Hall of Fame story that mentioned one inductee, Eugenio "Pepe" Quintanilla, had graduated in 1982. Quintanilla actually graduated in 1981; we regret the error. In the same story, we used what we thought was Ed Wells' 1963 senior photo that originally ran in the graduation announcement of the May 23, 1963 edition of the Hood River News. Turns out the photo was of Mike Weathers, not Ed Wells, and looks like other photos were mislabeled in the graduation announcement. We apologize for making the error in 1963… and then repeating it 52 years later. The correct photo of Wells is included at below left — courtesy of Keren Dierickx (thanks!).
Erin Jones wins Milwaukee Super Sprint
Fresh off her 17th-place finish at the Olympic qualifiers in Rio de Janeiro earlier this month, 2009 Hood River Valley High School graduate and pro triathlete Erin Jones took first place in the Milwaukee Super Sprint this past weekend. Jones completed the race (a 325-meter swim, a 4-kilometer bike race and 1.5K run… and then the exact set of exercises all over again) in 35 minutes 46 seconds. Jones next heads to Stockholm for the ITU World Series on Aug. 22.
Fall sports sign-ups going on now
Sign-ups for the Hood River Valley High School 2015 fall sports season are currently going on and can be done online at familyid.com (search for Hood River Valley High School). Sports offered this season include cheer, football, boys soccer, girls soccer, water polo, volleyball, and cross country. The participation fee is $140; those who are on free and reduced lunch may also be eligible for an adjusted participation fee. The registration site states that "no student will be denied participation if a financial hardship exists." Those who need help or have issues accessing a computer can come to the high school's computer lab Aug. 11 and 12 from 4-6 p.m. to get registered. Athletes must bring proof of an up-to-date physical, pay method (check, money order, or credit card), and a parent. Those with questions can contact the HRVHS athletic department at 541-386-2318. Mandatory practices start Monday, Aug. 17.
Final Gorge Cup race Aug. 15
The last windsurfing race in the Gorge Cup series will be held this Saturday at the Event Site at the Hood River Waterfront. Registration is at 8:30 a.m. (or can be done online at gorgecup.com) and the skipper's meeting is at 10, with a barbecue and an awards ceremony after the race. The previous race, held on Aug. 1, saw Tyson Poor place first out of 25 competitors, followed by MacRae Wylde in second and Stefan Lidington in third. Through five races, MacRae Wylde is the top of the heap with 6.7 points (lowest score wins), trailed by Tavis Perez (12 points) and Sam Bauer (23 points). For more info and updates, head to gorgecup.com.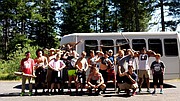 Wrestling and rafting
Recently, the HRVHS wrestling team traveled to Maupin and attended the 15th Annual Whitewater Wrestling Camp. The camp culminated in a rafting trip down the Deschutes River and Coach Trent Kroll said that "it was a great event and the wrestlers represented Hood River very well both on and off the mat." Pictured below on the trip are wrestlers Angel Jones, Cade Parker, Andrew DeHart, Emma Kroll, Sam Ahrens, Dylan Castilla, Payton Rigert, Tristan Keely, Robert Frasier, Trystan Fisher, Junior Manzo, Chas Peterson, Justin Wilson, Adrian Ramirez, Cameron Perez, Jesus Gordian, and Ryan Zeller.