Three athletes represented Hood River at the world championship CrossFit Games and recently returned from the competition not only in one piece (mostly), but with honors as well.
Hood River CrossFit athletes Christine Wells, Regan Huckaby, and Karen McCadam competed against some of the best athletes in the world late last month in the game, which are broadcast live on ESPN as competitors perform a series of grueling "exercises" (they sound more like punishments) in an attempt to be crowned the "fittest" man or woman on Earth. The three qualified for the games after receiving high marks at regional competitions this spring.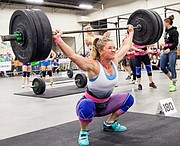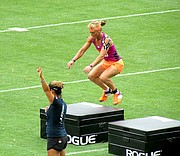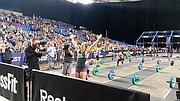 Christine Wells, who manages the gym on West Cascade Avenue and headed to the games for the second year in a row, placed 14th out of 20 in the Masters 45-49 category at the CrossFit Games, which were held at StubHub Center near Los Angeles, home of the LA Galaxy soccer team. Huckaby, also in her second year at the games, finished 33rd out of 40 in the 18-39 category, near where she finished last year.
Finally, Karen McCadam, who is new to the games this year (but far from new to CrossFit), landed in second place out of 20 in the Masters 40-44 category. And not only did she place second, but Wells said McCadam did it while dealing with a bone spur in her heel.
"She's been battling a couple injuries, so she actually did really well," she said. "She did awesome."
For those who aren't familiar with CrossFit, it is an exercise discipline that stresses all-around fitness. Athletes perform what are called "functional-based movements" in high intensity workouts that usually rely on equipment such as ropes, barbells, medicine balls, etc., as opposed to machines.
At the CrossFit Games, athletes are required to perform a number of workouts in one day and receive new workouts (with little advance notice of what those were) over a period of three or four days, while racing to beat their opponents. The "workout" isn't just one activity though. Take for example Wells' best workout, "The Long Chipper," which consisted of: a 1000-meter run, 25 ground-to-shoulders, 25 box jump-overs, 25 chest-to-bar pull-ups, 50 wall-ball shots (tired yet?), 25 chest-to-bar pull-ups, 25 box jump-overs, and 25 ground-to-shoulders. Wells, who, at age 49 is at the upper end of the age group, finished in sixth place in the event.
"There were a lot of young bucks that came into our age group, so it was a lot more challenging this year, but I knew that going into it," she said, and added, "I guess 14th in the world isn't so bad."
In the 40-44 category, McCadam was able to achieve second place overall after going out on a high note, with her best workout coming at the end of the competition when she placed first in a workout known as "Amanda," which consists of 9-7-5 reps of muscle-ups and squat snatches.
In the 18-39 category, Wells said Huckaby had her best workout in the "Soccer Chipper," where Huckaby had to "pig flip" for 100 feet (essentially pushing end-over-end a device containing a set of weights), four legless rope climbs, and a 100-foot handstand walk. Huckaby tied for eighth in that event in what Wells said was a highly competitive age category.
"Most of the people who are in that class, that's what they do for a living," she explained. "They just train."
Wells said CrossFit Hood River owner Jeri McMaster was pleased with the results and thrilled with the amount of athletes in Hood River who qualified.
"There's a couple other gyms that had a couple athletes at the games, but it's rare to get thet many gyms with that many athletes, especially from a town and a gym our size," Wells said.