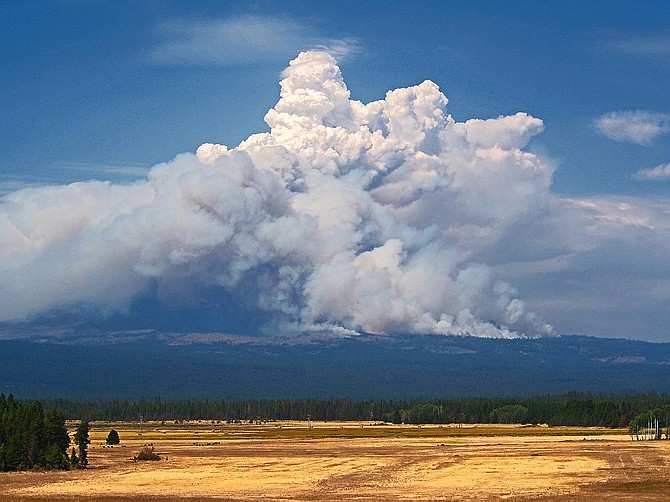 This story has been updated.
An angry curl of smoke over Mt. Adams signaled one of the largest fires the Columbia River Gorge has seen this summer.
The Cougar Creek Fire, burning 18,000 acres of forest land on the southeast slope of Mt. Adams in Washington, is still zero percent contained as of Friday morning, fire agencies say.
The fire doubled in size between Wednesday and Friday and is creeping northeast, along the east aspect of Mt. Adams.
Lightning sparked the fire Monday evening. The blaze took off six miles northwest of Glenwood, Wash., in forest land and blew smoke in a great plume — like a storm cloud — that locals saw Tuesday from as far as Hood River, roughly 46 miles to the south.
Firefighters are still scrambling to seal a perimeter around the southern breadth of the fire, which is burning timber, tall grass and leftover woody debris (or "slash") from logging.
Firefighting efforts are being coordinated by Washington Interagency Incident Management Team No. 5, which took control of the scene Wednesday morning. The fire crew was about 330-strong on Friday, according to a report by InciWeb, a natural disaster alert site.
The Cougar Creek Fire is challenging to knock down due to "treacherous terrain," which limits access to the scene, and "heavy fuel loading from bug-killed timber and the remains of the Cold Springs and Cascade Creek Fires," InciWeb reported. Dead trees from those previous fires have fed the blaze.
Another concern is bad weather coming this weekend in southwestern Washington. A thunderstorm threat, "continued unsettled weather," and a cold front passage are all expected.
According to longtime fire observer Darryl Lloyd, of Hood River, the fire is historic in scope.
"The last major fire in this area was the 'Great Conflagration of 1885,' which burned … about 17,000 acres," said Lloyd. "The Cougar Creek Fire now appears to have exceeded it."
Though smoke from the blaze is visible from cities across the Columbia River Gorge, firefighting efforts remain in Washington's jurisdiction thus far.
No fire agencies from Hood River County responded to wildfire as of Thursday, said West Side Fire Marshall Jim Trammell. However, local crews are poised "on standby for a possible conflagration" assignment in Oregon, Trammel said.
The sites of concern are lightning-caused fires burning in the Warm Springs Indian Reservation and in Baker County. Dubbed by fire crews as the "Cornet Fire," the Baker County blaze is eating up 12,000-plus forest acres and threatening multiple structures, according to a Thursday report by InciWeb.
The American Red Cross reported Thursday that Baker City Middle School has become an evacuation shelter for residents fleeing that fire.
Trammel was unsure if Hood River County can muster enough volunteers to assist the Baker County fire "strike team."
The fire marshal said summer fire volunteer forces have been sparse. He attributed the shortage partially to more laborers opting to working at orchards instead. Pear harvest has commenced early across Hood River Valley due to dry and hot conditions.
The same night lightning sparked the great Cougar Creek Fire on Mt. Adams, Hood River got a sprinkle of rain — but Trammel said small amounts of rain do little to ward off the threat of fire.
"A little bit of rain may stop a grass fire for a few hours or a day," but it won't remedy dry fuel conditions, according to Trammell. Dead fuels work "like a sponge," he said, and need to absorb moisture from continued humid conditions.
"We're still at high to extreme level of danger. The fuels are extremely dry … it's pretty much off the charts," said Trammell.
Trail closures
Many scenic trails on Mt. Adams are closed due to the Cougar Creek Fire.
Trail closures as of Friday morning include Mt. Adams Summit south climb trail, Horse Camp, Snipes Mountain, Stagman Ridge, Buck Creek, Pine Way, Crofton Butte, Salt Creek and Looking Glass Lake.