Hard work in the past, more hard work in the future.
Monday's action by City Council adopting housing strategies for the city to follow gives the Planning Department a detailed task list that will dominate its duties for the next year.
Monday's meeting was a continuation of the Aug. 10 public hearing on the subject, which has drawn ample attention from many quarters, including real estate and property management professionals who had questioned Strategy Two: some form or regulation of Short Term Rentals (STRs) including vacation rentals.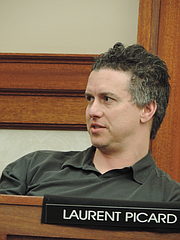 On Monday, council decided on specific steps city staff should take to deal with the issue, regarded by many as a key contributor to drawing down the amount of land available for diverse types and costs of housing.
"We need to slow it. We can't stop it, but we need to slow the growth (of rentals)," said Council member Laurent Picard, who claimed "I have done the research" on what other cities, including Bend, have done.
"The need for (Strategy 2) is (rentals do) reduce the amount of available housing," Council member Becky Brun said.
"Whatever we do, we need to do more than monitor it," Picard said. "We have a problem. We have to stop the increase."
"Today was a busy day with lots of new comments received," city Planning Director Cindy Walbridge said.
City manager Steve Wheeler said the council action is the first step toward giving city staff specific directions on what code, zoning or others to recommend to Planning Commission and City Council for adoption in the next few months.
"This is a living document," Wheeler said.
Population: ?
Planning director Cindy Walbridge told City Council that the city is among the first cities in the state in line for new forecasts, the work to start this fall, under a new system in which all such forecasting is done by the Portland State University Population Research Center.
A two-part official action, needed to meet the Aug. 29 State deadline, was adoption of two ordinances: one adopts the Building Lands Inventory and Housing Analysis done by the city in early 2015, and the other amends the Hood River Comprehensive Plan by adopting a new, updated population forecast. The original document had city population figures but not those for Urban Growth Area, which have now been added.
Before adoption the council amended the comprehensive plan ordinance to follow a Goal 10 planning model used by the City of Albany, which came at the behest of the Hood River Valley Residents Committee in a July 6 letter urging the city to consider that regulations that "address not just the houses themselves but also the ways housing works with other elements to create great neighborhoods." Albany's Goal 10 policy encourages "supporting neighborhood identity; locating parks, trails, schools, daycare and churches in close proximity to residences; incorporating natural features and spaces into developments; and connecting and orienting new neighborhoods to village centers."
"It's all about connectivity," said Brun, who also asked for the second change: to encourage residential development "that encourages conservation of water and energy."
Brun wanted the council to expand on the strategy developed by consultant Beth Goodman of EcoNorthwest between January and June 2015, which states that "the city should manage the land within the Urban Growth Boundary to increase housing development capacity as much as possible, while maintaining the character and quality of life in Hood River."
The council reviewed the multiple policy points within the strategy document created by Goodman after extensive work with a citizen-based Technical Advisory Committee (TAC) and the Planning Commission.
Increasing efficiency is Strategy One, containing ideas such as decreased density in some areas; Strategy Two deals with secondary structures and STRs; Strategy Three is a broader effort at developing affordable housing options, emphasizing cooperation with other agencies.
"This is the biggest step we've seen on this (affordable housing). Tonight. Right here," said Maui Meyer of Hood River after the council finished its work Monday. Meyer added that federally-supported affordable house construction funds are available, and formal action like the city's is a major step toward making them accessible locally.
Also in the audience was Joel Madsen, director of Mid-Columbia Housing Agency, which has pledged to be an active partner with the city in gaining funding and coordinating projects to create more housing.
A pivotal aspect of adopting the three strategies came with what are known as points "2.1, A through D," under secondary and rental home regulation. Strategy 2.1 is "enhance the existing system for licensing and permitting short-term rental housing."
Picard was insistent that the city needed to firm up those strategies, as a linchpin to making Strategies 1, 2 and 3 work together.
"They are all of a piece, and considering them as a whole is going to be tricky," he said.
Items A-D were adopted, and deal respectively with developing a system of inspections, developing guidelines for short-term housing management about occupancy, garbage collection, parking limitations and other relevant issues," and requiring a local contact for short-term rentals.
Council discussed at length proposed Strategy 2.3, which would "evaluate whether to prohibit new STRS in news townhomes, the PUD ordinance, cottage code and Accessory Dwelling Unit ordinance.'
Council deleted 2.3 and replaced it with a bullet point considered by TAC, on limiting the number or amount of short-term rentals.
What the council adopted was "to evaluate options to limit the number or amount of short-term rentals for the entire city." The council pointedly ruled out doing by neighborhood or street, but will ask the staff to come back with other options for encoding STR limitations.
"Perhaps by astrological sign," joked Council Member Mark Zanmiller.
"This is our instruction to change the curve," said Mayor Paul Blackburn, referring to the steadily increasing number of STRs and vacation rentals. Blackburn also said that what the city had suggested from the start was "not as aggressive as some folks made it out to be."
"We have a trend, and it's a real problem," said Zanmiller. "I think we need to have a knob on these," as in a point where the city can turn to and use as a starting point to limit STRs. "When we say, 'here's the ceiling,' it needs to tied to a particular point tin time."
One issue with any STR regulation is that the city admits it does not know precisely how many such homes exist now — the figure is somewhere between 8-12 percent of all residences in the city.
Brun said, "We can't do a cap, because we don't know how many there are." Brun said Strategy 2: 2.1 A-D will give the city the numbers it needs.
Council member Kate McBride said, "However we do this, we have to have someone to track it."
Wheeler and Walbridge said that will almost certainly require added personnel.
"It's a new work area for us," Wheeler said.
"It's a fire," Picard said of the STR growth. "We're not going to stop the increase. But we have to have a strategy toward that end. Give us some knobs to install."
"I don't see it as a fire. I see it as something we need to address," Zanmiller said.
Brun said of points A-D, "I think this is important, but in terms of reducing the number of STRS, I don't think this is addressing that problem. It addresses a different problem that deals with quality of life, but fees and a system of inspections are not going to make more land available for housing."
Picard and Blackburn noted that it could deter some homeowners from going the rental route, and disqualify some if they cannot meet parking codes, for example.
Brun asked for, and received, council approval of considering amending the strategy language to say that "the goal of regulating short-term housing is to protect the public interest such as affordable housing, health and safety, and municipal revenue, while giving city residents reasonable latitude to earn money through short-term (rentals)."
Replied Picard, "I don't think we should get that specific," in terms of public interest factors.
"It puts more 'why' behind it," Brun said.
Wheeler said, "Send us some language and we'll bring some options to you."