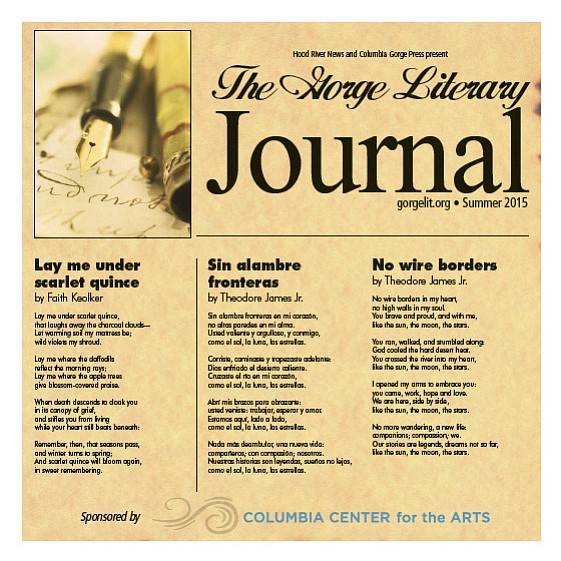 The Gorge Literary Journal is coordinated and edited by Julie Hatfield and John Metta and assistant editor Sarah Sullivan, and is a joint project with Hood River News and Columbia Gorge Press.
The journal gives voice to writers in the Columbia Gorge, and is made up of previously unpublished poems, essays, and flash fiction (500 words or less) centered on living in the Gorge.
The Gorge Literary Journal is sponsored by The Columbia Center for the Arts.
About Gorge Literary Journal
Welcome to the inaugural issue of the Gorge Literary Journal, a joint project with The Hood River News. Our goal is to give local writers an outlet for sharing their work.
We thank everyone who submitted, as we received more excellent pieces than we could include. Our next anonymous submission deadline will be November 1, for publication tentatively planned in February 2016. Please pay close attention to the sub-mission guidelines at www.gorgelit.org/submission.
As always, keep writing, with best wishes from co-editors John Metta and Julie Hatfield, and assistant editor Sarah Sullivan.
Comments may be directed to editor@gorgelit.org.
Lay me under scarlet quince
by Faith Keolker
Lay me under scarlet quince,
that laughs away the charcoal clouds—Let warming soil my mattress be; wild violets my shroud.
Lay me where the daffodils
reflect the morning rays;
Lay me where the apple trees
give blossom-covered praise.
When death descends to cloak you
in its canopy of grief,
and stifles you from living
while your heart still beats beneath:
Remember, then, that seasons pass, and winter turns to spring;
And scarlet quince will bloom again, in sweet remembering.
Sin alambre fronteras
by Theodore James Jr.
Sin alambre fronteras en mi corazón,
no altas paredes en mi alma.
Usted valiente y orgulloso, y conmigo,
como el sol, la luna, las estrellas.
Corriste, caminaste y tropezaste adelante:
Dios enfriado el desierto caliente.
Cruzaste el río en mi corazón,
como el sol, la luna, las estrellas.
Abrí mis brazos para abrazarte:
usted veniste: trabajar, esperar y amar. Estamos aquí, lado a lado,
como el sol, la luna, las estrellas.
Nada más deambular, una nueva vida: compañeros; con compasión; nosotros. Nuestras historias son leyendas, sueños no lejos, como el sol, la luna, las estrellas.
No wire borders
by Theodore James Jr.
No wire borders in my heart,
no high walls in my soul.
You brave and proud, and with me,
like the sun, the moon, the stars.
You ran, walked, and stumbled along: God cooled the hard desert heat.
You crossed the river into my heart,
like the sun, the moon, the stars.
I opened my arms to embrace you:
you came, work, hope and love.
We are here, side by side,
like the sun, the moon, the stars.
No more wandering, a new life: companions; compassion; we.
Our stories are legends, dreams not so far, like the sun, the moon, the stars.
Flight
by Sarah Sullivan
I met Mary's son Jonah in the thick of summer on the front porch of that old house she grew up in, the one we had transformed into a million things as little girls— boat, castle, ballroom. At two Jonah was just learning to walk and his movements seemed disjointed and electronic. Mary stepped into the house to make some tea for us.
I sat on the stone steps watching. Jonah walked over to the stairs and hung onto the railing across from me. A sparrow landed beside him and he squealed, startling the bird who flitted into the nearby maple tree. Jonah smiled, swinging a small foot, the little red booty with blue laces, brown corduroy overalls, his red curls dancing in the afternoon sun. Then he suddenly jumped, arms outstretched like the wings of the bird and somehow time slowed and stretched. There he is, careening off the porch headed straight for the blue slate sidewalk below.
I notice the crimson poppies and their transparent petals shimmy with the breeze. The bees heavy with pollen are disappearing into the hollyhocks and I think about this child and his absence all in this moment, waiting for my body to heed the command Move. Move. Why wasn't I sitting closer, holding his hand?What if I, too, believed he could fly? What cruel God creates such a beautiful boy with no instincts?
I dive across the stairs and somehow catch him by the wrist. His body swings in an arc and he grazes the steps, not too hard, but just so that his little mouth hits the edge of one mean stone stair before I am beneath him, his cherubic face in my hands and then my cheek to his cheek. His lip is split but no teeth are broken and he is okay.
This is when the veil lifts. Our wide panicked eyes meet and we exchange a million unspoken words about life and death and gratitude. How close we always are to letting go of the railing even when we know we should not. How being here and being not here actually occupy the same space and there is a calm in knowing that, just for a moment, death is so close, all the time, breathing down our necks — No, holding us. Just like this, we agree. Cheek to cheek, waiting. My hope is aged, bruise-colored, white with desperation, marbled with fear. The child seems to say, "No. Hope is like this. Yellow. Luminous."
His eyes flicker and we return. And then he wails the wail of all wails and his mother is there instantly. I try to explain but she cannot hear me. She just rocks and rocks her son calmly, humming, saying shhhhhhhhhhhhh into his perfect little ear.
Mary carries Jonah inside, gets some ice and the abandoned tea. They emerge, triumphant. He is laughing around a cold ice cube, so big in his small mouth.
Finley's Three Mountain Day
by Linda McNaughton
He would sit in the breezeway
When the weather was fair
He would marvel at nature
And the crystal clear air
Three towering mountains would
Catch him off guard
He would admire their beauty
As he toiled in his yard
Wy'east Klickitat and Tahoma
Indian names ancient and proud
Three soaring white giants
None obscured by a cloud
Whenever he saw them
In his quiet poetical way
He would record in his journal
It's a three mountain day
Fog
by Vernon Wade
The fog moved through the trees and we moved through the fog. It was as impenetrable as a wall, as ephemeral as a ghost. We were boxed in; at times we could only see one hundred feet, sometimes we could see one hundred yards.
Our horizons shifted and moved along with us. The only light seemed to come from the fog itself, thick,grey-white, sucking the color from all it enveloped, leaving behind a near monochromatic world of black or almost black.
It seemed to absorb all sound as well. The soft, damp ground muffled our steps, yielding like a pillow beneath our feet.
We spoke but little, and that in hushed tones, eventually falling as silent as our surroundings. We became ghosts.
Our breath became the ebb and flow of the fog, no longer distinct, no longer personal. We were wraiths in the failing light. The fog moved through the trees and we moved through the fog.
On Turkey Vultures
by Tracie Hornung
I watched the turkey vulture swerve and bank over Highway 35, and thought of my friend who cringed when I recently mentioned that species. I had forgot-ten, until then, that her reaction is quite common.
I imagine it's that bald red head, looking as if it had just emerged from the bloodied mass of a carcass (it may have). Or the silhouette against the sky of sharp wings that appear torn and scraggly. A living, breathing, soaring symbol of death and decay.
But I was surprised when I got to know a couple of turkey vulture teenagers at a wildlife rehabilitation center. It's true — up close they still aren't beautiful. But the first time I encountered them, I was touched to realize they were shy and not the slightest bit aggressive. In fact, they scampered away as I brought their meal of dead rodents into their enclosure.
In time, they grew to accept my presence but stayed cautious. That's their innate personality; raptor experts know them to be gentle, but elusive birds. Their only real defense is to vomit a lump of foul-smelling, semi-digested meat, which deters most creatures.
Fortunately, the teenagers at the rehab center were never threatened enough by me to do that, but I'm glad they always remained wary.
Runoff
by Amy Baskin
you take your first steps in glacier runoff
off the Dee Highway
way out in Tucker Park, under Oak trees, we wade in inside the river together, squealing and splashing splashing and grinning
grinning and shifting your feet
feet toe by toe into Hood River, stubbing toes
toes through silt and pebble
pebbled waters run all over you and through you you float — immerse yourself in the pools of
flowing ice
icy chill, rejoicing — a swimming steelhead
head first in the water, baptized
baptized a true son of the mountain
mountain runoff washes downstream
streams flow on to bigger rivers
rivers roll on, roll on Columbia! with her
mighty surging flow
flows rush to join the briny ocean
oceans lose these rivers to the salt sea air
air hides them in grey clouds
clouding our eyes, forgetting that rain —
rain that pelts me is really runoff
runoff that returns like salty tears
tearing up, I grasp this as I fall heavy into
your slipstream
streams that will whisk you through life
life that now clutches my fingers with soft palms one
day will harden and let go
go and run off
off to greater rivers, faster flows, foreign harbors,
yet evanesce —
evanesce until in this circular game you fall back back to me
Becoming a Part
by Christine Nakae
I have been thinking about hiding my heart
in the crook of that silver maple,
do you think anyone would notice?
Or maybe I'll take the blue from my eyes
and toss it into the creek,
change the greenish hue.
The lines on my face, I could blend
them into the cottonwood bark.
No one will see them there.
What if I gathered all the brown from my freckles and mixed into the garden soil?
Would the peas be sweeter? Or maybe tougher?
I'm thinking of fluttering my
dreams on the aspen leaves,
or maybe on the small wings of those finches.
These yearnings I have,
they will need something powerful and graceful to run loose through the trails and meadows.
And what of my heart,
up there in that tree,
did you sense it when you passed by?
The Rooster
by Vernon Wade
In the darkness a rooster calls for the sun.
His brothers repeat his insistent crowing,
like echoes up and down the canyon.
They will drag the day
from beneath the eastern ridge
by sheer force of will.
Deep in the shadows,
a lone frog applauds their efforts.
Rivered
by Jackie McManus
When I am grieving, I walk east
Along the ridge of river and basalt cliff.
I don't bother to look for anything but this unmarked water.
I batten my poems on its body.
The world sends you to your own language.
But this grief has hooves.
This demon from some dark depth
Chases me through the gorge,
Three times, circling the canyon, chanting Something clear I can't perceive. Persistent.
This granite slab of river is not an oracle
Yet it tells me: take heart.
So I wrap this unwanted guest, grief, in my arms. Gently, I say Come.
You are afraid. You are lonely — yet
you will get weaker every winter.
You will grow thin with time.
I let you go with all of the melancholic ache
I would feel at the loss of my family.
I return you to the time before we met.
I return you to your own language.
I rest by this grave of unbearable water
Where I rinse away the silt and suffering.
Now — now who I go to —
I arrive clean. I arrive good.
One Mosier moment
by Barb Ayers
The sun is arising and so must I
morning swaddle, snuggled tight
chilly breeze,
chilly hands.
Orange glow, fingers of light
trace the face of syncline giant
warming his cheeks, his bones and crevasses. River runs still but I know she is not.
Gregarious green hills. Timid blue sky.
Wildflower freckles on old soul lava.
Burgundy maple leaves shadow dance
on our old grey farmhouse.
Sage green brush, blushes to lavender.
Nose wakes up.
Dogs squirm like puppies, then yawn into yoga. We all breathe in sync.
This is the moment.
Quail commutes the yard
in search of meaningful work.
Window cat hunts, catching reflections.
Eagle below, soaring for salmon.
The Columbia pulses on. Slow. Deep. Silent.
'
Small Town
By Shannon Perry
A small town is made up of more layers than a Danish pastry. Starting on the surface, the sun sparkles on the leaves reflected in the shop windows. Depending on when you came to this town, you may know this place as Romul's, Ann's Panz, or Paris Fair.
There was a time the sidewalks rolled up at 5:00. On Sundays the streets sat empty. Why would anyone come downtown? J C Penney's closed and the empty store looked like a missing tooth in an otherwise friendly smile. If one tooth was lost, chances were good more would follow.
Yet, when my husband forgot to go to Hill's Pharmacy for some really important asthma medication before it closed, we called the pharmacist at home. He met us downtown and we got what we needed for my daughter. That only happens when you know your neighbors.
The wind was always here. It became a commodity, blowing hot and cold on the residents of the town. It brought color, sails, and some good dental work for the economy. Out of sight, the forests began to collect stillness alongside the logging roads.
Orchards of luscious pears and delectable apples still filled the bins each fall.
The "ugly locals" t-shirts became a sort of wry protest against the free-spirited wind folk that overtook the town and beaches with their money and leisure. Legend has it that summer residents were overheard to say, "Have you ever seen so many ugly locals?" Artists designed shirts with guys wearing baseball caps that said "Paraquat," and kids wearing overalls. There was even a fourth of July parade with a group proudly wearing this mark of local status.
Over time, we learned to share the beauty and uniqueness of our town. It is hard to keep secret the valley flanked by two mountains with rivers hugging its borders. Now the breeze blows gently across the table and carries the scent of roasted coffee and freshly baked pastries. Locals and visitors chat about common ground.
Yes, parking is a pain. It is hard to live here if you're poor. Depending on where you stand, you might feel a gust or a gale, but the winds of change are here to stay.