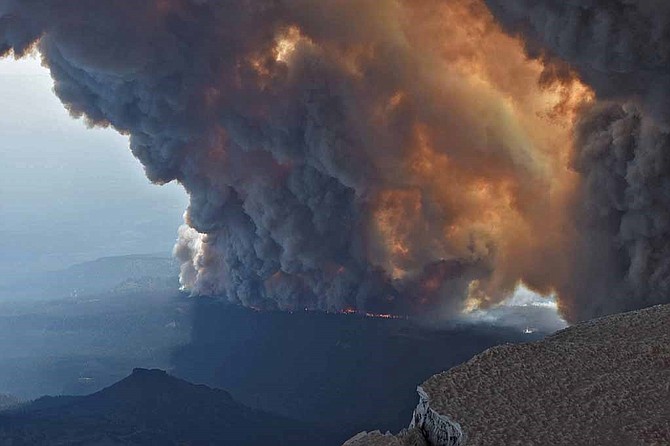 Glenwood, Wash. — The Cougar Creek Fire burning near Glenwood swelled to 22,500 acres over the weekend, with firefighters keeping it at 15 percent contained as of Monday.
Smoke continues to linger low in the air south of the fire, with reports of hazy skies as far as White Salmon and Hood River.
The fire, which sparked from lightning in forest land last Monday, grew 200 acres Sunday to 22,500 acres.
Smoke complaints in Hood River
Hood River Fire and Emergency Services reported "numerous 911 calls" last weekend from callers sighting and smelling smoke — however, most of the calls turned out to be scattered smoke emanating from the Mt. Adams fire and others in Oregon and Washington.
"The smoke you see in the Hood River County area today is from the wildfire in Glenwood, Wash. and others throughout the region," the fire department said.
The fire department urged the public to get specific information on the location of the fire instead of a general area when calling in a report of smoke or fire. Those experiencing a medical emergency due to the smoke are prompted to call 911 for help.
The blaze is located approximately six miles north of Glenwood. Lands protected by the Yakama Indian Nation (YIN), Washington Department of Natural Resources (DNR), and the United States Forest Service (USFS) are impacted by the fire. Management of the fire was transferred to Washington Incident Management Team #5 (WIIMT5) at last Wednesday, under the command of Incident Commander Dave Leitch.
Morning mist, cooler temperatures and calmer winds helped slow the spread of the wildfire and allowed firefighting crews to bring a piece of the destructive line under containment.
Washington Interagency Incident Management Team #5 is focusing line building efforts Monday on the southeast reach of the fire to halt the front that was advancing toward Glenwood. Resources are also being directed to the north end of the fire to keep it from reaching Big Muddy Creek.
Fire crews reported Monday that preservation of an irrigation flume off Bacon Creek on the east remains a priority. Heavy use of air resources will continue as weather allows.
Crews were able to preserve a snowmobile shed at Island Camp and a wooden domestic water supply structure.
Fire staff will brief the public on the fire with a meeting at 5 p.m. Monday, Aug. 17, at the Trout Lake School, 2310 Hwy. 141.
Residents north of Ladiges Road remain under a Level 1 evacuation from the Klickitat County Sheriff's Office. The Level 1 notice advises residents to be alert of the fire's activity.
Fire staff briefed the public on the fire with a meeting in Trout Lake on Monday, Aug. 17, at the Trout Lake School.