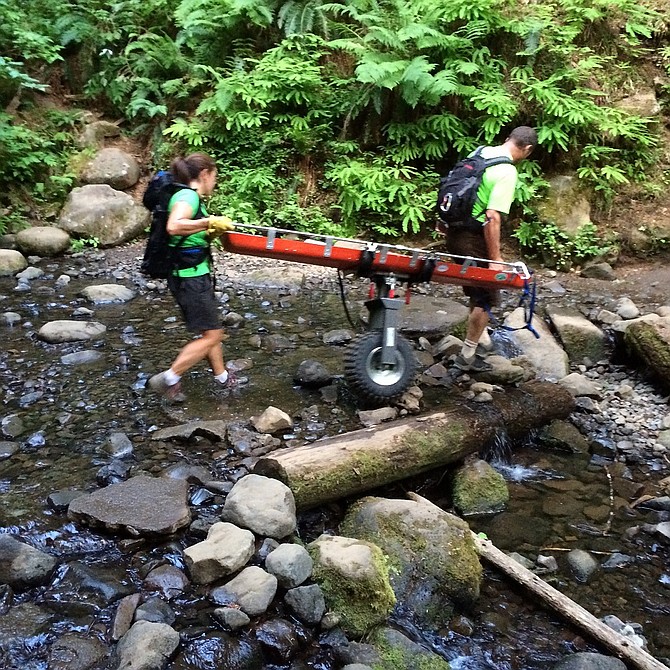 Search and rescue missions throughout the Columbia River Gorge and Mount Hood are getting swifter and stronger this summer, thanks to a new program that unites police, fire and emergency crews in a tighter collective response.
The new endeavor, "Reach and Treat," adds a pool of fire and EMS volunteers to the Crag Rats, a time-honored mountain rescue organization, in order to speed up response times and boost the number of volunteers who come with medical experience.
"We've had much more help … it's resulting in a faster response," said Tom Rousseau, Crag Rats Vice President (or "Little Squeak").
Hood River County Sheriff Matt English said search and rescue efforts are managed by the Sheriff's Office, but the program makes it easier to deploy volunteers to medical calls. These flood in from lost hikers and backpackers roaming the back country and wilderness of Hood River County and Multnomah County — and the number has only increased over the years.
"In the last two years, we've been between 40 and 50 call-out days per year," said Chris Van Tilburg of the Crag Rats.
English said Reach and Treat adds a new group of medically trained volunteers to respond alongside the Crag Rats.
"(The Crag Rats) want to have the same level of expertise, so this team's going be great for trail rescues," said English.
Lt. Josh Beckner of West Side Fire Department and Hood River Fire Chief Devon Wells have led the Reach and Treat initiative, working with Sheriff's deputies Mike Anderson and Chris Guertin, who serve as county search and rescue coordinators.
The program merges the skills of several unique volunteer pools — the Crag Rats' strength lies in mountaineering and technical rescues, while the firefighters and EMS technicians bring precise medical expertise to the mix.
Rousseau called it a "complementary advantage."
Some Crag Rats are trained medics, Rousseau said, but not all of them are trained for that purpose.
The fire crews — most come from Cascade Locks Fire— typically have more medical training than the Crag Rats. Rousseau explained that all active Crag Rat rescuers have basic CPR training, but they're more experienced in back country navigation and rescues.
Most common are the Eagle Creek and Punchbowl Falls areas, and federal forest land in the Mount Hood National Forest. Some other spots in the western Gorge also prove tricky, including Starvation Creek and Mount Defiance.
"We're better prepared for more technical rescues — high angle techniques over the cliffs, and off trail," said Rousseau.
Rousseau listed GPS and map reading, crevasse rescue and snow patrol as other skills in the Crag Rats' domain.
According to English, radio communications prove difficult in the Gorge's wilderness — and in urban areas. The Hood River County Sheriff's Office is expecting upgrades over the next year.
The new countywide radio system will replace the current system fire and police departments use, which gets "poor to non-existent portable radio coverage" in remote areas of Hood River County according to an ADCOMM engineer — and even some areas within the city, such as the Sheriff's business office.
The $81,000 radio overhaul, which has approved by the County Board of Commissioners earlier this summer, has already progressed to the engineering phase. English said physical upgrades are tentatively slated for fall.
Van Tilburg feels the upgrade would be welcome.
"Any improvements in communication are going to make things go faster," he said. The Crag Rat named Eagle Creek, one of the top sites for call-outs, as a difficult place to conduct wireless communications.
"You get too far up Eagle Creek, and cell phones don't work — several miles up the trail," said Van Tilburg. To mitigate the problem, the team will often post a volunteer halfway up the trail in a vehicle equipped with a special high gain antennae.
English and Deputy Guertin spoke before the Hood River County Board of Commissioners Monday night, explaining that the number of search and rescue calls have increased this year.
"We've seen a real increase there," said English of rescues at popular recreational areas, including Eagle Creek and Punchbowl Falls. "It's the people visiting our area — that's who we rescue."
However, the HRCSO and combined forces have a broad reach. The biggest search and rescue of the summer for local agencies — a three day search that found an elderly berry picker safe and unharmed — was not in Oregon, but southwest Washington, near Trout Lake.
To cover the costs and personnel time required for exhaustive searches conducted by the HRCSO, English indicated plans to start a statewide search and rescue fund for Oregon Sheriffs, which will encourage donations from around the state.
For the time being, local agencies have made due to with their own initiatives to mitigate the problem, including Reach and Treat and other mutual aid agreements.