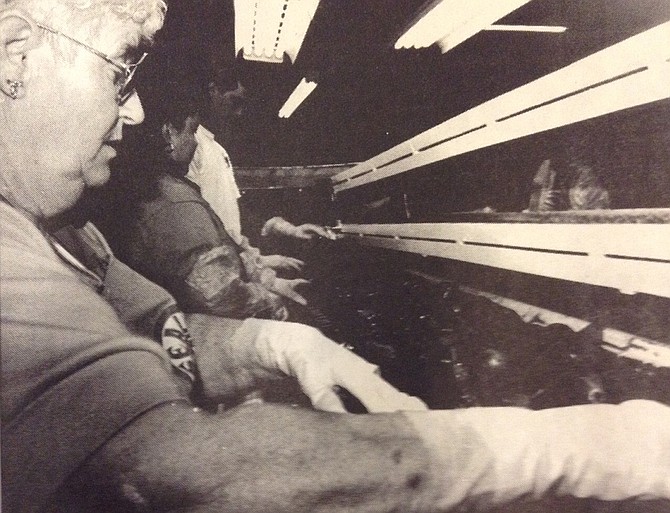 1925 — 90 years ago
The Bridge of the Gods over the Columbia River at Stevenson will soon be a reality, says the Pioneer of Stevenson. The corporation that recently took over the stock, let a contract on Wednesday of last week for the erection of the span of the Union Bridge Co. of Portland.
The sum involved in the contract is not known. The structure will be 20 feet wide, except in its center, where plans call for a width of 40 feet and appropriate places made for people to view the rapids below. Work will be underway within six weeks and the bridge will be open for traffic in July of next year.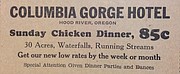 1935 — 80 years ago
Registered voters of Cascade Locks, to the number of 245, held their first city election on Wednesday of this week, following the incorporation of their town about two months ago. The fight was between two groups, known as Independents and Taxpayers' League, and victory went to the first named. The first mayor of the Locks is Captain Charles Nelson.
For various reasons, a large number of men who were on the Relief rolls in May or subsequently, have rejected offers of work with the Forest Service in this county, and to date, about 18 of the 58 jobs offered are still unfilled. Ninety-five of those contacted from the local Relief office either refused to engage in this work or stated that they are at present employed or believe they will be able to secure more remunerative employment at Bonneville Dam or in orchards or packing houses.
1945 — 70 years ago
Wild huckleberries on Larch Mountain are now ripe and ready for picking, reports District Ranger Albert Wiesendanger of the Columbia Gorge Ranger Station. The berries are large, and there is a fair crop, and already a number of people have gone into the area to obtain a nice supply for future use.
Conditions have been changing very fast at the Mexican Labor camp at Odell. Last week it was expected that 171 Mexicans would be retained at the camp through the slack season. Monday morning of this week orders were received to transport 20 workers to Astoria, and on Wednesday, 92 left for Independence. Next Wednesday, the remaining Mexicans will leave and the camp will be closed until Sept. 15.
Verbatim: Over 400 Floral Entries Result In Largest Odell Garden Show
The fifth annual flower show of the Odell Garden Club, with Mrs. A.N. Davis as chairman, opened Aug. 11 and 12 in connection with the County Fair.
The theme was "In A Cascade Garden" with a small replica of Mount Hood in the background — flowers beside a garden path in the foreground. Mrs. Ray Gibson was chairman of the staging committee with Mrs. R.E. Lingren, Mrs. Carl Newman, Mrs. Harry Plog, Mrs. Roy Pierce, Mrs. O.J. Moss and Mrs. L.T. Ogden, assisting.
This was the largest show to date with more than 400 entries submitted. There were many handsome specimens of roses, lilies, perennials and annuals. A table of children's entries attracted much attention with a number of quite original arrangements and fine specimens. A table of Japanese arrangements also excited much admiration.
— Hood River News, August 19, 1955
1955 — 60 years ago
Student physical and dental examinations and testing will be conducted from Sept. 12-16 at Wy'east in a new health program designed to eliminate the numerous clinics which have been held previously in county schools, according to a joint report by county health and school officials this week. Wy'east is the testing ground for the new program.
Ski enthusiasts and supporters are expected to work on the hut and surrounding Cooper Spur area on Sunday, according to Jim Struck of the North Slop Ski Club. The club is attempting to clear trails and complete work on the hut before fall. Workers are invited to bring their lunches and may call John Ahrens, Bob Moller, Phil Tyler or Struck for transportation.
1965 — 50 years ago
Toll Bridge Park will remain closed for the rest of the year, according to County Executive Al Almcrants. The park, just below Parkdale, which has often been used by transients at this time of year, was heavily damaged by winter storms, he said, and "considerable repairs are necessary." Another key reason is a county plan to log some of the older timber in the 100-acre park. Preparations are being made for a winter timber sale.
1975 — 40 years ago
A first mobile home zone proposed by the Hood River County Planning Commission went to a public hearing before the county commission Monday, but a decision was set aside until two commissioners absent from the Aug. 18 meeting are present to voice their opinions. If they allow it, the proposal would establish a 30-acre area at Odell on Chevron Road for 120 mobile homes.
1985 — 30 years ago
Staff changes were high on the discussion list when the Hood River County School Board started wrapping up preparations last week for the 1985-1986 school year opening. There was one item on the agenda that made the discussion more than routine — the resignation announcement of Superintendent Frank Lariza. While it wasn't unexpected — he's made no secret of his retirement plan — the formal announcement nonetheless caught the special attention of the board and audience.
The Ski Mart, a new ski shop designed to attract more families to the sport, has opened this month at 122 Oak St., former home of the mini-mall type operating next to Franz Hardware. Owners and operators are Dan, Sharon and Shannon Stair — familiar figures in Hood River, but not as ski store operators.
1995 — 20 years ago
The United States Windsurfing Association is holding its national championship competition this week at the Hood River Event Site. Registration opened Monday with the first day of racing Tuesday. Hood River residents Bruce Peterson, Jayne Fenner and Rhonda Smith are listed among the favorites in the men's and women's open events.
For the second time in two months, Hood River City Council Monday overturned a city planning commission decision, with Burger King the winner this time out. By a 6-1 vote, the council endorsed the restaurant, which will be sited in the Hood River waterfront area, north of Interstate 84 and west of Second Street.
2005 — 10 years ago
The Mt. Hood Town Hall will be bustling Saturday with family fun, food and friends — and a rare opportunity to see what other people in the community are passionate about. The historic schoolhouse will feature classes, displays, entertainment and demonstrations, from tai-chi to chain saw maintenance. The fair will also get people into the building and onto the grounds so they can see what a great place the Town Hall is. "This is about fund raising, yes, but that's not the main focus," says Revelyn Rawdin, one of MHTH's board members. "This is about promoting what's out there."
— Compiled by Trisha Walker, news staff writer