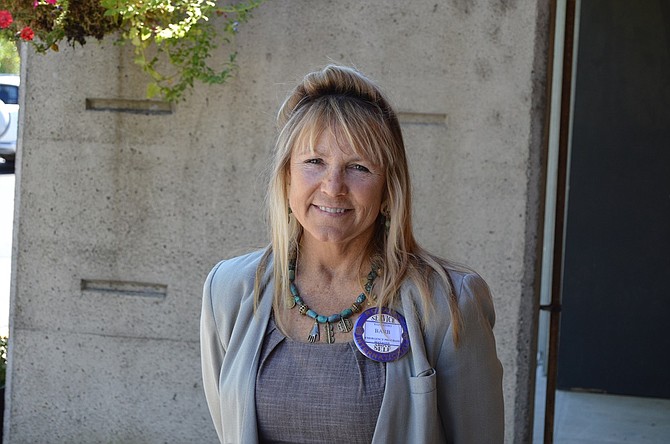 Barbara Ayers, Emergency Manager Public Information Officer for Hood River County, says her days aren't exactly exciting.
And that's a good thing.
"If we had a big earthquake or something like that, I'd probably be working 24 hours a day," she said. "Day to day, it's hopefully not very thrilling."
Ayers spends her time writing plans and grant proposals, touching base with local police and fire departments, planning drills and trainings, and getting the word out about emergency preparedness at various events and meetings.
"Emergency management is really all about disaster preparedness," she said. "I'm not a first responder. What our department does is roll into play if things are really bad."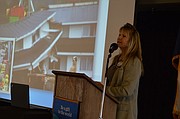 Ayers took over the position last fall from Karl Tesch, and had her first emergency response around Christmas, when the Hood River was under a flood warning. It was a lot of information sharing and reaching out to those who could be affected, from the Port of Hood River to families living along Highway 35.
But this wasn't her first time coordinating such an effort. She started with the San Diego Fire Department, where she worked as the Community Emergency Response Team (CERT) manager, building a response system from the ground up. She's also worked for Providence hospital, the City of Vancouver and the City of San Diego.
"You're training the community to hold down their neighborhoods when the big stuff happens because the first three days to a couple of weeks, when something really big happens — a big wildfire or an earthquake — emergency services are overwhelmed," she said. "Everyone is calling 911 at the same time, everybody has needs, and it can be a really widespread area. We need to be self-sufficient, to be able to hunker down for a couple of days until the initial wave is over."
But Gorge residents are particularly up to the task.
"We here in the Gorge are uniquely qualified to be a disaster-prepared community because we're the type of people who really rally when there's a need. We're rural and we're used to being on our own. We pride ourselves on not being super dependent on Portland," she said.
"If you're a camper, or a cross country skier, or a windsurfer, you know how to pack up the things you need and for the things that could happen," she added. "Have a kit at your house and a smaller one in your car."
While all emergencies are worth preparing for (winter storms, landslides, wildfires, floods and volcanic eruptions), she particularly stresses earthquake preparedness — and, more to the point, "not if, but when" the Cascadia subduction zone quake hits.
"There's a 40 percent chance a major quake will hit in the next 30 years," she said. "In theory, we have a bit of time to get it together."
Scientists are predicting a 9.0 quake lasting 4 to 5 minutes along the coastline, which would devastate the I-5 corridor, she said.
But, she added, "If you're prepared for that, everything else is a piece of cake."
That's because earthquakes encompass a whole host of potential issues, like fires, floods, building damage, water and sewer damage, power outages, increased medical needs and disrupted food deliveries.
CITIZEN ALERT SYSTEM
Ayers strongly encourages everyone in the county to visit the Hood River County Sheriff's website (hoodriversheriff.com) or Hood River County's (co.hood-river.or.us) and sign up for the Citizen Alert System. The opt-in system works like a reverse 911 — when an emergency happens, the county is able to relay important information directly to citizens in their chosen format, like texts and emails.
There are three steps to being prepared for an earthquake or other disaster: Make a kit, create a plan, and stay informed. To help focus on each point, she poses this question: "Right now, if you have to leave and can't go back to your house or business for three days to three weeks, what would you do?"
She knows firsthand how important it is to have a plan.
"I was in the Mosier wildfire," she said, referring to the Microwave Fire of 2009. "There's not a lot of time (to evacuate) and you're really stressed and your animals are really stressed.
"Ever had to pack up a car when the power's out?" she said. "It's not easy."
What she learned: It's important to prepare for an evacuation whether or not you actually have to leave. This means your kit and your list of important items to take, but also thinking about how you'll get information updates if the power is out and you can't charge your phone, or how and where your family will meet if you're separated.
Part of her job is helping people figure that out.
"It's like being a mom for the community," she said.
You can find Ayers at various community events — this week, she spoke at the Hood River Rotary's Thursday lunch meeting, and then spent time in Families in the Park. In the coming weeks, she will again be at Families in the Park, as well as speaking at the Hood River Lions Club and manning informational booths at back to school events and Harvest Fest.
She suggests visiting www.ready.gov for information to get you started.
"Every single one of us can do something," she said.