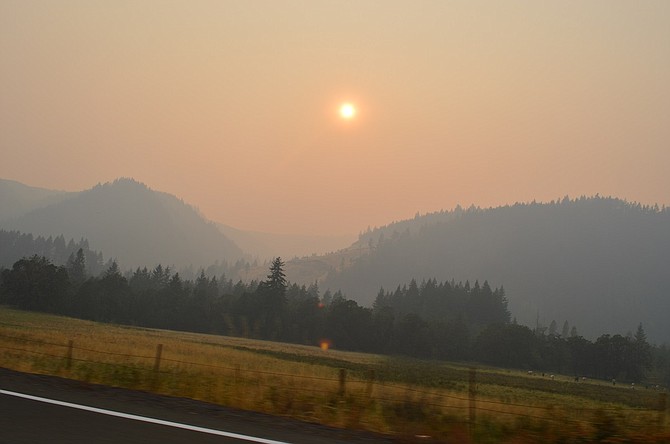 The famous crystal clear views of the Gorge have been little seen in the past three weeks, but the concern with our smoke-congested environs more for health than aesthetics – especially for the sake of the elderly, those with chronic diseases, and for children.
Smoky conditions have eased somewhat since Saturday afternoon, when hard-breathing stand-up paddle athletes on the Columbia were barely visible just 200 or so yards off shore. Wildfires that have pumped so much material into the air all over the Pacific Northwest are still raging, meaning the overall air quality issue is very much still with us. Atmospheric conditions including wind direction have changed as smoke from a wildfire burning on Mt. Adams near Glenwood has headed north. Last week the fire swelled to 35,000 acres, sending smoke in a great plume that contributed to the hazy air in Hood River. Smoke from that fire and others around the region sat thick and smoggy in the Columbia Gorge until westerly winds brought a respite for local residents.
The worst of the weekend's smoke is on its way out, according to Ellen Larsen, director of Hood River County Health Department.
"Fortunately for us … it is now clearing out," said Larsen on Monday afternoon. "It was bad (Saturday) because the wind was out of the east, and now it's out of the west."
Larsen described the air quality in Hood River as "not great," but not as poor as in 2012 when the Milepost 66 fire between Hood River and Mosier blanketed the region in smoke.
However, Fire Chief Devon Wells on Monday told City Council that improved conditions should not lead the public to think that the air quality problem is gone – and certainly not let anyone think that fire season is past.
"People tend to see it's cooler and there's clouds moving in, and they forget it's still fire season," Wells said.
"The fuels are extremely dry, and we are in mid-September type fire hazard right now," Wells said. "There are six weeks or more of fire season left."
Wells said his agency is aware of many residents who had struggled with bad air inside their homes. One person came to the fire station on 17th for smoke shelter, he said. In the July heat wave, the station was publicized as a heat shelter.
"Their house was full of smoke and they could not breathe, so they spent the day at the station," Wells said. An additional concern is the health of homeless people, who are outside nearly all the time, he said
Tyler Gray, a doctor at Columbia Gorge Family Medicine in Hood River noticed an increase of patients experiencing symptoms caused by smoky air.
"People are definitely coming in at a higher frequency (over) the last week or so," said Gray on Tuesday.
Over the last three to four days especially, Gray has seen more patients with asthma and chronic obstructive pulmonary disease (COPD) whose conditions were exacerbated by poor air quality.
Gray's advice for all people, but especially those with breathing conditions, is to stay inside and refrain from exercise outdoors when the air grows visibly smoky.
"If you can see haze and smoke, that's probably a good indicator to stay inside," said Gray.
Gray also advised people with breathing conditions such as asthma to keep taking their medication during poor air quality snaps.
Wells said a total of one million acres are burning in the Northwest, and his department has yet to be called, with one exception, to Cougar Creek or any other fire. He said his department is keeping an eye on the County Line Fire, near Madras, now at 67,000 acres, where retired firefighter Doug Epperson, who signed on for summer support, has been dispatched.
"I think the state has not been calling us because we have a high potential of fire in this area," Wells said.
n
Here are some pointers for protecting your health and those of vulnerable people you may know:
According to DEQ, smoke is made up of primarily small particles, gases and water vapor, with trace amounts of hazardous air pollutants. The most harmful are the small particles, or particulate matter smaller than 2.5 micrometers in diameter (100 micrometers is the diameter of a human hair). These particles can be inhaled deeply into the lungs, damaging lung tissue and causing respiratory and cardiovascular problems.
According to Oregon Smoke Blog, a multi-agency resource on air pollution, wildfire can pose a major health risk. Symptoms from short-term smoke exposure can range from scratchy throat, cough, irritated sinuses, headaches, runny nose and stinging eyes. Persons with asthma, emphysema, congestive heart disease and other existing medical conditions can have more serious reactions. The elderly and children are also high-risk groups. Should smoke occur, residents can take the following precautions to avoid breathing problems or other symptoms from smoke:
If smoke levels are Very Unhealthy or Hazardous, the best recommendation is to get out of the smoky area. If you have the means and ability to leave, getting out of the smoky area is the best thing you can do for your health.
If you are not able to leave the area, reduce the amount of time outdoors. People with heart or lung disease, infants and children are more sensitive to health effects from wildfire smoke.
If you have asthma, other lung disease, or heart disease, you may be more sensitive to health effects from wildfire smoke, follow your doctor's advice about medicines and about your disease management plan. Call your doctor if symptoms worsen.
If you are told to stay indoors, stay indoors and keep your indoor air as clean as possible. Keep windows and doors closed, if possible.
Have enough food and medications on hand to last several days. Minimize the amount of food that requires frying or broiling. This can add particles to indoor air.
Avoid strenuous work or exercise outdoors. With the exception of firefighters and emergency personnel who are trained to work in hazardous environments, people should avoid physical exertion during smoke exposure.
Avoid driving whenever possible. If driving is necessary, run the air conditioner on the "recycle" or "re-circulate" mode to avoid drawing smoky air into the car.
Remember, local smoke levels can rise and fall rapidly, depending on weather factors including wind direction. People can conduct a visual assessment of smoke levels to quickly get a sense of air quality levels and take precautions. If people have additional concerns, they should contact the nearest regional or local public health agency for the latest in health conditions from smoke.
Visit the Oregon Smoke Blog for more information regarding active fires and air quality, along with tools to help people assess smoke levels in their area.