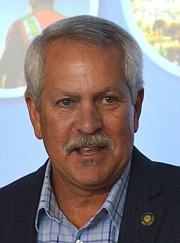 Top U.S. education staffers and decision makers will hear about Oregon's flagship tuition waiver program, Oregon Promise, at an education conference at the White House Tuesday.
Rep. Mark Johnson (R-Hood River) will join a panel on college opportunity and affordability, discussing the path Oregon's legislators took to implement the "free" community college grant program.
The event, "The White House Convening of State Education Leaders," will bring together education policy makers from around the nation, including U.S. Secretary of Education Arne Duncan and incoming Secretary John King.
Oregon and Tennessee, the only two states that have adopted a full-scale state community college tuition waiver program, will take center stage at the discussion on college affordability.
"What they really wanted to find is the legislative process and how we made it happen," Johnson said. "I look forward to sharing with national leaders … about the process of passing the Oregon Promise in the last legislative session and what the program will do to make community college more affordable for Oregon high school graduates."
Johnson hopes Oregon Promise will become "a model" for other states around the country seeking to ease the jump between high school and post-secondary education.
The new legislation allows for Oregon high school students who graduate with at least a 2.5 GPA — and maintain it through college —to enroll in community college with waived tuition, paid by the state. To scoop the benefits, students have to be fresh out of high school (enrolling within six months of graduation) and they must first apply for all federal and state grants for which they're eligible.
Students can earn an associate's degree or a career technical certificate via Oregon Promise, as long as maintain their GPA and stay continuously enrolled. The max is 90 credits.
Originally a bill sponsored by Sen. Mark Hass (D-Beaverton) and co-sponsored by Johnson, Oregon Promise went through some "pushback from some sectors" before it was signed into law by Oregon Gov. Kate Brown at Columbia Gorge Community College's Indian Creek Campus in Hood River in July.
The bill passed 48 to 12 in the House and 28 to 1 in the Senate (with one member excused) according to a voting record on Oregon.gov. Local representatives Johnson and John Huffman (R-The Dalles) voted in favor, while Sen. Chuck Thomsen (R-Hood River) voted against.
Rules for Oregon Promise were finalized by the state's Higher Education Coordinating Commission (HECC) this fall. The program is administered by the HECC and the Office of Student Access and Completion (OSAC).
Response to the 'Promise'
Since Oregon Promise debuted on Nov. 1, nearly 5,000 students across the state have applied for the grant.
As of Wednesday, 4,971 student applications have been successfully submitted, and 8,251 were started, said Endi Hartigan, HECC Communications and Policy director.
"The response has been overwhelming," Johnson said.
At Hood River Valley High School, about 113 students have submitted applications for the grant, according to ASPIRE Coordinator Lisa Roberts.
The day after the state's tuition waiver program came into effect last month, Roberts visited classrooms and told students about the opportunities available through the grant. Since then, she's kept up a dialogue with the potential college-goers, reminding them to seek a bevy of scholarships and grants, whether or not they think they will qualify.
"I go in and say this is another way of getting some money … this is going to take you 15 minutes," Roberts said. "I really emphasized the middle class kids because there is no money (going) there."
Many students assume they won't make the cut for FAFSA or Pell grants due to their parents' income levels, and thus don't apply for grants. Others fail to include all the information on their form and don't get past the application process.
Roberts said students get excited once they realize they have a shot at grant resources. The Summit Career Center often meets one-on-one with students to make sure the message sinks in.
Legislative next steps
The senate bill behind Oregon Promise set aside $10 million in funds, which will likely support the program for a year, but its future will take more hard fought discussion and debate in the Oregon Legislature.
Johnson worries that "a glitch" in the system, or simply running out of money, could derail affordable community college programs in the future.
If the state's going to "jump up and provide tuition waivers," legislators want to make sure the funding exists to support the program in the future, Johnson said.
Coming into legislative priorities for February, Johnson will focus on increased resources for programs that connect high school to community college. Senate Bill 418 allocated $7 million toward similar programs, so that could be a promising avenue.