The 16th annual Christmas Concerts for The Gorge Winds have been set for Dec. 18 at the Hood River Valley High School, 1220 Indian Creek Road in Hood River at 7 p.m.
A second presentation of the concert will be on Dec. 20 at Calvary Baptist Church located at 3350 Columbia View Drive in The Dalles.
"This is the first year that we are presenting two concerts in our communities in hope of attracting many more people by having these two convenient locations which provide easy parking and access, as well as comfortable seating," said spokesman Larry Loop.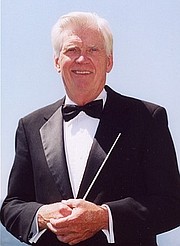 This year's concerts will feature many traditional Christmas favorites, as well as the chance for the audiences to join with the band to sing many of the seasonal songs. The program will feature arrangements such as "Joyful and Triumphant" by local composer Steve Hodges; "Stille Nacht" as recorded by Mannheim Steamroller; and the beautiful "Yuletide Tapestry" arranged by Gary E. Parks.
The second half of the concert will include "Away In A Manger," Symphonic Prelude on "Adeste Fidelis" arranged by Chip Davis; and the ever-popular "Sleigh Ride" by Leroy Anderson.
"These and several others are sure to set you in the mood for a very Merry Christmas," said Loop said.
"We will be honoring our founder, director and conductor Sam Grotte as he retires from 16 years of service to our band and communities," Loop said. "Sam will be conducting his final concert as co conductor with the Gorge Winds Concert Band and we invite you to help us celebrate his contributions to music here in the Columbia River Gorge. We would like to see any and all former members there to celebrate his incredible achievements."
Refreshments will be served at the conclusion of the concerts.
The concert is free, but donations are welcome. Gorge Winds is a nonprofit 501c (3) corporation and relies on community donations.

In 2003, Sam Grotte was asked by Hood River News to write about "What's in a band name?" for the Panorama special section, which that year focused on music, and musicians, of the Gorge.
Grotte spelled out differences between bands, combos, orchestras and other ensembles, and wrote of big bands as "a rather generic term. It is a jazz band or dance band numbing from about 15 to 25 musicians. Our only adult big band (in the Gorge) is White Salmon Jazz Band.
"All through the last century the concert band was staple musical fare. In the early 1900s, nearly every town, large and small, ah a band – and a covered bandstand in which to play. My Dad played in a band of mostly farmers named for two townships. Now, in the Columbia River Gorge we have concert bands in nearly every school, and one adult concert band – The Gorge Winds – continuing the tradition set by our fathers.
"Concert bands are set up very much like orchestras, but without strings. The string parts are played mostly by a big bank of flutes and clarinets. Bands, also have more trumpets, cornets, trombones and tubas than do orchestras. When a concert band 'grows up' and has more than about 65 members, it may take the name of 'symphonic band', adding a string base or maybe even a harp," Grotte wrote.
He notes that the Columbia Gorge Sinfonietta performs regularly in Hood River and other area locations, Sometimes they play without brass or woodwinds, becoming a strictly string orchestra.
"… A musical group or ensemble can give itself whatever name it wishes, The name may be perceived as a way of defining type of music it plays or a lighthearted play on words."
Grotte was born in Northwood, N.D. in 1933 and moved to Montana when he was 14; Derek Wiley of The Dalles Chronicle compiled a biography of Grotte last month, including the following details:
Grotte received his degree in music from Montana State University. While in school, Grotte spent his summers working for the forest service building lookout towers. He joined the smokejumpers and fought remote wildfires, parachuting from airplanes to fight them on the ground.
After graduation, Grotte taught music for one year before deciding to set aside his trumpet and French horn to join the Air Force.
He served in active duty for 13 years and in the reserves for seven. While in the Air Force, Grotte flew a Beechcraft T-34 Mentor, North American T-28 Trojan, Lockheed T-33 Shooting Star, F-86 Sabre, F-100 Super Sabre and Convair F-102 Delta Dagger.
After serving in the Air Force, Grotte became a pilot for American Airlines, and for 25 years flew the Lockheed L-188 Electra, the DC-10, and the Boeing 727 and 707.
Towards the end of his airline career, Grotte decided to dust off his instruments after not having played a note for more than 35 years.
He joined the local jazz band and after retiring from American Airlines at age 59 became the music director of the White Salmon Jazz Band.
Grotte also played in the pit orchestra for musicals in the gorge. He joined the Sinfonietta in Hood River, and played with the Whiskey Flats Band and the Portland Metro Band.
"I hardly saw him because he was so involved in music," joked Grotte's wife, Diana.
After seven years directing in White Salmon, Grotte decided he wanted to start his own band.
"He really wanted something more robust, with more brass instruments," Diana said.
Grotte got in contact with Greg Weast, who had previously directed Gorge Winds in the '80s but the band had stopped playing.
With the help of Weast and Diana, Grotte brought Gorge Winds back in January of 2000.
Under Grotte's direction, Christmas concerts in The Dalles became a yearly tradition. Along with performing at the Civic, Gorge Winds played at Flagstone Senior Living, The Dalles Middle School and Mid-Columbia Medical Center.
"Sam always wanted to make sure this was a community band and that anyone that could play had a chance to join," Diana said.