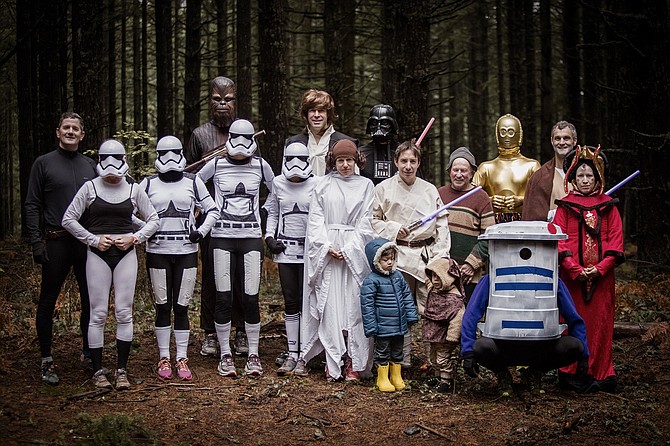 The force awakened and filled the Family Man Trail on Post Canyon with a cast of classic characters Saturday.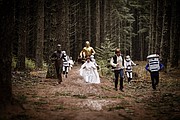 Members of Columbia Gorge Triathlon Club took a run in full Star Wars costumes — Luke, Princess Leia, Darth Vader and even a three-year-old Ewok all were there.
The festivities were a warm up for the Dec. 17 release of a little film called "Star Wars: The Force Awakens," the long-awaited reboot of the George Lucas film franchise, directed by J.J. Abrams.
The costumed triathletes ran and staged light saber duels to recorded music from the Star Wars films.
"It was pretty magical, from the misty morning setting in the woods to the spirit of the participants and the level of fun they brought to the day," said club member Larissa Lodzinski of Hood River. "With the soundtrack music playing in the background, they started their run through the woods, looping on the Family Man trail. Some loops were done by movie, with the characters running together at the front if they were in that particular movie."
At the end, everyone gathered for photographs and to enjoy some Star Wars-themed snacks. Participants ranged from age 3 to 70.
Members will attend the film together, in costume, on Monday.
"People really didn't know what to expect from each other in terms of how 'into' it they were going to be," Lodzinski said. "Nobody was talking about their costumes, and it isn't a group of die-hard Star Wars fans. But that morning at the parking lot as people started getting out of the cars, it was obvious this was going to be something special. And that this club doesn't do anything halfway."
Runners bought the costumes online or went home-made: Heiko Stopsack went DIY as R2-D2, with his squat robot made from a trash can.
For the bike trainer rides, Mark Frost chose words and phrases for each movie that, when uttered, meant the riders had to sprint for a designated length of time.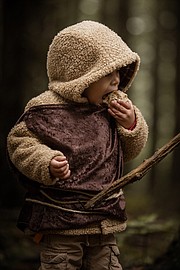 "Mark is always out in front as a leader and motivator for the club," Lodzinski said. "And here we thought Hans Solo was supposed to be laid back!"
Also out-of-character was Darth Vader (Rutger Engbersen), who taped the shape of a red heart on his cape for the run.
"Rutger is always a force for good within the club, so it was hard for him to represent the dark side. Another nice surprise was the sound system that Clint Bogard provided for the event."
Participating were Clint Bogard, Stormtroopers Heidi Engbersen, Michele Evans, Carolyn Frost, and Sasha Varma; Chewbacca, Andrew Stewart; Princess Leia, Angela Krauze; Darth Vader, Rutger Engbersen; Luke Skywalker, Patrick Hiller; Yoda, Bill Mellow; C3P0, Phil Evans; Obi Wan Kenobi, Johan Reitz; Princess Padme, Paloma Ayala; and R2-D2, Heiko Stopsack.
"Star Wars: The Force Awakens" (PG-13) opens Thursday with three shows at 7 and 8 p.m. and on Friday with a total of 10 shows, including four in 3-D, at Hood River Cinemas.