Brett VandenHeuvel, Columbia Riverkeeper executive director and attorney, received the Oregon State Bar Environmental and Natural Resource Section's annual Leadership and Service Award on Thursday, Dec. 10.
The award recognizes a person who has provided leadership, service, and outstanding contributions in environmental and natural resources law. VandenHeuvel, who helms the environmental conservation group based in Hood River and Portland, was selected out of 460 lawyers.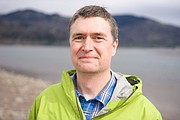 "Oregon is renowned for strong environmental lawyers, and I'm honored to accept this award from my outstanding peers," VandenHeuvel said.
The award, VandenHeuvel said, also reflects good work by the Riverkeeper legal team, which "brings successful legal actions to protect clean water and our climate."
Chris Winter, Co-Executive Director of Crag Law Center and a member of the executive committee at Oregon's natural resource law center, described the Riverkeeper leader's career as a "long and distinguished track record" advocating conservation of the Columbia River ecosystem.
Liz Terhaar, Riverkeeper administrative coordinator, felt it was a rare opportunity for a local environmental attorney to receive the statewide award.
"I think it's significant that a lawyer in a small town like Hood River received a statewide recognition from his peers," Terhaar said. "It's nice for an attorney for the Gorge to be recognized."
Terhaar noted that some of the previous awardees were from big Portland firms or the Governor's top legal staff, and that all were in their 60s or older — Brett is in his 40s, she said.
VandenHeuvel started his career in public interest law practice, researched climate change during expeditions to Antarctica and New Zealand and taught science to kids at OMSI field stations throughout Oregon.
Now director of Columbia Riverkeeper, VandenHeuvel leads the organization's legal and policy work to protect clean water.