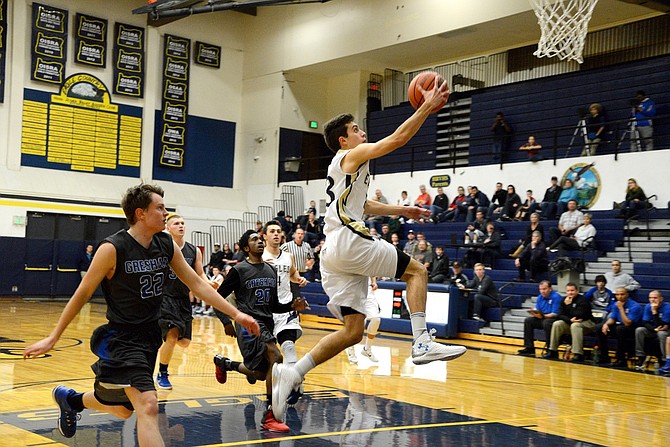 The Eagles had their best chance Tuesday night to grab a win against an Oregon team for the first time this season, hanging with the 6A Gresham Gophers into the fourth quarter, which HRV entered with a three-point lead.
However, Gresham (3-2) took advantage of HRV (1-4) turnovers, and after regaining and losing the lead, the Gophers, trailing by one point with two seconds remaining, drained a three to win 68-66 on HRV's home court.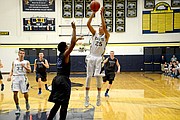 "We just kind of lost track of a guy," said HRV Head Coach Steve Noteboom. "They found him out in a corner and he just hit a shot with two seconds left."
It was a game where so much went right for HRV, as demonstrated by the team's respectable two-point shooting percentage (42 percent) and the ability to compete against a 6A team. The Eagles also had a good night from behind the arc (seven for 20, 35 percent) and had a decent night at the foul line (13 for 18, 72 percent). Even HRV's third-quarter struggles disappeared, with the Eagles holding the Gophers to just six points while pouring in 17 of their own.
Once again, though, turnovers proved to be a key contributor to HRV's undoing, as were poor shooting decisions and late-game fouls that allowed Gresham to take 12 free throws in the fourth quarter alone.
"We had 20 turnovers, and that's way too many," Noteboom said. "I was a little frustrated with some of the shots we took, especially down the stretch. We took some ill-advised three-pointers."
HRV got off to a fast start in the game, going on an 8-1 run that prompted Gresham Head Coach Mike Melton to a call a time out and make adjustments. In just a couple minutes, Gresham was back in it and grabbed an 11-10 lead with 3:29 remaining in the first.
"We got some easy lay-ins right at the beginning there and we were just cutting to the basket and I think his emphasis was to get in front of cutters," Noteboom said of Melton's strategy.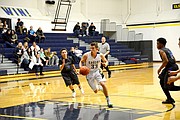 A combination of turnovers and allowing Gresham to penetrate the middle pushed Gresham's lead out to double digits in the second quarter, but HRV answered. After trailing by 15 with less than two minutes remaining, HRV scored seven unanswered points to make it 39-31 at the half.
As Melton made adjustments, so did Noteboom in the third quarter.
"We switched to a zone defense and that was effective," he explained. "They didn't know what to do at first."
The fourth quarter was misleadingly productive for the Eagles, who dropped in 18 points, but stunted what could have been an even better quarter by turning the ball over, fouling Gresham, and passing up high-percentage shots, allowing the Gophers to get back in and ultimately win the game.
On his second game back after returning from injury, Dallas Buckley had a double-double, and led the team in both scoring (17 points) and rebounds (11). He also had three assists and won a candy bar for taking a charge.
"He came out and was ready to play," Noteboom said. "He helped us out inside. He had a big inside presence — more than we were used to. It was fun watching him out there."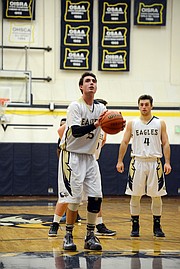 Although Buckley shined Tuesday night, scoring was spread around pretty well through HRV's ranks. Both Tyrone Stintzi and Noah Noteboom hit double digits with 14 points each. Stintzi added five rebounds and an assist and Noteboom had three boards, two steals, an assist, and took a charge.
Other performances of note included Parker Kennedy (nine points, two rebounds, five assists, one steal), Skyler Hunter (five points, seven rebounds, one assist, one steal), and sophomore Dakota Kurahara (seven points, five rebounds).
Noteboom was pleased with the ball movement and how much of the team was involved in the game Tuesday evening.
"I like having different guys score consistently," he said. "I think it just makes it more difficult for teams to match up against us."
The boys next head to Dallas this weekend for the Dallas Holiday Tournament on Friday and Saturday.
Girls basketball
The HRV girls basketball team (1-4) played at Barlow (3-1) Tuesday night, where they lost to the 6A team by a score of 50-30. No further information about the game was available at press time. The girls were scheduled to play Reynolds Friday night in Hood River (results not available at press time), and then go on a back-to-back early next week, playing St. Helens at home Monday night at 5:15 p.m., then hitting the road Tuesday to play Woodburn at 7 p.m. for the Eagles' final game of 2015.