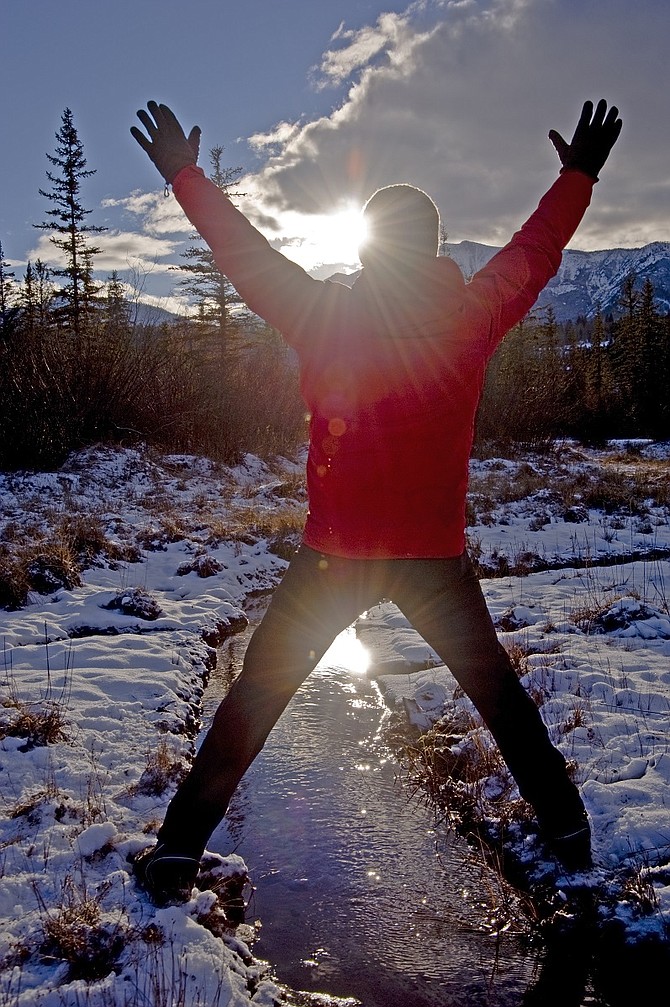 I love December.
Though the days are short, the arc of the sun stays low to the horizon providing a quality to the light unique to the season. And when the first big storm hits followed by the clarity of a bluebird sky, there is magic all around. Waterfalls become wonders of abstract delight. Fresh snow on the mountain allows the early dawn light to linger as it sinks deep into the crystalline powder and freezes the moment to memory.
I also welcome the beginning of winter for it gives me permission to embrace the gift of darkness, to enter into a wilderness of silence, and to contemplate the need to keep going toward the light.
When we are born, we leave the comfort and the security of the womb and enter into a world of sudden bright light. Perhaps this is the real reason babies cry and keep their eyes closed!
There is not enough space in this column to wax rhapsodic about the concept of going toward the light, and even if there was, I am in no position to offer any sage advice for I am still trying to figure out the purpose of my life and where it is headed. What I do know is this: having spent so much time in the world of natural light, there is only one direction in seeking out light and meaning — and that is to go forward.
Like a great landscape print, the light and shadow worlds of our lives are of equal importance. There have been times when I have explored the shadows and darker nature of my soul, and fallen deep into a cave of despair. Each time I've come back toward the light a little stronger, more forgiving of my flaws, and confident that whatever the universe throws at me, I have the strength to move through the dark times.
By choosing to move forward, you take away the power of fear. Fear of failing, fear of loneliness, of not meeting societal expectations, and fear of not knowing the way – this burden of doubt can be cast aside by following your heart.
There is so much beauty in this world to behold because of light and while much of it comes from nature, it is all around us. It can be as simple as looking into the eyes of a friend and seeing a light reflecting back that is as soulful an encounter as anything ever felt in the wild. It is the light that lifts my spirits when someone compliments me on my work. Whether it's taking a chance on love, or pursuing a dream job, or gathering the courage to make changes, it is the light and energy from within that has always been there just waiting to be tapped by that inner voice that says "Go!"
Just a few days ago I fulfilled a decade long dream of finding the source of the Columbia River in Canada. I had this vision quest born from stories that at its humble beginnings near Lake Columbia it is possible to straddle the source. For two days I bushwhacked through frozen marshes in bone chilling weather with no luck. I asked locals in Canal Flats, the tiny town along the lake, where to find it and most did not know, except one kind woman who gave vague directions about heading to the lake front area and to look for a sign. Keep in mind it's snowing, brutally cold, poor visibility with sideways blowing wind, but I kept looking until I stumbled upon a tiny sign at a trailhead that said "Source of the Columbia." I couldn't tell from the sign how far a hike it would be but I layered up with every bit of expedition - style clothing I had with me. Within minutes I began to lose feelings in my fingertips but having traveled so far and being so close to realizing a dream, there was no way I was going to turn around. But then the howling winds stopped, the snow ceased, and the sun appeared briefly revealing before me the source of the mighty Columbia. It is difficult to put into words the feeling of elation, the sense of pride of having pursued the light of an inspired idea and having it exceed anything I had imagined.

My mother died on Dec. 1, 2010. In the days leading up to her passing, she had lost the ability to speak. As I sat with her, I could see in her eyes a light I did not recognize. From the way her outstretched arms were reaching skyward, I could see that she was transitioning to a place outside of this world, perhaps seeing the faces of welcoming loved ones who had gone before her. No one knows for sure what happens after our soul moves on, but in her passing I felt an overwhelming sense that she was now in a beautiful place, young at heart again, and bathed in a light that we will never know until it is our time.
As these December days slowly begin to lengthen, may this season of hope and miracles keep us moving confidently toward the light. You will see it when you believe it.