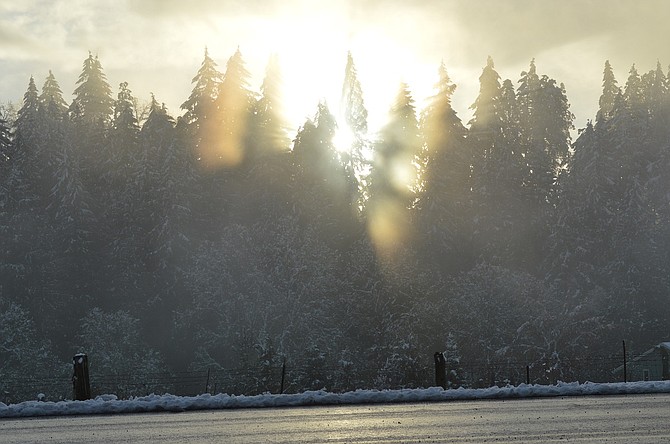 The pressure of being a Bon Bon
By GRACE WHITMORE, News intern
For me, the holiday season doesn't officially begin until I hear the opening notes of the music from "Scenes from the Nutcracker." The festive costumes and magical storyline from the CGDA ballet performance never fails to put me right in the holiday spirit, ready to eat Christmas cookies and make snow angels.
I got my first taste of life in the spotlight as a baby mouse in the Nutcracker, year 2004. I was four years old. I remember gathering with my little ballet friends offstage, wearing our black tutus and mouse ears. We were nervous. The pressure was on. Then, the music began, and our teacher, Nancy Clement, beckoned us to come forward onto the stage for our dance. The lights were incredibly blinding and the audience was enormous. I remember that I stood frozen in the center of the stage, completely bewildered for a solid five seconds, before beginning the dance.
When I was finished, I felt quite proud of myself for helping Clara and the Sugar Plum fairy to tell the story of their magical Christmas adventures. I received a bouquet of flowers from my parent and my friends and I got to drink hot chocolate downtown. I couldn't wait to be a part of every single dance in the Nutcracker.
The tradition of performing in the Nutcracker every holiday season continued for me for nine more years. I moved up the ranks from a baby mouse to an Arabian dancer and everything in between, before finally ending my career as dancer. But the memories of being out onstage at the Hood River Middle School auditorium, helping the Hood River community get into the holiday cheer, aren't going anywhere.
Grace Whitmore, a sophomore at Hood River Valley High School, is volunteering as an intern at Hood River News.
The simple gift of cinnamon
By BEN MITCHELL
News staff writer
Over the past two-and-a-half years at the Hood River News, I've been denounced as a "foodie" on more than one occasion, a word that is typically hurled at me following disagreements with staff members over the quality of a Gorge restaurant… or my mention of a recipe that I saw in Bon Appetit and then duplicated at home.
In my mind, "foodie" is somewhat of a pejorative term and in my case, an inaccurate one. Yes, I'll make khao soi or roasted duck at home on occasion, but you're talking about somebody who enjoys eating often at Taco Bell, Dominos… someone who pines after the McRib, which for some reason — at least, to my knowledge — did not make a return to the Gorge this fall (Jim Dummer or Jason Bustos, let me know if you've got the hookup; you can make a 29-year-old boy's Christmas wish come true).
But, for the vast majority of my life, I haven't been a cook. Up until about five years ago, I was limited to such things as burgers, sandwiches, and scrambled eggs. One of the first meals I made myself upon graduating college and moving to the Gorge was pasta with tomato sauce and reheated hot dogs, cut into medallions with a butter knife as if I were slicing a banana over a bowl of cereal.
"What does this have to do with Christmas," you three people still reading are probably wondering. When I was a lot younger, my culinary skills were even fewer and confined to a single dish, if you can call it that: cinnamon sugar toast. Limited ingredients, limited tools, limited supervision required — in general, pretty hard to screw up. I wielded the "Spice Supreme" cinnamon sugar shaker with reckless abandon, coating my solitary slice of potato bread toast with so much of the substance that the butter disappeared like water into a California almond. It was candy, masquerading as breakfast food.
My mother — an excellent cook who made sure I subsisted on far more than cinnamon sugar toast — seeing my predilection for cinnamon sugar toast, and fond of the occasional gag gift, got me a giant shaker's worth of cinnamon sugar for Christmas when I was 13. It wasn't on my Christmas list, and I had no idea what was inside when I shook the package and cracked up when I saw it. My mom captured the exact moment with a perfectly timed photo (on actual film, no less!), and that moment is enshrined forever on the refrigerator of my childhood home in Upstate New York. My mother says it represents "pure, innocent, unadulterated joy." This wasn't something I asked for, it wasn't a big purchase, but it was a special moment nonetheless. And you better believe that cinnamon sugar was gone before the snow melted.
The year my worst present was also my best
By TRISHA WALKER
News staff writer
Once upon a time, like in 1994, when my husband Eric was merely my boyfriend Eric, we celebrated our Second Christmas Together.
That's all caps so you know it's legit.
But before I go into all that, I need to tell you this:
Eric had called me a few days prior, asking if I'd pick up a couple jars of jam from Apple Valley (before it was Apple Valley, incidentally, and also on a phone that was plugged into the kitchen wall. It was practically the dark days). The occasion was a gift exchange at work, and, possessing a rather practical nature, he wanted to get something that someone would actually use despite the fact that it had been billed as "white elephant."
Well, he was young.
Anyway, I purchased the jam and he took care of the wrapping and I didn't think anything more about it.
Until it came time to exchange our own gifts.
I'm not exactly sure why it went down this way, but we exchanged presents early that year. Maybe it was because we both had family obligations Christmas Day. Sounds about right; let's go with that. So we're at his house, and he's opened my gift — a t-shirt and a pair of sweatpants (I know, so romantic) — and now he's handing me a really big box.
And inside is an enormous troll doll.
You know, one of those ugly dolls with the neon hair that stands up on end that were popular in the '60s and enjoying a rather unfortunate (but thankfully brief) resurgence that year.
So I'm looking at this thing, wondering how I can be gracious about it, and also wondering exactly what I'd said or done that would ever give him the idea that I would actually want one of these hideous trolls, when Eric begins to laugh.
And laugh and laugh and laugh. Apparently I'm really bad at schooling my expressions.
He took it away, saying that wasn't really my gift. The doll was what he'd gotten in the white elephant exchange at work — where his jam was a hot item during Yankee Swap, by the way.
Well, duh. If it's between a troll doll and Apple Valley blackberry jam, that's just a no-brainer.
Anyway, he took the troll doll back — and, ever practical, regifted it to a niece, poor girl — and handed me a much smaller box containing a beautiful, delicate little necklace.
It's kind of hard to stay mad at someone who is, yes, a big jerk, but a sweet big jerk.
And that's the story of the year my worst Christmas present was also my best.
The end.
A son's artwork gives Christmas true meaning
By CHELSEA MARR
News Publishser
"How is Santa in all these places at once?"
"Why do they ask us to give toys for kids, if there is a Santa?"
"What happens if someone doesn't have a house? How does Santa find them?"
Pondering the answers to these questions once asked by my son still brings a smile to my face — the curiosity and the mystery of the jolly St. Nick. I answered as carefully as I could, explaining often times that Santa couldn't be in all these places at once, that he has Santa helpers that report back to him. The other questions were more difficult. I explained that not all kids are as lucky as he is. They don't always have a family to celebrate Christmas with, or a home with a room all their own. We too are Santa's helpers. We can help make sure kids have a special Christmas.
It took several years before I had my son's photo taken with Santa. The photo line was the most entertaining. Babies crying, kids awe-struck and parents preparing their children for the perfect photo. My son would look from a distance, but never quite make it through the line. Maybe it's because he knew his wish list was already sent to the North Pole and would reach Santa?
He is nine now, and of course, he looks forward to his presents. But he also looks forward to the seasonal traditions that make it Christmas. Baking gingerbread cookies and getting the Christmas tree are top on his list. He can't wait to get the tree set up and decorated. Together we go through the ornaments and Christmas decorations, carefully crafted school projects including snowflakes, trees and reindeer.
Each year, I look forward to what school project will be coming home with my son. To me it is the most thoughtful gift. The house just doesn't look decorated without his Christmas art. These are the gifts, I know, I will carefully keep in our Christmas box for years.
Stung by Santa revelation
By PATRICK MULVIHILL
News staff writer
At seven, I discovered the elusive source of my Christmas presents was not the holly, jolly czar of all elves, but was in fact my dad.
Living in the desert outskirts of Hermiston, there wasn't much to do. My two brothers and I appreciated (and possibly relied on) video games for entertainment, and Christmas was the only time of year we could count on receiving a new gaming console.
Headlining this year's wish list was the Nintendo 64, a gaming platform that was already past its prime, but seemed cutting edge to our naïve minds. We were stoked to dash across the pixelated castle lawns of Super Mario 64 and journey to the depths of Hyrule in Legend of Zelda: Ocarina of Time.
But something tempered my excitement.
As a natural cynic, I had been wondering for some time why a hallowed aberration of nature would bother using his magic to bring presents to the likes of us, three random kids in the middle of rural northeastern Oregon. I also wondered how the cartoonish bearded man, who seemed more at home in a cutesy workshop than a manufacturing plant, could rustle up an advanced computing unit with "Made in China" stickered on its packaging.
Beneath this cloud of doubt, Christmas night fell. My brothers were asleep but I lay awake staring at the bunk above me, pondering if Santa would really come.
I got up to use the bathroom, and heard a rustling downstairs. I'm not sure what propelled me to check on the noise, considering a part of me yearned to remain ignorant.
"It was like you knew the truth but you prayed you wouldn't find it," my mom said when I recently asked her about the incident.
At the foot of the stairs, I found my dad crouching before the TV, plugging in cables for a brand new Nintendo 64. No Santa hat or Christmas reds, just a t-shirt and Adidas sweats. He spun around and his face was pure shock — as was mine, my parents recalled.
The moment was such a stinging epiphany that I have a hard time remembering anything other than disbelief. I was "physically hit by the realization," my mom said.
Dazed, my dad told me to go back to bed, and I did. But from then on, I knew the truth: my parents were the Santa in my life.
I think after the shock, relief swept in. Now I was one step closer to understanding the distinction between what's tangible and symbolic.
All families have a different approach on how they welcome Santa Claus into their homes, but I commend my family for letting him in for a brief window of time. My mom and dad hoped that believing in old Kringle would impart an element of wonder in me … well, now I work as a journalist, so maybe that didn't pan out.
But I think my mom had an interesting justification for the whole Santa charade:
"It isn't lying. It's perpetuating creativity and imagination. The world doesn't need to be brutally factual … we should encourage fantasy."
The tale of the toppling Tannenbaum
By KIRBY NEUMANN-REA and CONNAL REA
Our family moved at about this time in my first grade year, and I have this firm-but-faint memory of learning "O Tannenbaum" as a six-year-old as my last memory of Fauntleroy Elementary.
It's bittersweet, as are many of my tannenbaum memories, childhood and adult, though the presence of the tree in the home is something that always brings me pleasure.
There's the philodendron I draped lights upon in 1984, too poor to buy a tree, the year I housesat for Portland friends.
There's the foot-tall artificial tree my parents mailed to me (with cookies!) in 1978, the year I spent abroad in Tel Aviv.
There's the white-flocked tree we browbeat my parents into buying, in 1966 or so. It was the one and only time we had a flocked tree, and it lasted all of two days before everyone agreed to replace it with a conventional tree.
And, finally, there was the next year's tree, the one my brother Matt toppled over.
It came to mind when I found something drawn and written by my son. Connal, now 23, when he was nine, in the fourth grade at May Street. The booklet is among many Christmas creations by our sons that we have kept over the years, and will never part with (see Chelsea's poignant thoughts on this aspect of Christmas).
Here, as told by Connal, is "A Christmas Memory," verbatim, written in December 2001, the month we moved to our current home:
"This is the story of how my father, Kirby, celebrated Christmas when he was my age.
"My Dad lived in Kirkland, Washington, in a big brown house with large trees and a big yard.
"He lived with his parents and 3 brothers.
"The weather was mild and rather rainy.
"His grandmas came to his house for Christmas. They arrived a few days before Christmas.
"They had a tree. On it they put many kinds of ornaments that they had made or were in the family for a long time.
"They had a wreath, a nativity scene, and some outdoor lights on the house. They had a big Christmas dinner of turkey and some Christmas bread. His mom cooked the dinner and he and his brothers cleaned up.
"For Christmas he got toys, books and clothes.
"A funny thing that he remembered is when his brother Matt knocked over the Christmas tree."
(Connal's picture of Matt has him saying, "Heh-heh . . . oops!")
Annotations: Connal's lead-page picture of me with a snowman was prescient: I wear red and purple, the colors of my college, Linfield; Mom made the frosted Christmas bread every year; the wreath was very cool – a circle made of fir cones; I had one White Christmas my whole childhood; I think what happened with Matt is he wanted one of his ornaments moved higher than it was. Or, maybe he was chasing the cat at the time. It might have been both.