1915 — 100 years ago
Real Estate Bargains at The Emprium — House and two lots in Barrett-Sipma addition, $700. Fine business lot on Main Street for $1600 on installment, or $1500 cash. Fourteen acres across the road from the M. Davenport residence, $60 per acre. Terms easy.
(Advertisement) Good things for the Boys and Girls — Deposit One Dollar to their credit and get a Fine Steel Saving Bank FREE. Just the thing for a Christmas Present. Savings Department, First National Bank.
1925 — 90 years ago
The heavy snowfall of last Sunday brought a certain relief to growers who fear a repetition of the cold snap of last year. At the same time, power and phone operatives might be justified in wishing it had fallen somewhere else other than Hood River, for it brought a great deal of grief with it in the shape of broken and short circuited wires.
The city council on Monday unanimously approved the budget for the coming year as already published. An ordinance, providing for the grading of Columbia Street between 17th and City Park, was discussed. It has been suggested that if this improvement is carried out the street should be high on the south side and low on the north side, with a terrace in the center and providing for one way traffic. However, opposition to this project developed in the city, and it was finally decided to take no further action in the matter until the property owners affected had an opportunity to express their own views on the matter.
1935 — 80 years ago
Christmas Day, 1935, found most Hood River families in their own homes and celebrating in much freer manner than in several years, for optimism has already taken the place of the gloom of depression years. The weather, too, was such that there was little temptation to venture too far from the cheerful warmth of the open fireplace or heater.
Christmas Day will be remembered by those who traveled by car or stage over the Columbia River and Evergreen highways for the many serious hazards furnished by glare ice. Fortunately, in this area, no serious accidents were reported, but many who had planned to spend Christmas in Portland or intermediate points accepted the advice of those who knew the actual conditions on the highways, and finally decided to spend their Christmas in Hood River.
1945 — 70 years ago
While winter does not officially start until today, the Mid-Columbia has, for nearly one week, been experiencing a foretaste of winter of the old-fashioned kind. Since last Sunday temperature has been above the freezing point only for a few hours, and the resumption of freezing only made travel conditions a little more difficult.
Dallas Burnett, chairman of the Elks Christmas committee, Wednesday announced that, following a custom of many years standing, the local Elks lodge has arranged for a special Christmas morning movie for the youngsters of Hood River County. Immediately after the show, all youngsters of grade school age and under are invited to the lodge rooms where Santa Claus will be waiting to distribute a gift of candy and nuts.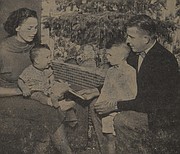 1955 — 60 years ago
Calling Santa? Phone 4012 — "I want an ironing board and a doctor's set," instructed a voice by phone Wednesday night and then hung up. The young miss had dialed the News' phone number and may have guessed that 2111 was connected with Santa's house at the North Pole. Don Jones, News linotype operator who took the call, promises to relay the message to Santa before Christmas. Children may call Santa person-to-person by dialing 4012 courtesy of the Oregon-Washington Telephone Company, which has arranged for a direct wire to the North Pole.
Former Hood River High School honor student and valedictorian of the class of 1938, Floyd M. Anderson, will appear on a television show Saturday night and will use his knowledge of driving and safety principals in an effort to win a new car every year for the rest of his life. That prize is being given by the Dodge division of Chrysler Corporation in the last of seven weekly "Dodge for Life" safety quiz contests in support of the national safety council's accident prevention program.
1965 — 50 years ago
"It adds up to 111 years of service," said Diamond Fruit Grower cannery manager Chuck Beardsley. He was looking down at the banquet head table at five men who are retiring from regular service with DFG. They are Frank Absten, assistant warehouse foreman, Sylvan Absten, a warehouse man, Floyd Carmen, mechanic, Ralph Carter, cook room foreman, and Walt Predmore, a mechanic.
Tony DeBiasco came armed to argue for a proposed tavern at 20th and Cascade, and he won his point Monday at a public hearing on the beer licensing permit. City councilmen recommended issuing the malt beverage license, and forwarded it to the state level for final action.
1975 — 40 years ago
State Representative Paul Walden filed his nomination for re-election in the Republican primary Monday. He serves District 56, which includes the north half of Wasco County, all of Hood River County, and on Highway 26 and including the city of Sandy in Clackamas County. Rep. Walden is the owner of Radio KIHR, a business he purchased in 1967.
Odell's post office was the target of a theft late Friday, but the loot fell far short of food stamps taken in an armed robbery earlier this year. Sheriff's officers reported someone entered by breaking a small window, and they escaped with a package valued at $27.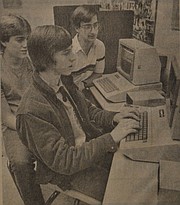 1985 — 30 years ago
When the Hood River Valley High's Eagle Express newspaper rolled off the press last Friday, its arrival was greeted with special enthusiasm by the staff that produced it. That's because it marked a breakthrough achieved by only a few other high school newspapers in Oregon, and just a handful across the country. The Eagle Express has gone electronic. The Dec. 20 issue was the first one using a new, computerized system in which the school paper staff beamed their stories directly over phone lines to the Hood River News' own frontend system and typesetting equipment.
Running tight on time, Port of Hood River commissioners unanimously passed an emergency resolution to allow them to bypass normal bidding procedures for renovation of a portion of the Graff building in the Diamond complex. It lies immediately northwest of the main cannery building. Time is critical, for it must be ready for Juanita's Tortillas to move from the Transportation building Feb. 1. That building is scheduled for demolition so work on the Wasco Street extension may proceed.
1995 — 20 years ago
Financing a major downtown street improvement will likely take more than tax dollars. An indication of how much more is expected Thursday. Hood River's Urban Renewal Agency is scheduled to put the finishing touches on its estimated $700,000 Second Street renovation design during its monthly meeting this Thursday, Dec. 21.
Residents along Westcliff Drive won't become city dwellers anytime soon, but folks living on Avalon Way and portions of Belmont Road could see a status change in the new year. Hood River City Council discussed these areas as possible annexation candidates at its Monday work session, taking a logical step following last week's adopted of an annexation policy.
2005 — 10 years ago
The glaze this week was on the roads instead of the Christmas cake where it belonged. Six inches of snow snuck into the Gorge Sunday night, and fluctuating temperatures on Monday yielded an icy recipe for danger. "Treacherous," is how Hood River Police Chief Bruce Ludwig described the streets that received a thin coating of ice before temperatures spiked above freezing briefly — and then dropped again — on Monday afternoon.
Providence Hood River Memorial Hospital opened the doors of its newly finished Ray T. Yasui Dialysis Center Wednesday, and celebrated with a ribbon cutting just before noon. The community is invited to an open house at the center Jan. 15.
— Compiled by Trisha Walker, news staff writer