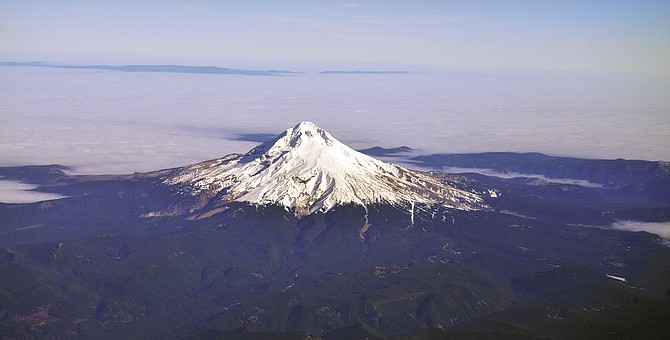 For those who have been snow dancing, it may be time to learn some new steps.
As the month of February begins, and as we crest the halfway point of the winter season, Mt. Hood's snowpack is in rough shape, hurt by warm rains washing away whatever meager amount of snow remains.
Data from the Natural Resources Conservation Service's Mt. Hood test site, located at 5,370 feet elevation on the south side of Mt. Hood, shows that the mountain's snowpack is currently is at 32 percent of normal. The Mid-Columbia basin, which includes the Hood, Sandy, and Lower Deschutes river basins, started the month of January at what was an already disappointing 30 percent and as of Feb. 3, has a snowpack that is at 14 percent of normal.
In Hood River County, at the Red Hill site, the situation is even worse. The site located southwest of Parkdale at 4,400 feet elevation is at 7 percent of normal, the lowest it has been for this time of year since station records began in 1979, according to data from the National Oceanic and Atmospheric Administration.
The abysmal accumulation is less than ideal for area ski resorts, or for the many other businesses that rely on skiers and snowboarders to bring in revenue via renting gear, staying at hotels, or hitting up breweries and restaurants for some après ski fare.
The low snowpack also affects local irrigation districts, who have been keeping an eye on the weather forecasts, hoping for snow.
At Farmers Irrigation District, which provides water to 5,800 acres of land to 1,722 users on the west side of Hood River, District Manager Jer Camarata balances concern over the current snowpack with optimism that the latter half of the winter can often be the most productive time of year for snowfall.
"Yeah, we're concerned; we're always concerned when we don't have an average or above average snowpack," he said, but then added, "a lot can happen in February and March."
Camarata noted that the region is experiencing "very similar weather patterns to last year," when concerns of drought were washed away by prodigious precipitation in February and March. In February of last year, the News reported that Mt. Hood Meadows Ski Resort had received 134 inches in the first three weeks of the month — 47 inches of which fell within three days. That accumulation pushed a snowpack that was less than half of normal going into February up to 93 percent by Feb. 21.
However, Camarata said FID has already taken steps to mitigate impacts from the lackluster snowpack. FID uses Kingsley Reservoir to supply water to the upper part of the district, and just like last year, FID closed the valves on Jan. 21 to increase the level of the reservoir. Camarata explained that usually, FID will close the valves later in the season when there is a larger snowpack, so as to not to retain too much water in the reservoir and risk compromising the 1930s-era earthen dams.
While the snow has been an issue, rain has been less of one. According to data from NRCS, the Mid-Columbia Basin is near average for precipitation this water year, which started Oct. 1, although the U.S. Drought Monitor shows the majority of Hood River County is currently experiencing what is classified as a "moderate drought." The problem, the NRCS reported at the beginning of January, was "unusually warm" temperatures, noting that "western and central Oregon received more rain than snow in many areas." The phenomenon only worsened throughout the rest of the month, with temperatures rising above 60 degrees on Mt. Hood one weekend.
Rain is of course helpful for filling reservoirs, but the benefit of a substantial snowpack means reliable meltwater later on.
"We really do depend on the snowpack well into late spring," Camarata said. "It's extremely helpful."
At the East Fork Irrigation District — which irrigates 9,494 acres and serves 936 customers in east side communities like Pine Grove and Odell — the snowpack is even more important, said John Buckley, district manager.
"Our biggest problem with this district is we don't have a reservoir," he explained. "This irrigation district is very dependent on that mountain."
Buckley said if the snowpack doesn't improve, the irrigation district will end up asking "patrons to at least try and conserve (water) as best they can," so as not to exacerbate a potential drought situation during the summer months.
Like Camarata, Buckley pointed to last year's February and March as evidence that there's still time to build up the snowpack … provided that the mountain gets snow.
"I'm definitely concerned, but I'm definitely optimistic too," he said.
As of press time, Mt. Hood Meadows was seeing a strange sight — snow — and had received an inch of the white stuff as of 9:30 a.m., with another inch to 4 inches expected to fall by the end of the day. Unfortunately, Meadows' forecast calls for heavy rain and temperatures in the 40s on Thursday. The National Weather Service's 6-10 day outlook issued Feb. 2 calls for above-average precipitation, but above-average temperatures as well.
However, the good news is Punxsutawney Phil did see his shadow on Groundhog's Day this Monday, meaning another six weeks of winter, although the rodent did not specify the amount of snow accumulation that would be in store for the Pacific Northwest.