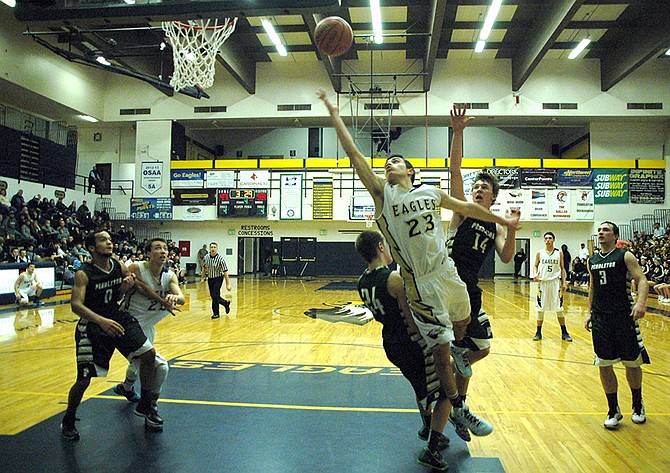 A thrilling Columbia River Conference matchup between league title contenders Hood River Valley and Pendleton resembled the intensity and atmosphere of the state finals, with a near capacity Vannet Court crowd providing the Eagles an emotional boost as they took on the No. 12 ranked Buckaroos.
After four quarters of action-packed basketball, it was the visiting Buckaroos who prevailed with a slim 61-58 win.

"We came out and we were on fire from the outside early … and we continued working hard the entire game," said coach Steve Noteboom. "We played good, tough, aggressive defense, but … there were some things that we definitely need to improve on, and we'll do that so that we can become a better team. We played a pretty good game, but I know we can play better."
After Hood River senior post Scottie Ziegner (team-high 13 points) drove into the lane for a layup, the Eagles were within one point of Pendleton (59-58) with 11 seconds left in the game. The Eagles fouled Pendleton sophomore guard Caden Smith, stopping the clock with four seconds left, to give themselves a chance to win at the end. Despite the roar of a large home crowd that tried to distract him, Smith sank two clutch free throws to give the Bucks a three-point lead. Stymied by Pendleton's pressing defense, the Eagles were unable to get a good look at the hoop as the time counted dwindled down to zero.
"It's tough to come from behind at the end, and with only four seconds left it just wasn't enough time to get a good shot," said Ziegner. "It's definitely exciting to be in position to have a chance to go to the playoffs this year, for the first time in a long, long time. We just need to continue working hard in practice every day."
The No. 28 ranked Eagles (2-2 CRC, 9-9 overall) hosted a key game Tuesday (results unavailable as of press time) against the No. 23 ranked Hermiston Bulldogs and will follow with four more CRC games over the next couple of weeks to close out the regular season. The top-three teams in the conference qualify for postseason play; a trip to the playoffs would be the first for the Eagles since 1994.
HRV took the early momentum Friday night, jumping in front 9-2 as Kaydin Gibbs (eight pts.), Ziegner and Tyrone Stintzi (10 pts., five rebounds) sunk consecutive three-pointers. Led by 6-6 senior post Wes Persinger (28 pts., 11 rebs), Pendleton came back with a 17-0 run to build a 19-9 lead. A three-pointer by junior Dallas Buckley (six pts.) helped the Eagles trim the margin to 19-12 after one quarter.
"We just didn't make the tough plays at the end that we needed to," said Buckley. "We have thrived in the second half, which is when we usually play our best and we don't have a problem whenever we fall behind. We sometimes prefer it that way so that we have more of a challenge. It sure hurts losing a close game like this though, especially since we could've won."
Utilizing their now familiar up-tempo, quick shooting offensive attack, the Eagles continued firing in threes (11 total). Back-to-back bombs by Stintzi and senior guard Skyler Hunter (12 pts.) narrowed the Buck lead to 24-20 midway through the second quarter. Pendleton then had an 8-0 run to take its largest lead of the game at 32-20 with three minutes, 17 seconds left in the quarter.
"Pendleton is a good team and I just think that they wanted the win a little more than we did," said Hunter. "We're having a good season and we'll just have to continue playing strong and hopefully we'll get a win against Hermiston."
The resilient Eagles came back with an 11-2 run, capped by a Hunter three, to trim the margin to 34-31. Pendleton answered by scoring the final four of the quarter to take a 38-31 halftime lead.
The teams traded baskets throughout the third, with Pendleton holding on to a 47-41 margin after three quarters. The final quarter was packed with excitement as both teams fought tooth and nail for the win. Just 11 seconds into the fourth, the Eagles pulled to within two points on a four-point play by junior guard Noah Noteboom (12 pts.). Noteboom was fouled after connecting on a three from the corner and he sank a free throw to get HRV within 47-45 with 7:49 on the clock.
Pendleton upped its lead to 51-45 with 5:08 left in the game. HRV fought back, slicing the deficit to 57-54 on a clutch three pointer from the top of the arc by Hunter with 2:06 remaining. After Persinger's shot in the post made it 59-54, a Noteboom layup with 38 seconds left made it 59-56. Ziegner's driving shot in the lane was a huge basket late in the game, trimming it to 59-58.
The Eagles shot 11-for-25 from the three-point line (44 percent), they were 8-for-20 from the field (40 percent) and 9-for-12 (75 percent) from the free throw line.
HRV Girls
The Hood River Valley Eagles girls basketball team (0-4, 5-14) lost a Columbia River Conference game 71-36 to the No. 6 ranked Pendleton Buckaroos Friday in Pendleton. The Eagles played tough in the first quarter, trailing just 21-13 after the first eight minutes. The Bucks (3-1 CRC, 13-6 overall) took control in the second and third quarters, outscoring the Eagles 36-14 to take a commanding 57-27 lead after three. HRV senior Kelsey Wells led the Eagles in scoring with 13 points.