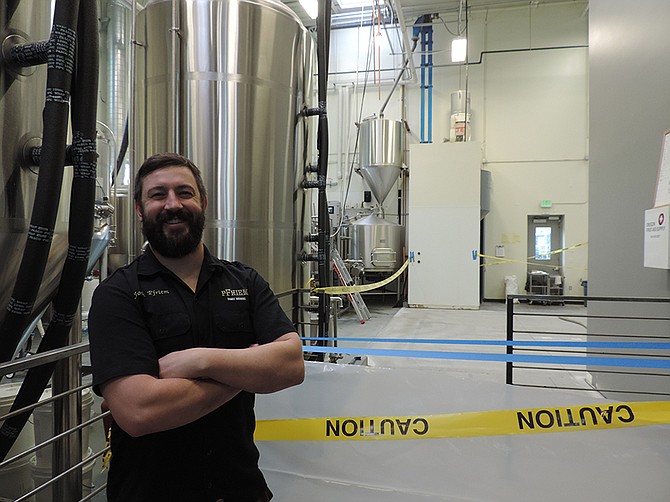 The folks at pFriem will have plenty to tell Zwickelmania visitors this weekend.
As breweries around the state are opening their doors and celebrating the compounding growth of Oregon's brewing industry (see sidebar, page A9), the Belgian-style brewhouse on the Hood River waterfront exemplifies that growth.
pFriem rhymes with dream, not prime, but both words apply to what is going on at the brewery that is not yet three years old. Growth is a challenge, but the only sour part is the beers that have been aging for 18 months and scheduled for market this spring.
pFriem is bursting, poised to double in output this year and double that again in about another two years, as the brewery adds tanks and expands its sour production area and prepares for its first bottling next month.
pFriem Family Brewing is gearing up for more efficiency and capacity to keep up with rapidly expanding production of beers such as Belgian Strong Dark, Strong Blonde, and Wit, and this spring, its new line of Flanders Red and Flanders Blonde sours.
"2015 is the year that everything comes together that we wanted to do," said co-owner and brewmaster Josh Pfriem, who started out brewing solo in 2012 with part-time help and now employs six other brewers, with another coming aboard this spring.
"Because we've grown so fast, we've had to hold off on bottling and some of the smaller projects. It's like a dog chasing your own tail some times," Pfriem said. "Everything has been best case scenario. You'd never expect that, and it's been awesome. It's also a little bit overwhelming, but perfect at the same time. It's all the things you want but it creates all kinds of other problems: growing that fast, the cash flow." Pfriem negotiated a change of lease in the Halyard Building with the Port of Hood River, allowing it to expand its offices and some storage space next door to where PocketFuel has been housed for the past two years.
pFriem's kitchen was closed for a week recently for the addition of new flooring and dish pit, and improvements to the prep area. "We try to do as much as we can with our little space," said Pfriem. The brewery employs 35 people, including about 18 in kitchen and pub staff.
The first phase of construction is well underway, and all the new equipment should be up and ready by late March. Subcontractors supervised by Pfriem have been working at the getting the floors regraded and paved, and putting in new fermenter pads, with a new drainage system.
"We tore out the old floor, put in trench drains that are slanted forwards, and put in a new electrical room, as there is quite a lot more electrical into the building. We had to dig it and lay it; it was a lot of work.
"When we get the first round finished, we'll move the lauter tun and are having built a dedicated mash tun with steam jackets and replace our direct fire kettle with a steam kettle," Pfriem said. Pads are being created to make room for four more tanks.
"Every round as we grow, we try to make efficiency improvements and quality improvements," Pfriem said. "It helps with time and efficiency and efficiency of raw ingredients because there is more volume, and it lends the opportunity for a flavor increase, as well."
The expansion is costing $1.5 million, with help from CenterPointe Bank, according to Pfriem.
The expansion has brought what he calls "a little of a shuffle of tanks."
A 15-barrel tank moves to the sour area, and they'll move a 30-barrel tank to the new section, and move the 45-barrel to where the 30 was, put in two new 45-barrels and a 45-barrel brite tank (for clarifying) will go on the north wall. Next to the brite, in a couple of years, will be four 90-barrel fermenters.
pFriem started at 1,500 barrels, and less than a year later added tanks to expand to 5,000 barrels.
"The new tanks gets us to 11,000 and we're setting the groundwork in next year or two to set us up to 20,000 barrels capacity," he said.
That will mean "a lot more barrel aging stuff," pFriem said. Added space "allows us to not only package what we've been brewing but to focus on brettanomyces fermentation, and brett finishing, and beers such as Berlinerweisse, and other wild, lactic fermented beers," he said.
PFriem announced that a 30-barrel brite tank will be installed and three 1,000 gallon wine tanks are being made for the brewery, enabling them to brew Lambic for the first time.
The pub seating area stays the same, but the brewery is making different use of space. Last spring, the brewery added an outside patio with a fire pit, and this summer or fall, they plan to put a tent cover area over the top of the space to create more sunshade and warmth, depending on the season.
"It will just be a more versatile space," said Pfriem, noting that the upstairs meeting room has been rebranded "The Library." Guests can place orders at the bar and go upstairs and enjoy tables, chairs and couches in a relaxed setting with waterfront views, board games and, as the name suggests, a supply of reading material.
The Feb. 7 "The Ale List" article on pFriem misstated the age of the brewery — it's two-and-a-half years — and production volume — currently 5,000 barrels, not bottles. Also, brewmaster Josh Pfriem and Ken Whiteman are co-owners.