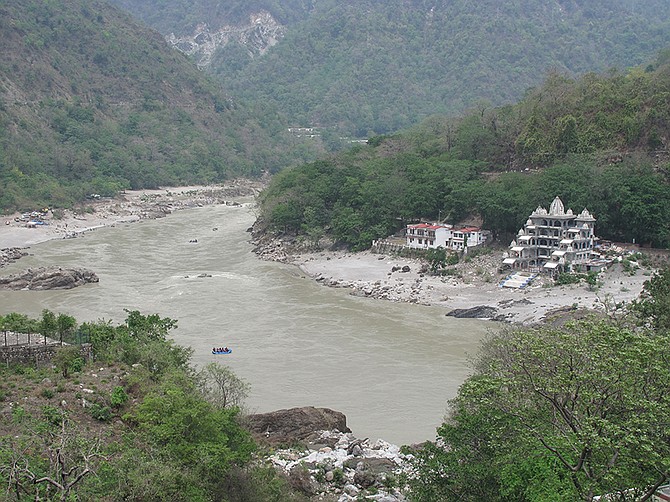 My mother and I hopped off the plane in New Delhi, India, and were submerged into a new world. The sun beat down on our skin at 110 degrees and our ears filled with sounds of cars honking and loud voices speaking a language we didn't know. It was only a tad different from Hood River. A slight breeze in India feels like a miracle, whereas a breeze in Oregon is a reason to bundle up more.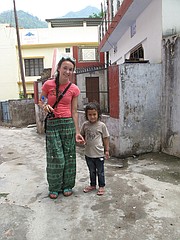 It was the summer of 2014. My mom and I have had the travel bug since we went to Haiti in the summer of 2013. We then visited London, India, and Italy, and recently, Hawai'i. This upcoming summer, we plan to go to Costa Rica. Our trip to Haiti with doctors from Hood River and a few from Texas was a medical mission to provide checkups and medical help to those in need. My mom, Peggy, and I wanted to do something similar to what we did in Haiti, by helping out in whatever way we could. Since my mom, who owns Hood River Coffee Roasters, had been to India before to go on a guided trip with a coffee broker, we decided to go to there.
We found an orphanage called Ramana's Garden that liked having volunteers to work in the kitchens preparing food. Once we got there, however, we were disappointed to find that the orphans were on their summer vacation in the mountains. I had heard that Rishikesh was the yoga center of the world. I have loved yoga since I was little, so my mom and I decided to attend classes daily. This became our main purpose for our visit, and we headed out feeling confident with all the right gear for our 3-week trip.
About the Author
Ellen Hudon, 17, is a junior at Hood River Valley High School, is the daughter of Mark and Peggy Hudon of Hood River. Ellen has studied French for several years and is now taking Spanish at HRVHS.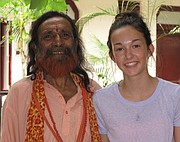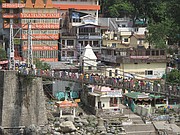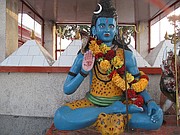 In the first few days of visiting, we went down to the Parmarth Niketan Ashram at the Ganges River to celebrate the Goddess Ganga which is the most holy river in India. On our way to the Aarti, we bought an offering to put into the water from a little girl. She spoke English well and have vibrant green eyes, which was unusual to see amongst the swarms of brown eyes. The offering had bright orange marigolds delicately placed in bowls made of banana leaves. On top of the marigolds there was a flammable wick to light. The Aarti, which is a spiritual ritual, includes singing and praying and celebrates and thanks this Goddess two times a day. At the end of the ceremony an oil lamp is lit and is passed around to the large crowd. Hindu priests circle around these lamps while chanting with the crowd to praise Mother Ganga.
I have always wanted to hold a monkey, and it has been high up there on my bucket list since I was little. When I found out that there were monkeys that hung out on the Lakshman Jhula bridge, I was excited. I thought they would be sweet, harmless monkeys, but these ones were not like the ones you would see in the zoo. After coming home from the market one day with a bag full of juicy lychees, my mom and I spotted a rather large monkey perched on a stone wall. I was stoked to see it because I had only seen one so far. We walked past it, and as it saw my bag of delicious fruit it descended from its perch and slowly crept up to me. I was worried that it was going to attack me, so I automatically froze. It reached up quickly and grabbed at the plastic bag I was holding. My mind was on the tasty, tropical fruit, and I was determined to not lose my perfectly ripe snack. I tugged on the bag and my mom nervously told me to "just let the monkey have it!" Sadly, I let the bag go and watched the monkey devour them thoughtlessly.
One of the people we had the pleasure of meeting was a Belgian man named Ronnie Hermosa. He was a well-traveled videographer who worked with fair-trade organizations. He knew what to expect from India since he had been there multiple times, and he took us under his wing. From the minute I saw his "Los Pollos Hermanos" shirt from Breaking Bad, I knew we were going to get along. Every night that we had dinner with him he would bow his head in appreciation for his food. My mother and I found this very inspiring because we often just dug into our food the minute it was placed in front of us. Ronnie taught us to take a minute and center ourselves and be thankful for the food, all those who helped make it, and for the nutrition it would give our bodies. We also wished that the people who worked so hard to make our food had a good day. It is now a tradition we try to remember to do on a daily basis.
Ronnie also attended a few yoga classes with us. Our yogi, Upandra, was very helpful and spiritual throughout our many classes we attended. Sun salutations and breathing exercises were the basis of what we did daily. I have always been very inspired by yoga and have had an interest in it my whole life. For my EA project (Extended Application project) I am required to do to graduate, I taught a yoga class to my friends at Flow Yoga. Jen FitzSimons was my mentor and taught me how to use transition words and phrases. I went to many yoga classes to get a perspective on how I wanted my yoga class to sound. Going to India was a big part of my inspiration for doing this as my project.
I am very thankful for my experiences in India, the people I met, the things I learned, and also for my mentor and others who helped me along the way with my EA project. I hope to continue doing yoga as a lifelong practice because I believe it adds to a healthy lifestyle. I also plan to keep traveling and having amazing experiences with my mom.