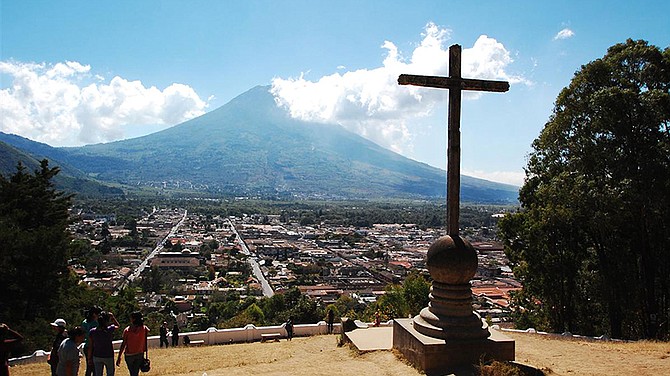 As we touched down on the wet runway on that early spring day of 2014, I was reminded once again why my wife Lynda and I just landed in Guatemala City, the largest city in all of Central America.
After a year of planning and praying with a team from Immanuel Lutheran, it was clear that God wanted our church to learn all about the plight of Central American orphans and how other American Christian churches were meeting the vast need of these precious children.
As we taxied to the gate, I recalled the two Bible verses that had been the catalyst for this trip and many more trips to come: "Religion that God our Father accepts as pure and faultless is this: to look after orphans… in their distress" (James 1:27). And Jesus' words: "Truly I tell you, whatever you did for one of the least of these brothers and sisters of mine, you did for me" (Matthew 25:40). Immanuel Lutheran Church had received a clear mission from our Lord to fulfill these two verses and although almost none of us speak Spanish and have very little experience south of the border, when God says go, you go!
As we walked out of customs, we heard our names and turned to see our dear friend, Uncle Willy, waving at us to follow him around the fence and over to his parked car. Uncle Willy has been living in Guatemala City for over 30 years and is a retired businessman. He was going to serve as our tour guide, interpreter, and host for our 7-day adventure in beautiful Guatemala.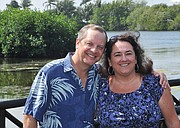 About the author
Jeff and Lynda Mueller were high school sweethearts at Hood River Valley High, now married 36 years and counting. Jeff is the senior pastor at Immanuel Lutheran Church on 9th and State Street, and the chaplain of the Hood River Fire Department. Lynda is the church secretary and children's ministry director. Before returning to Hood River, they served churches in Northern California and Hawaii.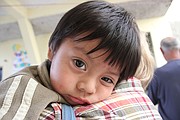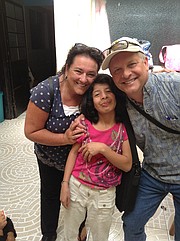 As he drove us confidentially through the crazy (and often scary) maze of cars, buses and motorcycles towards his fifth floor condo in the heart of the city, I recalled that out of the 14 million people living in Guatemala, it was estimated that over 500,000 were orphans.
In our American mindset, an orphan is a child without both parents. But in Central America, an orphan can be any child who has no one to care for them, feed them, love them or protect them.
Most children living in Christian orphanages in Guatemala have at least one living parent, usually their mother, but for various tragic reasons, the child is abandoned, abused or neglected to the point that they become "orphaned."
Guatemala is famous for its coffee and bananas. It is equally famous for once having the largest Mayan civilization in all of the Americas, with huge temples and ancient cities buried deep in the mountainous jungles. Guatemala also has a rich, cultural history of Spanish Colonial times, with beautiful cities like Antigua dating back to the 1500s.
But sadly, it is also well known for its more recent violent history of civil wars, political corruption, and drug cartels. Because of these deeply rooted chronic societal illnesses, babies are born with many strikes against them. This is why we were here. Most of our days in Guatemala were spent visiting three very special and vastly different Christian orphanages, or as they prefer to call them, "Hogar de Ninos" (children's homes).

One children's home was in the slums of the inner city run by Mama Carmen, an elderly Guatemalan woman I called "The Mother Theresa of Guatemala." She housed 60 children fulltime, and watched 36 others after school, in a two floor building the size of most of our Hood River homes, with a one-car garage as their only play area.
Another orphanage was in a fairly safe area on the outskirts with 20 children, all under the age of five. They enjoyed a nice outdoor yard. The third home was in a high-security neighborhood that also hosted the Israeli Embassy. There were 26 children living in two large side-by-side houses that provided every possible need for each child, including a playground that rivals anything we have here in town.
n
We were struck by the fact that there were so many differences between the three children's homes except for two things that were exactly the same: In all three homes, every single child, no matter how young or old, were incredibly beautiful. They were filled with such love, acceptance, hope and joy. They were so amazingly precious that it broke our hearts to think that anyone could have possibly abandoned or abused them! And the second thing that was the same was we could feel Jesus' life-changing love completely immersing every square inch of all three of these Christian orphanages. We were so moved and humbled by each child's beautiful smile and infectious laugh and tight hug. We saw Jesus' love in the humility, tenderness and graciousness of the staff. We saw His love in their eyes and smiles and how they held each child as if they were their own.
To look at these children and realize they were in these Christian children's homes because they had been cast aside as a burden, or abused in every way imaginable, hurt our hearts to the core. Every single child had a story that revealed the tragic crisis Guatemala and most other Central American countries are trapped in with the breakdown of the family, deeply-rooted corruption and the perverse evil that exists in the form of the drug cartels and their inhumane acts. As we left each home and tore ourselves away from the tight hugs of the kids, we gave a large financial gift to each director on behalf of Immanuel Lutheran Church to be used for the most critical immediate need. They were all very grateful.
As our last day arrived, Lynda and I packed up our suitcases, shared our love and appreciation with Uncle Willy for all his help, and took to the skies once more, this time heading not home to PDX, but off to El Paso, Texas, and a risky trip across the border to another drug cartel hotbed, Juarez, Mexico, and more visits to more wonderful Christian orphanages.
But that's a story for another time and place.
To listen to much more detail about each children's home and the precious kids Jeff and Lynda met, go to ImmanuelHR.org/#/media and click on the play button. Then scroll to the 2/23/14 message to listen.
Postscript: Immanuel Church also sent teams to Tijuana, Mexico, Juarez, Mexico and San Salvador, El Salvador last year to learn from seven more Christian orphanages. Since then, the church has received a miraculous gift of a million dollar car, once owned by singer/actor Pat Boone. They are using the proceeds from the sale of that car to fully fund their own orphanage, called "Immanuel Children's Home," which is located in the heart of Guatemala City. They will be receiving their first children this fall. If you would like more information on this new children's home, contact Pastor Jeff Mueller at 541-645-0191 or pastorjmueller@gmail.com.