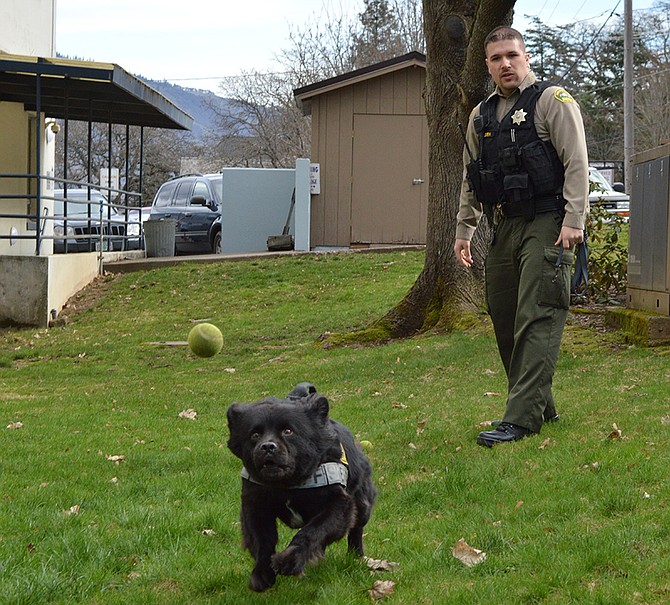 One of the newest additions to the Hood River County Sheriff's Office has already been making a name for himself around the department, helping deputies make drug bust after drug bust — and looking pretty adorable in the process.
His name is Luke, a Chow mix who's about 7 years old and who has been serving with his handler, Deputy Travis Paulsen, as HRCSO's K9 unit for the past several months.
The team is an experiment of sorts for the department, which has never had a K9 unit of any kind in its history, according to Paulsen. So far, Paulsen says Luke has made a big contribution in drug searches, resulting in 17 seizures or drug finds in the 24 times he's been deployed since October.
"It's good to see him having an affect here," he says.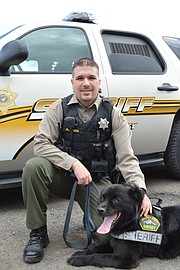 Luke came from humble beginnings as a rescue dog in a shelter, where it was determined that he may have the right stuff to become a narcotics dog.
"By the time's a dog's two, two and a half years old, they have to kind of have a certain criteria after their puppy phase where they still have got that play drive… and he's one of those," Paulsen explains.
Luke was taken in by the Sherman County Sheriff's Office, where he served as a drug dog for several years, trained by officers to sniff out marijuana, cocaine, heroin, and methamphetamine. HRCSO decided to start their own program after the deputy handling Luke transitioned out of that responsibility and the dog was offered to HRCSO at no cost.
He may not look like your stereotypical police K9 — a German Shepherd or a Malinois — but Paulsen says looks don't matter, noting that he's even heard of Cocker Spaniel drug dogs.
"There's a lot of dogs that actually can't do it," Paulsen says, "but it really doesn't matter so much as their breed, but more their behavior."
Luke is also smaller than the aforementioned breeds, but Paulsen says that factor works in HRCSO's favor.
"He's not a big dog, but he's just the right size, honestly, to be able to get places we need him to get to: underneath the floor compartments of vehicles, underneath the steering compartment, places like that… common areas where people might hide illegal narcotics," he explains.
Paulsen, who's been with HRCSO for five years, says he's always been interested in service and working dogs and wanted the chance to work with Luke. He began training with his current partner this summer, under the tutelage of local resident Phil Thaler, a retired California Highway Patrol officer.
"He's done dog work since 1985, so he's well versed," Paulsen says of Thaler. "Without him, the county wouldn't have been able to start this program successfully, because he's donated all of his time."
Paulsen says other local entities have also helped support the program, included Gifted Groomers, Gorge River Dog Wash, Hood River Sand and Gravel, Little Bit Ranch Supply, Coastal Farm and Ranch, Hood River Alpine Vet, Robert Stewart Construction, and Tum-A-Lum Lumber. Luke's food is also provided at no charge by pet food company Science Diet. Paulsen is paid a stipend to take care of the dog and house him at his own home.
Luke, however does not get a paycheck.
"His reward is a tennis ball," Paulsen says. "He goes crazy for it; it's what he wants."
After training with Paulsen throughout the summer, Luke took the test required by the Oregon Police Canine Association and passed his first time, likely made easier thanks to Luke's "hundreds of hours of training under his belt," suggests Paulsen.
Despite all that experience, Paulsen is still required to spend a minimum of four hours per week continually training Luke, which usually involves him hiding a piece of cotton that has been sitting in a bag of drugs, soaking up the odor, and then placing it in bags, boxes, luggage, around the courthouse, in tow yards. There is always an item or two that does not contain a drug scent to make sure Luke is signaling correctly, and the routine is mixed up "to make sure we're keeping the dog on his toes."
When the dog finds a drug odor, he either sits or lies down — he's not an attack dog, Paulsen notes — but learning the dog's other body language is an ongoing process, according to Paulsen.
"When your dog is on drug odor, you notice all the things they do besides alerting," he explains. "I have to look at his tail, at his rib cage, watch his breathing… there's so much more than just the dog sitting. You have to observe everything."
Luke has proved adept at noticing things officers might not pick up. Paulsen points to an incident during one drug investigation where Luke signaled on a seemingly innocent-looking Pepsi can and upon further examination, Paulsen determined it had a compartment in it that had been used to conceal drugs. Paulsen says the dog isn't brought out in random situations and is only used when there is a "reasonable suspicion" of a drug violation.
But besides his sensitive snout, Luke's presence alone can cause suspects to fess up, knowing that it's hard to fool a drug dog.
"Just having him available at a moment's notice is huge, because just having him and letting people know, 'Hey, we have a drug K-9,' that in and of itself has helped in some situations," Paulsen says.
Additionally, HRCSO uses Luke for PR, sending him out to schools with deputies for drug education programs. He'll also offer assistance when the local police department needs a drug dog.
So far, Paulsen estimates Luke has found several pounds of marijuana and 5 or 6 ounces of meth, along with small amounts of coke and heroin in his tenure with HRCSO. He hopes the experiment will continue to go well.
"With Luke and me, the first couple years are very imperative to see how things go, to see how it's working," he says.
"I was very fortunate and felt privileged that I was the first person that could facilitate that sort of program here," Paulsen adds. "Hopefully it will be a long-running program that's continued on down after I'm not involved."