My name is Payton Rigert. I am a junior at Hood River Valley High School and currently participating in an internship at the Hood River News.
There are lots of things in life that I am passionate about. One of them is wrestling. I love wrestling and this will be my third year competing. I am on the Hood River Valley High School Wrestling Team and last year I won the Oregon Women's State Wrestling championship title at 140lbs. The greatest feeling ever was walking off the mat knowing that all the hard work I had put in had finally paid off. This year I hope to win state again. I completed at districts last week and placed first. I can't wait for the state championship; there is nothing more intense than wrestling in the Memorial Coliseum in Portland.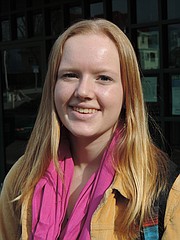 Other activities are also a large part of my life. I participate in 4-H at the county, state, and national level. I am the president of my 4-H club, Funny Farms 4-H, and work closely with the members of my club. I am also a county ambassador and have set up many county events. We have made baby hats for One Community Health, baked cookies for the elderly, participated in Tie-One-On day, and attended other county events. Volunteering in my community is the best way to say thank you to all the people who have influenced my life. I also believe in giving back at the state level. I am an Oregon 4-H State Ambassador and participate in state events. I have helped at the Oregon State Fair and 4-H OSU Summer Conference. Working at the state level has given me a better understanding of the work that goes on behind the scenes of organizing and executing state events.
This year, I also got the opportunity to attend National 4-H Congress in Atlanta, Georgia, and be a member of the National 4-H Congress Youth Leadership Team. National 4-H Congress was one of the most inspirational events I have ever attended.
In addition to participating in 4-H and wrestling, I also participate in water polo and track. I am also apart of Leaders for Tomorrow and FTC Robotics. Last summer I was also given the opportunity to go on a Rotary Youth Exchange. I was able to go to India for two months and it was a life changing experience. I attended nine Indian weddings and got to see the Taj Mahal. The best part wasn't the stuff I saw or the things I went to, but the cultural immersion I experienced and the connections I now have to an amazing culture. If you are ever able to go to India, be sure to take me with you!
I decided to participate in an internship at the Hood River News because I like to experience new things and push my limits. I can't wait to learn new skills and share them with my community. I am very interested in the job opportunities that are out there and the Hood River News rocks!