The case came close to trial, but Kenneth Gordon Lolley, 74, was sentenced to jail Tuesday for multiple sex abuse charges against girls aged 8-11, following a plea agreement.
Lolley, who with his wife owned a ceramics shop on Hood River Heights where he also taught adult and child classes, was sentenced by Circuit Judge John Wolf to 54 months in the Northern Oregon Regional Correctional Facility beginning March 1. Lolley is now a lifelong Sex Offender, a designation he must register for immediately upon finishing his jail time.
Lolley also faces restitution charges including $15,000 to each of the three families, and $3,000 to the Columbia Gorge Child Advocacy Center, which is working with the victims and participated in the Dec. 18 settlement conference that led to the plea agreement.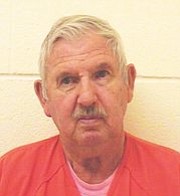 Lolley is guilty of three Attempted Sex Abuse in the First Degree, a Class C felony, and three charges of Sex Abuse in the Third degree, a misdemeanor. The plea agreement, Wolf noted, means the children and their families will not have to endure the "damage and impact of a trial — which can be difficult for both sides."
Wolf told Lolley, "You were effectively in a position to positively influence children, but yet you chose to abuse that for your own purposes, and you caused damage to the children, their families, and the community, that is going to be felt long into the future for them, probably for years to come."
Lolley will remain under house arrest, his status since being charged in December 2013. Lolley, represented by attorney Brian Starns, declined to make a statement in court Tuesday. Starns noted that his office has numerous statements of former students defending Lolley for his "grandfatherly" influence in their lives.
But Deputy District Attorney Carrie Rasmussen presented a far different picture of Lolley. Rasmussen read statements by three parents of the girls abused, and one mother, whose first name is Tabitha, spoke to Lolley and the judge. Tabitha was accompanied by victims' advocate Gloria Needham.
"My daughter cries every time she hears your name," Tabitha said. "I pray there are not children out there who even worse things happened. I knew you for years and I gave you the benefit of the doubt, but I know now I was in denial about you. And I feel guilty for that. I thought that some old people just go about things differently, they can be touchy-feely. But a trust that is broken can't be fixed. I just hope this helps protect other children."
Lolley initially faced 14 counts of first-degree sexual abuse after allegedly touching the private parts of three girls, ages 8, 10, and 11, on multiple occasions in 2013. He is the former owner of KV Pottery on Tucker Road in Hood River, where he taught pottery classes to children and adults before the business closed after his arrest.
Lolley was originally scheduled to enter a plea in April, but his attorney last spring asked the court to push back the plea date to June 30, and it was pushed back again to August. When Lolley was arrested back in December 2013, he was originally held in NORCOR on $300,000 bail, but Starns was able to get the bail reduced to $40,000 in February 2014, despite the objections of Rasmussen. She noted at the time that Lolley had a 1989 conviction for public indecency after exposing his genitals to two young girls as they walked to school in front of his home in Hood River.
Families of the alleged new victims also made impassioned requests to the court to keep Lolley in jail.