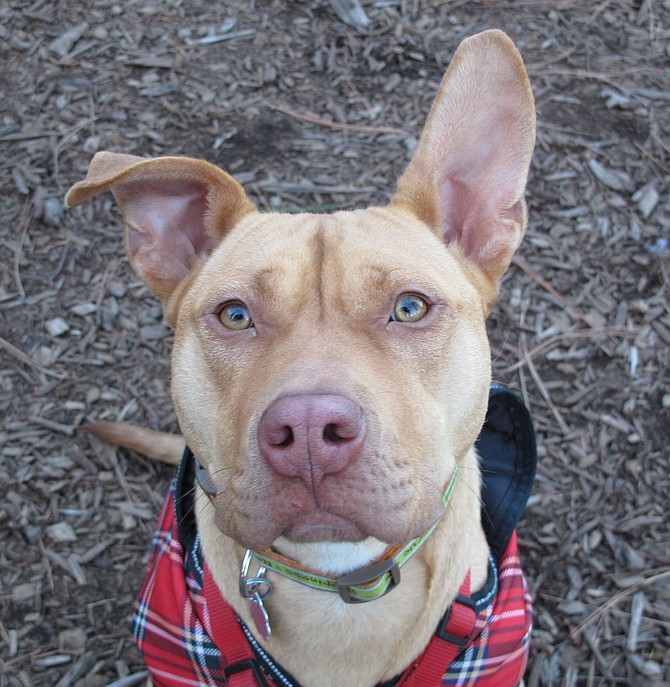 This week volunteers at Adopt A Dog have selected Roxie as the program's adoptable pet of the week and describe her as follows:
Roxie is a beautiful, active dog. And she's got moxie! She's always so, so happy to meet new people and she's tickled to see old friends! Roxie is only about a year old and is doing a great job learning her manners, and since she'll do anything for treats, it's been pretty fun for her! And frankly, FUN should be her middle name! Roxie has learned her basic commands easily, and has done really well with her leash skills! She walks very proudly and you can just tell she's having a great time in the beautiful outdoors!
Even though she's got her manners down, she always appreciates a treat for being such a good girl, anyhow! She's come such a long way, thanks to patience and determination from our volunteers and Roxie is definitely a real delight to have around! An active, ready-to-go delight! Roxie is also making lots of doggie friends at the shelter. She shares her toys with them because she knows that means they get to run and chase each other around! And after a good play-date, nothing like getting cozy, cozy with her favorite person. Roxie really needs to go to an active home where she can get regular runs or hikes.

She's current on shots, microchipped and spayed. The adoption fee for is $185. The fee to adopt is charged to recoup standard veterinary expenses. Since many of our dogs are in foster, please call ahead to meet Roxie in Odell at the Hukari Animal Shelter, 3910 Heron Dr., Hood River, or call for more information at 541-354-1083. Adoption hours are Wed., 5-7 p.m. and Sat., 9-11 a.m. You can fill out an application online at our website: www.hoodriver-adoptadog.org, or download and scan and email to us at adoptadog@gorge.net, or fax it in to 1-877-833-7166. We offer 24PetWatch microchips, which include free registration into the 24PetWatch pet recovery service. For more information visit www.24petwatch.com or call 1-866-597-2424.