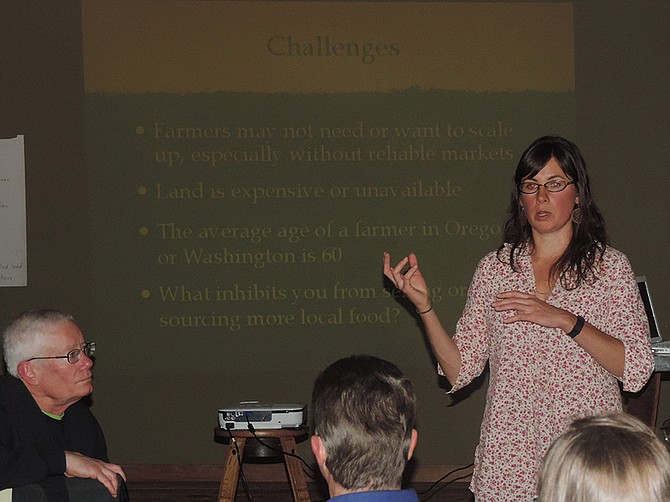 Gorge Grown, champion of local growers and improved nutrition and access to quality food in the region, hosted a wide-ranging discussion on "feeding the Gorge" Thursday.
At the second monthly "Community Conversation" on local agriculture, Rebecca Suits of Oregon State University asked the producers to "Grow a row for us": set aside a portion of their fields to grow food that can be used in nutrition education programs in the schools.
Suits noted that this month, OSU nutrition educator Lauren Kraemer served students onions, caramelized and in high demand — last month it was carrots — and Suits said students responded well to consuming healthy foods. Kraemer is always looking for local food to serve to kids at "tasting tables" that demonstrate how delicious healthy, whole food can be.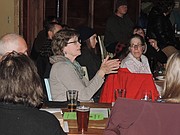 Suits added that the Hood River County School District is amenable to increasing purchase of locally-grown food, as long as they can get it fresh — just one opportunity mentioned in Thursday's gathering at Springhouse Cellars.
About 70 people attended, more than Gorge Grown director Sarah Sullivan expected, prompting a second run for pizza, as the group weighed in on challenges as well as opportunities to local food producers.
The main question, Sullivan said, "is what inhibits you from selling or sourcing more local food?"
Sullivan, who moderated, used analogies from traditional agriculture terms, saying, "We are here to glean your ideas and gather your wisdom. Change happens from the ground up."
Sullivan and Suits noted a number of programs and initiatives happening in 2015 and 2016 to enhance Gorge growers and markets as well as provide food and nutrition outreach and education.
These include a comprehensive local food marketing campaign by Gorge Grown later this year, and a "Seed to Supper" education program — "a kind of Gardening 101" for clients of food banks, in conjunction with the FISH program, this summer.
Suits said that next year she hopes to start a "Growing Farms" class on successful farm management, in Hood River County. "Growing Farms" classes have been introduced elsewhere in the state, and Suits wants to get it going here. She started work for OSU in Hood River in 2013, and is responsible for a wide variety of programs including the Master Gardener and SNAP food assistance programs, and also serves as small farms agent for Hood River and Wasco counties.
Suits and Sullivan spoke, but farmers, restaurateurs and others engaged in a lively discussion, facilitated by Sullivan, about how to connect with each other.
Key challenges explored included growing the right food, and finding buyers, along with the challenges of finding land and effectively developing their businesses, along with recruiting young farmers (the average age of Oregon farmers is 60) and helping growers learn when and how to "scale up" their operation.
A young Mosier area farmer said he's looking for more land and encouraged Gorge Grown to upgrade its resource service for people looking for land and markets.
Participants described the Gorge Grown website community billboard as "under-utilized," to which Sullivan and Woodley Smith, Gorge Grown market assistant manager, agreed, noting that a website upgrade this spring should help resolve that.
"It will become a lot more user-friendly," said Smith.
What came of the discussion were ideas about how producers can better understand their markets and clients, and how Gorge Grown can improve in how it serves its clients.
Opportunities included:
A biothermal operator from Carson said he had land he could provide at a cost of just $25 per acre, but the growers would need to purchase water.
A landowner from east of The Dalles said she has unused dry-side land that they want to find users for during the winter months.
Creating a cooperative of protein producers, for marketing, storage and butchering, to reduce the cost of meeting the extensive regulations on production of meats and poultry.
A representative of Raices (roots), a group of Hispanic growers, said cross-cultural connections would help because Raices members "have a lot of food and are struggling to get it sold."
Better communication between growers and collective marketing and distribution were key goals mentioned, and growers said Gorged Grown can play a role in all of this. A key component is connecting growers and restaurants on-line, facilitated by Gorge Grown.
"We have this capability, but not the storage (facilities)," Sullivan said.
Existing cold-storage facilities owned by fruit growers could be one option, one grower commented.
Kathy Watson, chef-owner at Nora's Table Restaurant in Hood River, said that while producers of protein products do face a variety of federal and state regulations, it's a less complicated scene for growers of fruits and vegetables.
"When it comes to farms and produce there aren't a lot of restrictions. It's pretty wonderful, actually," Watson said.
But she had the following advice for anyone wanting to sell more of their products to restaurants:
"If you want to sell to restaurants you need to provide some level of consistency," Watson said. That means knowing when clients are planning their menus, and understanding specifically how they go about doing so: on line, by phone, or in person.
In addition, schools buying produce want them "ready to go," with as little kitchen labor involved once they're in the door, according to Suits.
School produce "doesn't have quite the regulations, it just needs to be ready to eat," she said, right down to carrots washed and sliced.