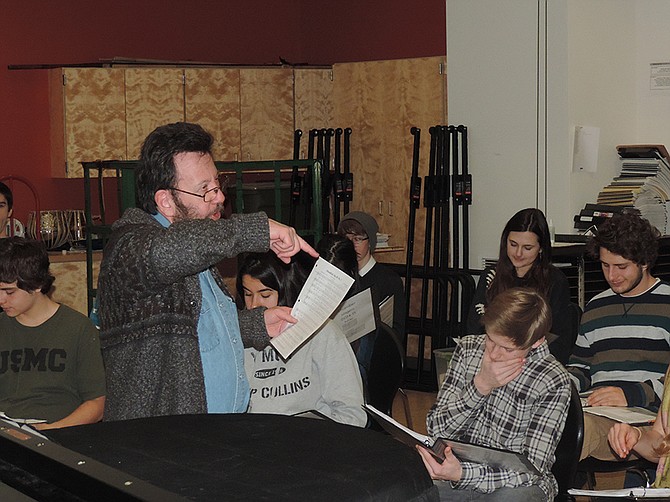 A big award and official retirement.
Mark Steighner accepted congratulations from Hood River County School Board Wednesday for the Oregon Music Educators Association award as Oregon's Outstanding Music Educator of the Year.
Human Resources director Kevin Noreen also informed the board that Steighner would retire in June after nearly 40 years in education.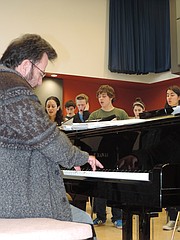 On Thursday afternoon, Steighner was teaching his senior chorale the finer details of German pronunciation and definitions as they prepared music by 19th century composer Josef Rheinberger. Steighner paused over one particular word he wanted his students to grasp.
"Gemutlichkeit – it's about a kind of calm joy, but it's more than that – it's that sense of true happiness in the moment," Steighner said. "It's a wonderful feeling and one I hope you can experience."
Saturday night might be Steighner's own opportunity to experience the warm glow of the moment, when he is formally recognized at the Oregon Music Educator Association's annual conference at the Eugene Hilton.
The OMEA competitive award recognizes an individual whose commitment to students and quality teaching represents the highest standards of the music education profession, according to Rich Polkinghorn, HRVHS principal, who appeared with Steighner Wednesday night at the School Board meeting to announce the award. Nominations are accepted on behalf of elementary, middle, high school and college music teachers in every facet of music education - including band, choral, orchestral, and more.
"This is a huge honor for Mark, and a formal recognition of the impact Mr. Steighner has had on the music community in the Gorge and beyond," Polkinghorn said.
What's next in the world of Mark Steighner?
The HRMS musical "The Girl Who Lived With the Bears," which Steighner said is "very loosely adapted" from a Native American folk tale. It opens Feb. 27. Steighner wrote the script, the ninth performance locally of his own music. These included, from 2008-13, a trilogy of full-scale musicals.
The rest of this year will be a very busy time for Steighner. In addition to school responsibilities, there are orchestra and Voci performances (related item on page A3) and a brand new summer festival being organized by the Columbia Gorge Orchestra Association, with headliner Storm Large playing with the orchestra on June 28.
In Fall, Voci choir and orchestra will perform the Beethoven 9th and the opera "Amahl and the Night Visitors". Also, this summer Steighner will direct "Next to Normal" for CAST. Auditions will be in late March.
"I am humbled and very appreciative to be honored," Steighner said. "I especially appreciate the effort that Rebecca Nederhiser took to nominate me and gather the letters of support," he said. "I know that there are many, many hard working music educators that deserve it more than I do." Nederhiser is the music teacher at Hood River Middle School, and now has a Steighner script in production for debut on Feb. 27.
(See sidebar for more details on "The Girl Who Lived With The Bears" and other upcoming Steighner projects.)
Steighner has been teaching in Hood River since 1979. He began teaching choral and instrumental music at Hood River Valley High School in 1984. During his tenure, he has directed 50 musicals at the high school and in the community, including eight original musicals. His ensembles have commissioned over 20 new pieces. His choirs and/or bands have qualified for the state contest every year since 1988 and he has taken his ensembles to Europe eight times. Steighner also directs the community orchestra and choir while also teaching music for Columbia Gorge Community College.
"The Hood River County School District congratulates Mr. Steighner on receiving this award and is grateful for his years of service to the students of the district," Polkinghorn told the board.
Directors Bob Danko and Jan Veldhuisen Virk, whose daughters participated in Steighner ensembles and productions from the 1990s onward, both praised Steighner for his impact on local youth.
Steighner, 58, took on Sinfonietta directorship in 2005, and founded Voci a couple of years later. A child of teachers, he graduated from University of California at Santa Barbara. Mark and Hillary's son, Erik, is a music professor at University of the Puget Sound. He's held every imaginable musical leadership in Hood River in the past 34 years, with Chamber Singers, Wind Ensemble, Jazz Band, and the rock band Spectrum since starting with the schools in 1980.
He's also directed church and middle school choirs, and written music for a number or productions including his trio of musicals (staged between 2008-2013): "Ballad of the Pirate Queen;" "Avalon: A Steampunk Romance;" and "Reach4It!" — different genres and settings that all dealt with human issues of tolerance, acceptance and community.
Steighner's honors include Great Teacher Honoree from Hood River Schools in 1989, Teacher of the Year in 1993 from Hood River Rotary and Sprint (now CenturyLink) and the first Hood River Arts in Education Award in 2013.