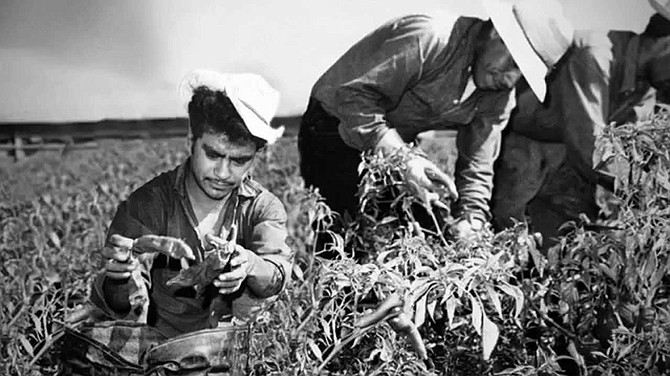 THE DALLES—Columbia Gorge Discovery Center and Museum presents Culture a la Carte, an evening presentation on the topic of Braceros of the Pacific Northwest, Saturday, Jan. 31, from 5:30 p.m. to 8:30 p.m., 5000 Discovery Drive, The Dalles. Doors open at 5:30 p.m. Enjoy an optional dinner for $15, served at 6 p.m., followed by the free presentation at 7 p.m.
The free program will be presented by Dr. Roberto M. de Anda. He will discuss the political and economic forces in the United States and Mexico that led to the creation of the Bracero Program in the early 1940s. Particular attention will be paid to the experiences of braceros in Hood River during World War II. He will also explore how braceros' employers contributed to the growth of the Mexican-origin population nationally as well as in the Pacific Northwest.
Dr. Roberto M. de Anda is Acting Director and Associate Professor of Chicano/Latino Studies Program at Portland State University. After doing graduate work in Latin American studies at the Universidad Nacional Autónoma de México (UNAM), he earned a Ph.D. in sociology at the University of Arizona. His research interests include labor market inequality among Mexican-origin workers, bilingual education and immigration. He is currently working on a biography of Ernesto Galarza (1905-1984), a pioneer in the study of braceros in the United States. Professor de Anda has published several book chapters and articles in professional journals; he has also edited two editions of his book "Chicanas & Chicanos in Contemporary Society."
The optional dinner will include eggplant parmesan, chicken parmesan, fettuccini, garden salad, garlic bread, and chocolate raspberry cheesecake. Cost for the dinner is $15. The presentation is free.
The exhibit "Bittersweet Harvest: The Bracero Program 1942-1964" will be open that evening, free to Culture a la Carte participants. You are welcome to spend a little time reviewing the 15 bilingual banners, listening to the audio recordings and learning about the Bracero Program.
Reservations are required by January 28. For information or reservations, call 541-296-8600 x 201. Dinner reservations and payment may be also made online at www.gorgediscover...
"Bittersweet Harvest: The Bracero Program 1942 – 1964" is a moving bilingual exhibition organized by the Smithsonian's National Museum of American History. It examines the experiences of bracero workers and their families, providing rich insight into Mexican American history and historical background to today's debates on guest worker programs.
The exhibition combines recent research, powerful photographs from the Smithsonian's collection, and audio excerpts from oral histories contributed by former contract workers.
The Bracero Program of 1942-1964 allowed 4.6 million Mexicans to work in the U.S. over the program's 22-year existence. The benefits and pitfalls are described in this traveling Smithsonian exhibit that comes as some U.S. lawmakers consider a new Bracero worker program as part of immigration reform.
Sponsored locally by U.S. Bank and the Jackson Foundation, the exhibit "Bittersweet Harvest: The Bracero Program" will be on display in the Columbia Gorge Discovery Center's River Gallery through February 15, 2015. For more information, phone (541) 296-8600 EST. 201, or visit www.gorgediscovery.org.

Columbia Gorge Discovery Center and Museum is the official interpretive center for the Columbia River Gorge National Scenic Area. Hands-on, multi-media exhibits illuminate the cultural and natural history of the Gorge, including Ice Age geology, Native American culture, Lewis and Clark, the Oregon Trail, trade, transportation, ecology, and more. The museum is wheel-chair accessible, and family friendly, with a Kids Explorer room. Riverfront Trail offers hiking and biking, and a native plant nature trail circles the pond next to the museum. The Discovery Center is located off I-84 exit 82, at 5000 Discovery Drive, The Dalles. The museum is open daily from 9 a.m. to 5 p.m. Museum adult admission is $9, seniors $7, kids 6 to 16 are $5, and children 5 and under free. The live raptor shows are on winter hours, presented weekends on Saturday and Sunday, at 11 a.m. and 2 p.m. Please call ahead to confirm times if you plan a trip. The Columbia River Trading Company museum store is open daily. For more information, phone 541-296-8600 EXT. 201, or visit www.gorgediscovery.org.