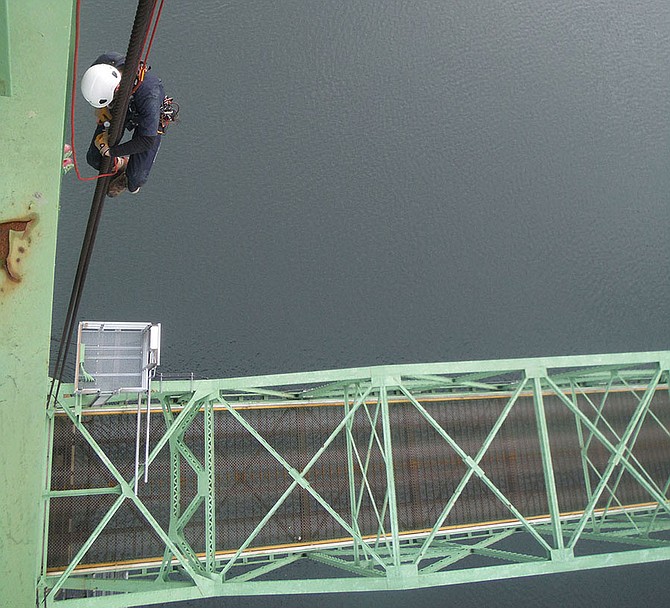 The Hood River Bridge's lift span has not been setting correctly and an engineering firm contracted with the Port of Hood River believes it has discovered why.
At a port meeting on Tuesday, David McCurry, project lead at Portland engineering firm HDR, reported that the cables responsible for raising and lowering the main lift span of bridge were no longer all tensioned correctly, causing the span to set slightly out of balance. McCurry likened it to a four-legged stool where one of the legs isn't quite touching the floor.
The News published a story about the issue in November of last year, where it was reported that a three-quarter--inch gap had formed between the bottom of the lift span and the bearings — points of contact between the bridge piers and the span. Port Executive Director Michael McElwee said at the time that the issue with the bridge was not an imminent threat to motorist safety but was "about careful, prudent, active management of the movable lift span."
Workers with HDR performed daytime inspections of the bridge on Nov. 17 and Nov. 24 of last year to examine bridge operations in general and to determine the cause of the setting issue, examining the lift span's control room, climbing up and down the side of the bridge to check the cables, and conducting other inspections.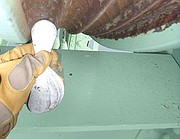 What they found was generally good news for the port. Although HDR discovered some other issues — switches not operating properly, warning gates on the bridge not dropping on the first try — the problem affecting the lift span did not require repairs to the physical structure of the bridge.
"There really just needs to be a span balance exercise done, a re-tensioning of the wire ropes," explained McCurry. "There's not a lot of wear.
"Once the issue is fixed, the span should come down nice and level," he added.
The other good news the port received was the cables did not need to be replaced, which would have significantly increased the cost of the project.
McCurry said the cost of remedying the out-of-balance span was "too early to know, but much less than originally thought." The port's previous bridge contractor, HNTB, had given estimates that ranged from $50,000 to $500,000. McElwee said the port had allocated $350,000 to fix the problem, but said the re-tensioning was "obviously going to be a lot less than that."
According to McCurry, the process to balance the lift span would require making slight adjustments to the cable connections and then checking the cable tension "until code specified conditions are met." Although HDR is early in the design and planning process for the project, McCurry expected that work on the bridge would begin in the summer and would involve "very minimal impacts, with the possibility of most of the traffic impacts occurring at night, and intermittent short delays during the daytime."