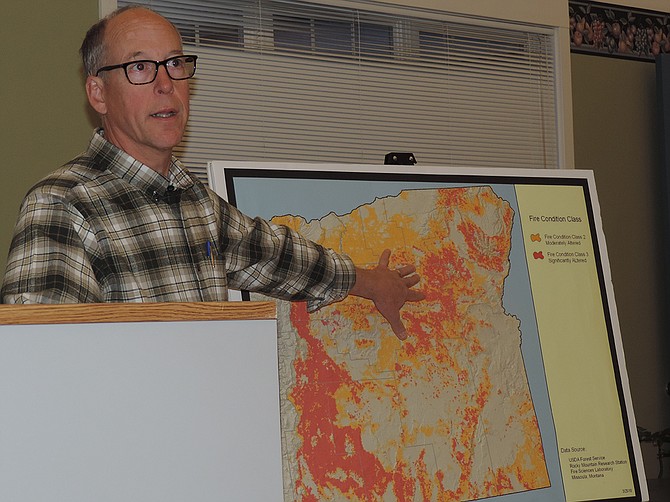 A dialog, and silent protest, on climate change wove through U.S. Rep. Greg Walden's hometown town hall meeting at Hood River Adult Center, attended by about 75 people.
Walden spent about 15 minutes with a legislative update, in which he reiterated his long-standing advocacy for legislation that would allow forest thinning and other practices in high-risk fire areas of the state.
Then, for about 75 minutes, Walden took audience questions, many of them critical of his record.
(In the Jan. 17 forum, health care and immigration also featured prominently; a longer version of this article appears on the newspaper's website, hoodrivernews.com)
Walden voiced his support for the Secure Schools Act (SSA), and said it would be among the top House priorities in February.
At the Jan. 17 town hall, County Commission president Ron Rivers encouraged Walden to push for continuation of SSA, saying that while it does not directly impact Hood River – "we'd love to have some of that money, but we're okay" – several southwest Oregon counties are going bankrupt and eliminating virtually all services as their timber revenue sources dry up; Rivers noted that Skamania County is facing a similar dire outlook. The SSA legislation, which formally expired in 2014, provides federal school and public works funding to counties that traditionally had a heavy timber industry base.
Walden led off with another forestry issue, and returned to it twice in the town hall, tying to climate change proposed legislation for expanded forest restoration and fire protection management. Walden believes the legislation is critical not only to Oregon's forest and wild land health but can also be a significant employment boost to allow companies to harvest and process downed timbers and other biofuels. The materials are prevalent in private as well as public lands throughout Oregon, in many places acting as fuels for wildfires if left on the forest floor. According to Walden, managing these affected lands would do much to address fire dangers and result in reduced potential for release of harmful carbons, the chief contributor to global warming.
"Hopefully in conjunction with forest (management) legislation, which passed bipartisan, we can fund schools and roads, and deal with what I think is the underlying threat," Walden said, referring to the smoke from wildfires.
In the question period, the second person to speak was Cyndi Strid of the Hood River-based Columbia Gorge Climate Action Network. While 20-black clad participants stood silently holding earth symbols, Strid said to Walden, "We stand year today because our precious home, Mother Earth, and the source of all life is peril. Scientists report that we have already crossed four planetary boundaries: the extinction rate, deforestation, the level of carbon dioxide in the atmosphere, and the flow of nitrogen and phosphorous into the ocean.
"We stand here today to bear witness to this urgent loss of life. We hold in our hands a symbol of what which is precious to us, and we ask for leadership, and leadership from any of you that knows and acts upon our sacred connection to all that lives."
Walden said, "thank you for coming, sweetly done," and called for the next question.
Later, junior Charley Boonstra stood and told Walden she and other students are forming a Climate Action Club at HRVHS. With her were juniors Emilia Gendreeau and Marelie Vorster, and Boonstra pointed to the silent standing adults, saying, "I stand with all my friends and all others who hold what they love. This is an issue that is not being talked about, that is being swept under the rug. We need to realize our earth is falling apart. We are drilling the oil, the oil is like the blood of the earth. We are sucking it out, polluting the atmosphere. We are not walking with a light footstep. Now is the time when we must take action, we can no longer be bystanders, and live in harmony with the earth, we're in this together. As a family, as brothers and sisters, we need to start taking care of this earth, because we're not right now."
Karin Tauscher of Hood River then asked, "What are your plans for leaving a welcoming and safe planet for my children and their children?"
Walden returned to the theme of forest management legislation, saying,"there are lots of issues, fossil fuels among them, and this is one we can do something about now, and we are. There is a lot we can do to help, and I think we can find bipartisan leadership.
"I think we should task our best scientists and researchers to figure out how to get ahead on carbon capture and sequestration," Walden said, referring the nascent technologies for placing carbons underground and storing them, to prevent release into the atmosphere.
"The ability to do that now is limited in a commercial way, and there is a lot of science that goes into it," Walden said. "There are a lot of liability issues with putting carbon back into the ground and if it escapes who is responsible, so a number of those issues we should be able to deal with. And we should work for more fuel efficient vehicles. I drive a hybrid on both coasts. We all need to do our part. And develop new technologies," he said, citing his support for advanced battery research to get fleets off fossil fuels. "This is where we could have great partnerships with higher education, in battery development and fuel efficiency."
Mark Thomas of Hood River thanked Walden for his work but provided this request on climate change:
"I think it's quite clear that the condition of our forests is more a symptom than a cause. I would invite you to continue to study the science there, continue to raise the issues and awareness of the realities of climate change and all we do know," Thomas said. "In general I ask you to please study the science, please stay close to it. It seems like a topic we can equip ourselves with facts and knowledge and we have to do that in the face of enormous economic influence from the fossil fuel industry. It would challenge us to do the right thing for subsequent generations." Quoting Martin Luther King, Thomas said, "as a lawmaker we are relying on you to make just laws, especially when it comes to our environment. ... the single thing that unites, we all love the beauty of the Gorge and are passionate about protecting it. Please study the science, please take the long view on this, please be very mindful of the short-term interests that would compete with what is the right thing to do."
Health care received an airing after Hood River massage therapist Guy Tauscher asked Walden to support "tinkering but not repeal" of the Affordable Care Act (aka Obamacare).
"My policy was discontinued in 2013, but I was offered a better policy, with a savings of $400 per month," Tauscher said. "I know there were a lot of problems with Cover Oregon –"
"With the web site," interjected Walden. (He later called for finding out "what happened and who is responsible" for the $300 million loss in setting up the web site.
Tauscher said, "Yes but saving $400 a month seems a good deal to me. Rather than paying the government, don't mess with the fundamental aspects of Obamacare. I like the idea of tinkering it, like the idea of home health people don't get a cut in benefit, but overall it has lowered the cost. It allows me to spend my money elsewhere. This is not the time to repeal Obamacare, let's tinker it but don't get rid of it, a lot of people depend on it."
Walden said, "clearly there were things that needed to be reformed, including integration of physical and mental health care, and now we need to look at what does work and what doesn't.
Gary Fields of Hood River queried Walden on his newsletter message thanking "those who voted for you.
"You pledged to continue to work to improve access to health care," Fields said, "yet 50 times the House and you have voted to do away with or cut or eviscerate the ACA. What's your program to make this access true?"
"There is this notion out there that all we do is up or down tor repeal, but most of the votes, and many are bipartisan, is dealing with real problems that affect our votes. That's tinkering with Obamacare
Fields replied, "50 votes to do more than just tinker is a waste of taxpayers and your time, to go through this charade. You should work to really do things for the middle class people, not the upper class, not the top five percent, which you are -- yes, you are, according to your net worth, I understand why you don't want to raise taxes."
Things grew slightly heated when Pete Peterson told Walden, "address it --actually address what he said."
"Sure, I did," Walden replied.
"No, you didn't," Peterson said.
"Like how you voted to repeal," called out Ruth Tsu..
"I have voted to repeal. I didn't support it going in," Walden said. 'Here's what I would have done that's different, and actually supported legislation to do this: we voted on it many times in the House and it never got anywhere in the Senate. Things like why shouldn't' we have a more competitive market place where small businesses can group up and the insurance companies compete for our business through an exchange, and across state lines, By the way, we do that with other insurance products, but not with health insurance. I worked with the Bend Chamber of Commerce, to create a multi employer worker association to help bring together small businesses to get health insurance. It took two years to get it approved, and suddenly small businesses that couldn't afford health insurance and now they could. Obamacare wiped that out. I think you have to deal with tort reform. If we just adopt what California has on medical malpractice.
Walden went on, "I think we need affordable insurance, I think we need to take off the cap on preexisting conditions.. I think your insurance should be affordable. There are other ways to get at this,. I such as I supported Medicare Part D
On marijuana legalization, Walden said, "it ends up in our food supply, not like they're going to sneak it in, it's going to be obvious, but what is the impact on our kids, and what do we do going forward? I think is an issue for Oregonians just as we deal with it with tobacco and alcohol, it[s going to be much more prevalent to deal with it with marijuana
Long community substance abuse prevention specialist Maija Yasui stood up to introduce Luz Oropeza, an HRVHS graduate who is heading the Odell Hispanic Coalition drug free community grant "which came about in part with help from Greg's office." She said the grant will "deal with drug prevention in the upper valley, particularly with our Hispanic families. We are proud of (Luz) as we are proud of this whole generation that has come back to serve.
Walden said of Yasui, who will retire in May, "Maija is a one person community organization on so many levels, and has done so much for our kids for a generation or more."
On immigration, Walden listened as Ruth Tsu accused him of "hypocrisy" for a recent newsletter that praised the state champion soccer team while also touting his vote to defund the DREAM Act.
"You must be aware that probably 60 percent of those players are from immigrant families," Tsu said.
"I don't know how many were here legally or not, I didn't ask them," Walden said. "The point is we have a problem on immigration that needs a legal solution, and I support that going forward, but what I don't support is what I regard an extra-constitutional executive order," Walden said, referring to Obama's December 2014 executive order offering temporary legal status to millions of illegal immigrants, along with an indefinite reprieve from deportation.
"No president should be able to waive parts of laws they don't like or not enforce it," he said.