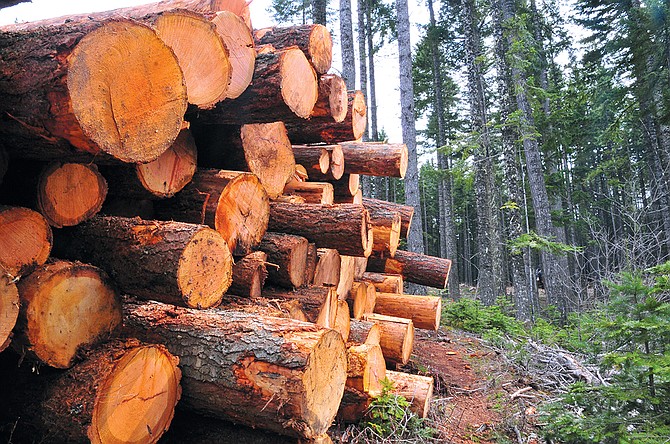 Counties that have federal forestland within their borders recently received some bad news after the U.S. Department of Agriculture announced that this year's federal timber payments to counties would be drastically reduced due to Congress' failure to reauthorize the Secure Rural Schools Act.
The USDA says it plans to dole out approximately $50 million to be split amongst 41 states this year as a way to supplement the loss of the federal program, which compensated states that have national forestland and have been financially hurt by the decline of the timber industry. That number denotes a drastic decrease from 2014 when $300 million was disbursed to 41 states under the SRSA.
With the loss of the SRSA, federal timber payments are now doled out through a 1908 law that requires the feds to pay 25-percent of national forest receipts to each state.
Fed cuts payments
2014 payments:
$300 million to nationwide.
$67.9 million to Oregon
$884,000 to HR County
Where the money was used in Hood River County:
$613,000 public works, $204,000 school district, $67,000 search and rescue and wildfire protection, additional funds were used for Title II National Forest projects.
2015 payments:
$50 million nationwide, $5.9 million to Oregon, amount to HR County to be determined.
The change in funding means less money for county budgets, including Hood River County — two-thirds of which consists of national forestland, according to Sheriff Matt English. Last year, Oregon received $67.9 million from the SRSA, of which Hood River County received $884,000 to go to schools, public roads, firewise programs, and the Hood River County Sheriff's Office for search and rescue. For 2015, Oregon is slated to get less than a tenth of that: $5.9 million.
What each county will receive hasn't been broken down by the USDA, but County Administrator Dave Meriwether expects it won't be much at all.
"Just based on the amount for Oregon, I'm guessing it will be in the neighborhood of $100,000 or less, but that's just ballpark," he said. "At that level, it doesn't make a lot of difference (to the county budget)."
The amount doesn't exactly come as surprise to the county, which has seen funding from the SRSA gradually dry up since the bill — co-authored by Sen. Ron Wyden — was signed into law 15 years ago. By the mid-2000s, Congress had fallen into a pattern of having to reauthorize the law on an annual basis, placing those funds in doubt as the amount disbursed has decreased over time.
Thus, come budget time each spring, the county operates as if it won't receive the money at all.
"The budget doesn't include it, so we act like it's found money when we get it," Meriwether explained.
Which isn't to say that less money doesn't impact the county, because it does. Meriwether said the majority of the funds from the SRSA provide a boost to the public works department, allowing the county to pay for more road work that otherwise might not have gotten done. Hood River County School District also received $204,000 from the SRSA in 2014. The News emailed Superintendent Dan Goldman to see how the money was spent, but did not receive a response by press time.
At the Hood River County Sheriff's Office, where their slice of the money is referred to by the feds as Title III funds, English said an independent budget is drawn up each year for SRSA dollars, but it's difficult to anticipate how much funding the department will receive. Last year, the U.S. government sent $67,000 to the county, which was split evenly between HRCSO and firewise programs.
"We never know exactly how much we're going to get until the spring," English said. "We certainly use it sparingly since we know it's finite. We've seen our Title III money drop significantly over the past several years.
"Obviously we're going to take whatever we can get because we need it," he added.
And there are strict parameters to how those funds can be used. English explained that HRCSO can only spend the money to reimburse personnel after a search, to repair and maintain equipment, and to buy equipment during a search operation. English said he was looking for ways to both find more funding and expand the way in which it is used. He noted that as more and more people come to the county to recreate, the need for search and rescue missions and the money to fund them has increased as well.
"It's an immediate need that will never go away that's only increasing in our county," English said.
Though Hood River County has managed to do without, other counties that rely more heavily on the SRSA payments are in a worse situation. Meriwether said counties in the southwestern region of the state have been the ones most notably hit and have had to drastically cut both non-essential and essential county services.
In the Gorge, Skamania County is impacted especially hard as 80 percent of its territory is comprised of national forestland and all but 12 percent of its land is tax-exempt, according to the county's website. In October, the Skamania County Board of Commissioners passed a strongly-worded resolution declaring a state of emergency due to the economic situation. The resolution also lambasted the federal government for its "mismanagement" of federal forests and for not creating a system that allowed for the annual reauthorization of the SRSA.
For 2015, Skamania County budgeted to receive around $1.55 million from the SRSA and other federal forest funding, but added language to its budget resolution that the county's board "reserves the right to supplement the 2015 current expense budget to balance the lack of, or timely receipt of, these funds in order to reduce expenditures."
The Enterprise reported last week that due to the reductions in funding, Skamania County had planned to close the Underwood Community Center, and may sell the building in order to recoup the loss. Closure of the facility was planned at the end of this week.
The future of SRSA may look grim long-term, but there is a chance of reauthorization for this year. Though the SRSA failed to make it through Congress this past fall — whose fault that was depends on which political party you talk to — both Democratic and Republican legislators, including Rep. Greg Walden, have voiced support for extending SRSA during the first quarter of 2015.