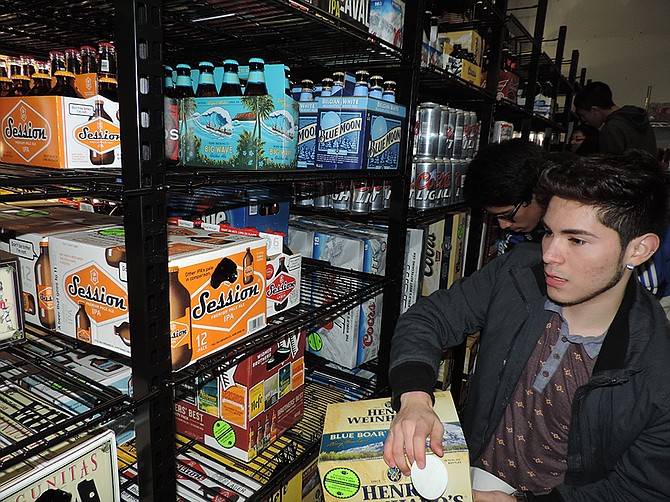 Teenagers spending time in the beer aisle Thursday was behavior somewhat unusual, yet healthful.
Health Media Club from Hood River Valley High School was at it again: the twice-yearly "Sticker Shock" campaign.
At many stores this Super Bowl weekend, it will be hard to buy a six-pack or case without carrying home a vivid green bilingual circle reminder:
"If you want to stay alive DON'T DRINK AND DRIVE/Si quiere quedar vivo NO MANEJE DESPEUES TOMAR."
The Health Media education and outreach group spent Thursday and Friday after school at six stores, the seventh year of "Sticker Shock" by students of Health Media, a partnership between Hood River County and Hood River County School District. Students also do Sticker Shock on the July 4 weekend.
"It feels pretty great. Not many kids want to spend after school hanging around putting stickers on beer cans. But it really does feel like we're doing something different, and making a difference," said Juan Camarillo, a junior.
Ash Vaday, a freshman, said, "We're Health Media, which is just trying to get the word out there that drugs and alcohol aren't always what the media say they are, and that minors should stay away from them."
"The kids just really look forward to it and we get a lot of positive feedback from the stores we go to," said Belinda Ballah, alcohol and tobacco prevention coordinator for the County Prevention Program. "When I ask (store managers) they say, 'Yes, we want you to come back, not even a question'," Ballah said.
Students also put up bilingual signs on the stores' front doors. In Sticker Shock's seven years it has grown from one store to six: Mercado Guadelajara, Mid Valley Market, Rite Aid, Rosauers, Safeway and Windmaster Market.
Health Media students also design pamphlets, t-shirts, theater ads, billboards and other media encouraging students and the general public to practice healthy lifestyles.