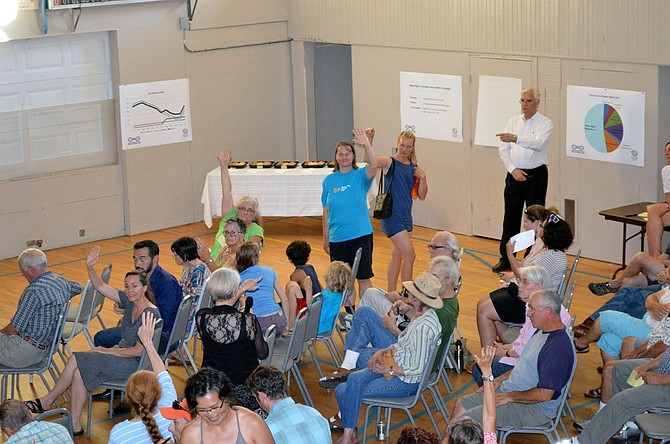 More than 120 people filled the Cascade Locks City hall gym Thursday to discuss Nestlé's proposed bottling plant. Tension mounted as those in favor and opposed raised their voices with comments and questions.
Nestlé's proposed plant would set up shop at the Industrial Park in Cascade Locks, and bottle 100 million gallons of spring water annually from Oxbow Springs in order to sell it around the Northwest.
The town hall was coordinated by Cascade Locks Administrator Gordon Zimmerman and a facilitator, Barbara Briggs of Hood River.
A handful of Port and city leaders were present, including Cascade Locks Mayor Tom Cramblett, outgoing Port Commissioner Brenda Cramblett, Port Commission President Jess Groves and Port Interim General Manager Paul Koch, but those representatives were not involved in facilitating the forum.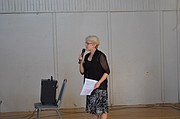 Zimmerman gave an update on the status of the Nestlé deal. So far, the cross water rights transfer hasn't yet been approved by the Oregon Water Resources Department.
If the state agency issues the city a permit by the end of the year, Cascade Locks would transfer 0.5 cubic feet per second (cfs) — 225 gallons per minute — of its municipal ground water right in exchange for 0.5 cfs of Oregon Department of Fish and Wildlife's water right to Oxbow Spring, just east of town.
The city would pipe those gallons from Oxbow Springs into the park's industrial park, and sell it to Nestlé for bottling.
Zimmerman compared the water bottling plant to the software company Intel's water requirement, which uses 1 billion gallons annually, 8.6 times as much Nestle's proposed plant.
Zimmerman explained that sale of the land will be managed by the Port Commission, and development of the land will be approved by the City.
Members of local and Portland environmental groups, including the "No Nestlé in Cascade Locks" coalition and the Local Water Alliance, spoke out in large numbers against the plant.
In fact, they interjected several times during Zimmerman's update speech, prompting him to say, "It'll take a lot longer if you keep interrupting me."
When Briggs opened the floor for public comment and passed the microphone around, Nestlé opponents were most numerous in the audience.
"I'm deeply disappointed with the Port Commission, the City of Cascade Locks, the ODFW, and our previous two governors," said Kathleen Fitzgerald of the Local Water Alliance. Fitzgerald applauded Cascade Locks City Councilor Deanna Busdieker, the sole councilor opposed to the Nestlé deal.
"She has been courageous to stand up against the odds, against the hard-nosed bureaucrats that have been given a small amount of power over citizens and their right to their water source," said Fitzgerald.
Anti-Nestlé speakers cited concerns including increased truck traffic and plastic bottle pollution, an impact on local Warm Springs tribes' water rights, and a pressing need for public ownership of water in a time of countywide drought.
"We are not in a drought in Cascade Locks," said Zimmerman, responding to the latter comment.
Hood River County declared a drought emergency last week, and included Cascade Locks in the resolution. County Administrator Dave Meriwether said there was an option to exclude Cascade Locks from the declaration due to its high annual rainfall — an idea suggested by several citizens of the city — but the Board of Commissioners opted to include Cascade Locks in order to have the entire county considered on the state's list.
James Dean of Cascade Locks argued that Oxbow Springs is unrelated to the water supply of Hood River and Portland, where some audience members hailed from.
"It seems that we have a lot of people here that this doesn't affect," said Dean.
Dean named unemployment as a central issue in Cascade Locks. "You probably all have jobs, you have the opportunity for jobs. This little community relies on whatever … they can get."
Audience members asked Zimmerman how Cascade Locks would be able to hold Nestlé accountable if it "did something wrong" in its treatment of the small town.
"Shut off their water," joked Zimmerman. He then suggested a "termination clause" be put in place in the contract with Nestlé, which could allow the city to withdraw.
City Councilor Busdieker argued that the city wouldn't be able to afford a legal tussle.
"We don't have the resources to fight their lawyers. This is too risky," said Busdieker.