1915 — 100 years ago
Motion pictures of the Columbia River Highway are to be shown in all parts of the civilized world soon by the well-known Pathe Company. These pictures will have the additional attraction of being hand painted in natural colors. Pictures of other Oregon attractions in the way of scenery, such as Crater Lake, Mount Hood and the Marble Caves of Josephine County are also being shown. These pictures will start the "See America First" series of the path Company.
1925 — 90 years ago
Holders of preferred stock on the Oregon-Washington Bridge Company were agreeably surprised this week for the first dividend to be declared by the company. The amount was $2.74 per share, and represents a dividend of 7 percent from the date of issue of the stock to the end of the year 1923.
H.S. Braakman has taken a lease on the inner of the two new stores in the Rialto block and expects to open the new premises on or about July 15. He states that he will increase his stocks of hardware, wallpapers and paints and will add new lines to his present stocks. To celebrate the event, he is now selling a number of articles in his present stocks at a greatly reduced price.
1935 — 80 years ago
Following more violence in connection with the strike at Dee mill over the weekend, Governor Martin, on Monday, notified local authorities that picketing will not be tolerated. Tuesday, a new compilation arose when several women, stated to be wives of the strikers, appeared at the entrance of the mill, wearing white blouses bearing "Unfair to Union Labor" and "Strike On" signs. State police ordered them away and notified them that they would be treated no differently to other pickets if they broke the law.
Quick recognition has come to a new spray gun, the invention of Ormand Hukari, Hood River Valley fruitgrower, from other growers who declare that the Windmaster, as this gun is named, is exactly what they have been hoping for years would eventually be available.
1945 — 70 years ago
Within a few weeks, Hood River County will have in operation a greatly-needed box factory, according to R.E. Steele, secretary of the chamber of commerce, who has been giving much information to Louis Rupp, now completing plans for the new factory, which will be located adjacent to the Neal Creek Lumber Company's mill on the Mt. Hood Loop highway, near Odell.
With a majority of better than 6 to 1,000 voters of Hood River City endorsed the $60,000 bond issue, proceeds of which are destined to be used for the construction of a swimming pool. The vote was: Yes, 398; No, 61. While the location of the pool has not been definitely decided upon, it is anticipated that a site near the city high school will be selected, and it may be incorporated into a wider plan for a recreation park at the same location.
1955 — 60 years ago
The Underwood Fruit and Warehouse company fire was brought under control at 1 p.m. Tuesday after 100 firemen from seven departments battled the stubborn blaze over 13 hours. The Hood River pumper made two trips to Underwood with a total of 3,000 feet of hose. Eighteen local fireman fought the fire and Hood River sent a truck to White Salmon to serve as a standby.
1965 — 50 years ago
Voters in Odell showed clearly how they feel about the community's sanitary problem when they voted 89-4 to form a sanitation district Tuesday. They selected Addison McCoy, John Weber and Lloyd Henry to be directors.
Ground was broken last week on a Heights parking lot for one of the newest business additions to Hood River, "BG's Quick Stop" grocery store. Bill Chrisman and Gordon Chrisman (no relation) will be owners-operators of the 44 by 100 foot grocery. In addition, work started this week on a modern bakery at Brookside Market, to be operated by Redmond baker Carl Durgan.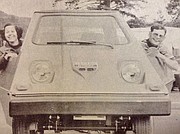 1975 — 40 years ago
A tramway for Cascade Locks looked one step closer in its journey from drawing board to Columbia Gorge cliff late last night when U.S. Forest Service official John McGuier denied two appeals aimed at blocking the chance of a planning permit for an aerial tram on Mt. Hood Forest Land. "The Port, immediately upon receipt of the planning permit, requested the construction permit," said Port manager Ron Rombalski. Delay in the appeal decision came after the lock area in the Port of Cascade Locks was designated a National Historic Site.
A recent survey of county grocery stores revealed a repeat in the shortage of some home canning products. Last year when sugar prices were highest in history, the canning jar was hard to find. This year, so far, sugar has come down nearly 50 percent in price, but the canning lid is virtually unattainable for most homemakers.
1985 — 30 years ago
There'll be no shortage of ways to celebrate the nation's July 4 birthday this year in Hood River. A parade, barbecue, ball games, food, an inner tube race on the Columbia River, and the most elaborate fireworks display in recent years are all planned.
Last marks of a "ghost town" image at the main entrance of Hood River's downtown were disappearing this week. It happened when protective plywood covering was ripped from windows at the Hood River Hotel, which Gayle Weisfeld hopes eventually to restore to its original grandeur. Windows had been boarded up since June 1973 by order of the Oregon State Fire Marshall.
1995 — 20 years ago
Hood River's police department may be just a few weeks away from moving into a new home, City Council learned at its regular Monday meeting. The police department may lease the main floor at 216 Cascade Avenue, currently the Parker, Bowe and Blakely law offices.
Parkdale knows how to throw a party, and it's inviting the world to its second annual Summer Festival — an event coordinated with the 1995 Walk of HOPE. This benefit for the Hutson Museum will be held on the museum's park like grounds. Mountain views are part of the package. The seventh annual Walk of HOPE will start at the Polallie Creek trailhead and end at the museum during the festival.
2005 — 10 years ago
Cliff Sellers had been working for SD&S Lumber Company for four years when on March 1 of last year he received the offer from Mt. Hood Forest Products. Mangers there wanted him to us his 34 years of mill and millwright experience for their new project off Highway 35 near Parkdale. The old Hanel Mill.
Two 19-year-old babysitters of preteen boys were injured after jumping off a train trestle to avoid being hit by Thomas the Tank Engine Thursday. Their two young charges escaped injury, one by leaping 15 feet in to the Hood River, and the other by crouching down on a support beam on the side of the tracks.
— Compiled by Trisha Walker, news staff writer