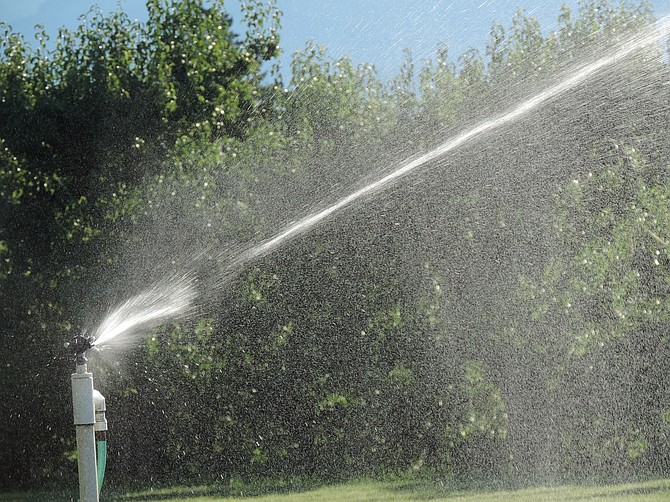 The FID Board of Directors unanimously passed a resolution Tuesday declaring an emergency authorizing the district to implement water rotation procedures to address drought conditions. Compliance will be voluntary, but monitoring will be done by FID and violations could lead to shut-off.
"At the current 'burn rate,' the District does not have sufficient water resources to continue providing irrigation water to its patrons for the entire irrigation season without instituting additional water conservation measures," the resolution states.
"In accord with the existing 2015 District Curtailment Plan, district-wide water use has already been restricted to 75 percent of the full water right and junior water right holders have already been ordered to not use water at this time.
"Despite these efforts, in-stream supplies for the upper and middle district are currently only at 75 percent and it is still early in the season with the current forecasts predicting continued hot and dry conditions."
The resolution states that those found in violation of the rotation schedule will be given a warning and allowed 24 hours to bring their operation into compliance.
The action follows last week's decision by Hood River Board of Commissioners to pass a drought declaration resolution, which is expected to be signed next week by Gov. Kate Brown. Hood River joins 20 other Oregon counties that have issued a drought declaration this year, including neighboring Wasco, Sherman and Gilliam counties.
Due to a related USDA (federal) drought designation, Hood River County farmers, businesses and residents are potentially eligible for low interest emergency loans, which opened access for low interest USDA loans to farmers, businesses and nonprofits impacted by the drought. For more information, please contact the Hood River USDA office.
Barb Ayers, county emergency services manager, said that all residents, businesses, visitors and landowners are reminded of the extremely hazardous fire season conditions in Hood River County, due to high temperatures, low humidity, consistently high Gorge winds, lack of rainfall and snowmelt. Oregon Department of Forestry recently restricted all forestry lands to level 3 (extreme fire danger) regulations, which limits the use and safety requirements for mowing, weed whacking, campfires, harvesting, off road vehicles and other activities.
FID rotation schedule is essentially a 3.5 day on, 3.5 day off rotation of the Upper and Middle FID Districts that are affected by "extremely limited Kingsley Reservoir flows," according to a letter to from FID. In the letter, FID customers are allowed to use irrigation water only during "on days" and must cease irrigating during all other times.
However, Indian Creek Golf Course owner Brian Brandt said the FID board did not ask any of the users at the meeting to give their opinion.
"It's a bad deal for me. It's going to affect my operations," he said. "An every other day schedule would be good for me and for a lot of people."
Areas of his golf course might not rebound if let go dormant, because of the clay content in the soil. "It will just go bare and we'll have to re-seed," he said.
Here is the geographical breakdown of the FID rotation schedule:
Group one – On days Sunday, Monday, Tuesday and ending Wednesday at noon.
All of Binns Hill Drive, all of York Hill Drive, all of Riordan Hill Drive, all of Frazier Drive, upper Tyler Drive, Westwood Drive, Phelps Creek Drive. All of Kingsley Road, Country Club Road to Barrett Drive, West Wind, all of Sunset Road, Sky line Drive, Reed Road.
Group two – On days Wednesday starting at noon. Thursday, Friday, ending Saturday at midnight.
Country Club Road from Barrett North, Barrett Road to Markham Road, Cannon Drive, Rockford Road, lower Tyler Drive, West Belmont, Firwood Drive, all of Kenwood Drive, all of Markham Road, all of Portland Drive, Carter Road, Doug Fir Drive, Hayes Drive, Royal Anne Drive, Hayworth Road, Riverdale Road, Peters Drive, Kahoe Drive.
District irrigation water lines will remain charged, so turning your irrigation water off is voluntary. FID crews will be enforcing this rotation schedule daily. Patrons that fail to comply with the rotation schedule risk further sanction, up to and including having their irrigation water shut off. Farmers Irrigation District is asking that all district water users voluntarily stop watering lawns and any non-essential landscapes for the duration of the summer. FID orchardists and farmers are asking for support in dramatic, voluntary cut-backs in the watering of lawns so that our extremely limited supplies can be focused on critical farms and crops. River flows are the lowest they've been in over 30 years and we need everyone's help to get through this unprecedented drought.