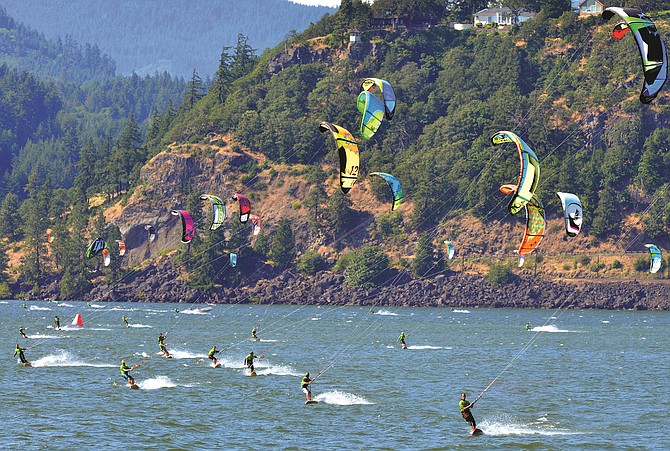 Part endurance race, part festival, part fundraiser, the 9th Annual Kiteboarding 4 Cancer (KB4C) presented by Patagonia is an action-packed, feel-good event with a goal that lifts everyone's spirits: help young cancer survivors find hope and healing through outdoor adventure.
Set for July 10-12, at the Hood River Waterfront, KB4C features something for everyone, including live music, a pop-up art studio, local food carts, a beer garden hosted by Full Sail Brewing Company, and of course, lots of eye-catching kiteboarders showing off their best moves. On Saturday, July 11, the mighty Columbia River becomes the stage for the KB4C Kite Derby, North America's largest amateur kiteboarding race, drawing 200 amateur and professional kiteboarders. During the six-hour race, participants collectively cover 200,000 miles and raise thousands of dollars for cancer survivors by completing as many 3-mile laps as possible.
While most kiteboarding races are sprints, KB4C is a test of endurance — not unlike the battle with cancer that an estimated 14.5 million Americans are facing, says race founder and director, Tonia Farman.
"It's a unique event that's intentionally designed to test people's limits," she says. "It's one of the most challenging kiteboarding events in the country."
Farman was inspired to launch KB4C in 2007 after her only sibling, Scott Farman, died at age 19 from acute lymphocytic leukemia. In 2007, KB4C raised $30,000. Last year, it raised $112,000.
All proceeds from the event benefit Athletes 4 Cancer, a nonprofit that offers week-long adventure retreats for cancer survivors ages 18 to 40. Through the process of learning adventures such as surfing, standup paddle boarding, skiing and snowboarding, participants gain the confidence and healing they need to face life with, or after, cancer. Thanks to events like KB4C, the camps are free, other than airfare, for participants. Nearly 400 people have attended the camps — known as Camp Koru — since 2010. There are currently 100 people on the waiting list.
KB4C offers many must-see-and-do moments, starting with the official start of the Kite Derby on Saturday, July 11 at 10:15 a.m. From the vantage point of the Hood River waterfront, with traditional Japanese Taiko drums roaring in the background, spectators can watch as 200 kites launch into the sky and take off across the Columbia River. To sign up to volunteer, or make a donation, go to: kiteboarding4cancer.org.
Event highlights:
Friday, July 10, 9 p.m.–midnight: Kickoff Party at the Oak Street Pub (corner of Fourth and Oak, Hood River, formerly known as the British Pub). An all-ages party featuring a DJ, fire dancers and more. Cost: $5 for racers and volunteers, $12 for the public.
Saturday, July 11, 10:15 a.m.–4:15 p.m.: Kite Derby staged at the Hood River waterfront. North America's largest amateur kiteboarding race, event features 200 kiteboarders completing 3-mile laps across the Columbia River over six hours.
Saturday, July 11, 10:15 a.m.–6 p.m.: Live Entertainment. Experience performances from One World Taiko (Japanese Taiko Drums) Mosley Wotta, LoveBomb Go-Go, Bonneville Power Trio and Smoke on the Water.
Saturday, July 11, 10:15 a.m.–6:30 p.m.: Boards of Hope Auction. Throughout the day, bid on works of art created on recycled surf, kite and other boards. Starting at 6:30 p.m., bid on live auction items, including adventure and vacation packages.
Sunday, July 12, 10 a.m.: The Never-Ever Windsurfed-Before Race. This race is open to people who have never windsurfed. After a quick 30-minute clinic, participants will take to the water for a beginner slalom course race.