Kid-friendly programs abound in Hood River County. Here are a few ideas to get you started.
At the Hood River Library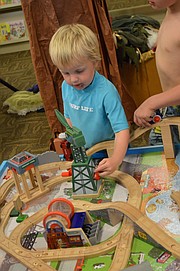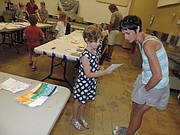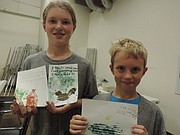 Wednesdays: Free family-friendly entertainment comes to the library starting at 5:30 p.m. Past shows have included live bugs and "seriously funny juggling."
Thursdays: Crafternoons at 2 p.m. Come in and cool off with a fun, free project.
The library also has summer reading programs for children, teen and adults at its branches in Hood River, Parkdale and Cascade Locks, and it's not too late to sign up. Kids can earn prizes as they progress towards their reading goal, teens will earn prizes for hours completed, and adults will be entered into a raffle for each book read.
Junior Tennis Clinics
Junior Tennis Clinics for ages 7-16 take place July 11-17 and Aug. 1-2 at Tsuruta Courts, taught by 2015 HRVHS grad and tennis team member Brandon Campos. Cost is $5. To sign up email brandoncampos90@yahoo.com.
Cub Scouts
Cub Scout Pack 378 has two upcoming events: On July 11, join the pack for a fishing trip at Laurence Lake. Boys must be accompanied by a parent; bring pole and bait. Prize for biggest fish caught. Hot dogs, refreshments provided.
And Aug. 15, the pack will hike to Tamanawas Falls. Meet 10:45 a.m. at Mt. Hood Store. Boys must be accompanied by a parent; bring day pack, lunch and full water bottle.
For more info on both these events, call 541-354-1323.
Summer Art Experiences
Columbia Center for the Arts has several Summer Art Experience camps in a variety of mediums and for a wide age group. Upcoming events include:
July 6-9 — 9-noon. Long-necked whimsical creatures. Ages 8-12. $85
July 6-9 and 13-17 — 1-4 p.m. Shakespeare for teens. Ages 13-18. $150.
July 13-16 — 9-noon. Costume and soft sculpture with Megan Mesloh, Wildcraft Studio School. Ages 7+. $90.
July 20-23 — 9-noon. Mon.: Introduction to visual journals; ages 9-15, $30. Tues.-Thurs.: Learn to draw what you see; ages 6-12, $75.
July 20-23 — 1-4 p.m. Handmade books of all shapes and sizes. Ages 9-12. $105.
July 20-23 — 1-4 p.m. in the theater. Physical theater. Ages 7-12. $85.
July 27-30 — 9-noon. Learn to paint what you see. Ages 6-12. $90.
July 27-30 — 1-4 p.m. Creative paper engineering. Ages 8+. $85.
Aug. 10-13 — 9-noon. All the arts theater camp. Ages 4-6. $85
Aug. 10-13 — 1-4 p.m. Textile play: Intro to weaving, painting on, dyeing fabric with Megan Mesloh from Wildcraft Studio School. Ages 12+. $135.
Scholarships available. More at columbiaarts.org/SummerArtExperience.
Camps
July 6-10 and Aug. 3-7 — Theater and Art camps, 9-1 p.m. at New Vision School, Mt. Hood Town Hall. For kids ages 4-12. $250 a week per child, with sibling discounts and partial scholarships available. For more info call Heather Laurance, 541-390-0352.
Now through July 10 and Aug. 10-21 — Summer camp at Blossoms Bilingual Preschool , 7:30-4:30 p.m. in the Pine Grove Elementary cafeteria. July session theme: Culture and Language; August theme: Nature in the Gorge. More info at 541-399-4840 or hrblossomspreschool@yahoo.com.
Community Education
The summer Community Ed catalog has a number of camps, sports and activities for children and teens of all ages. A few upcoming classes include:
July 6-16 — Summer Day Camp Water WOW for grades K-5 with instructor Amanda Dommer and staff. Meets at Westside Elementary; cost is $285 camp only or $330 for extended care.
July 6-8, 13-15, 20-22, 27-29, and Aug. 3-5 — Summer Art Camp for ages 5-8 with instructor Joy Kloman. Meets at May Street Elementary; cost $75.
July 8-29 — Dance Camp, 4-16 years with instructor Taylor Simonds. Meets at Westside Elementary; cost $180.
July 10-Aug. 12 — Drivers Ed for teens 15 and over. Meets in the Coe Building; cost is $335 for 18 and under and $545 for those over 18.
July 13-24, July 27-Aug. 7 and Aug. 10-21 — Rock Band Summer Camps for ages 8-12 and 13-17 with instructor Tim Snyder. Meets at Underground Music Station; cost $249.
July 14-16 and Aug. 4-6 — CrossFit Hood River Kids Camp for kids 5-11 years with instructors Lauren Munk and Katie Rae. Meets at Power Station; cost is $30 per day or $80 for 3 days.
July 27-Aug. 7 — Summer Musical Theater for grades 4-10 with teacher Rebekah Meyer. Meets at Hood River Middle School in the cafeteria; cost is $295.
Aug. 20-22 — Beginning Band Camp for Middle School, Aug. 20-22 with teacher Rebecca Nederhiser. Meets at Hood River Middle School in the music room; cost is $35.
For more information on these and other classes, contact Community Ed at 541-386-2055, community.ed@hoodriver.k12.or.us or www.communityed.org.