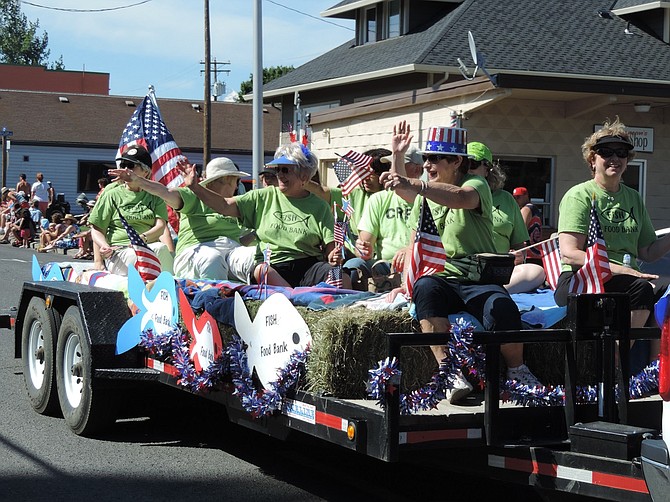 Barbecue smoke wafted over an empty main lawn of Jackson Park on July 4.
Oh, there were people there — it was a well-attended community July 4 Celebration to follow the parade. Long lines of people formed to savor the Hood River Fire Department's annual barbecue — but to beat the 90s heat they took their plates of food and crowded the park's shaded periphery while they ate and listened to music.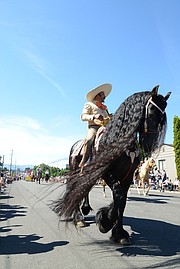 Meanwhile, in Odell, the annual parade delivered its usual variety of folks on cars, horses, ATVs, motorcycles, and on foot, and the unusual sight of a helicopter flyover. The parade flowed into El Mercado del Valle farmers' market at neighboring Mid Valley Elementary School. See page B6 for a page of Odell photos.
Independence Day got an "Independence Eve" preview with the first live Radio Tierra show from Bingen Theater. The event, playing to a packed house, benefited The Next Door Inc., food bank programs in Klickitat County, and Hood River's efforts to support the community of Kumari, Nepal, heavily damaged by earthquakes this spring.
Musical groups Harmony of the Gorge, Los Temerosos and others performed at an event that brought the mayors of Hood River, Bingen and White Salmon on stage together, and the theater and radio audiences heard American folk songs, patriotic numbers, love songs and even a protest song, tongue twisters in English and Spanish, the poetry of William Stafford, and more.
July 4 got started with the Kollas-Cranmer Memorial Run from Odell to Hood River — details on page A7 — and the run/walk melded into to the July 4 parade, as it does each year. On a flatbed truck, the grand marshals — FISH food bank volunteers — waved while wearing matching green shirts.
The Portland marching and The Beat Goes On did lively sets on the move and then gave a lengthy concert after the parade, complete with dance and baton teams on that hot Jackson Park lawn. Local band Willie and Nelson did two long sets, and emcee Keith Doroski, attired in U.S. flag-decked shirt and cowboy hat, kept the program moving. (Doroski also rode in the parade perched in the bucket of his company truck, see below.)
"Several people have told me that this was the best parade ever," said Tom Yates of Hood River Lions, who coordinate the July 4 events. "The local entries are getting better every year and it was special to have the 90-plus members of The Beat Goes On marching band be in the parade and put on a 40 minute program in Jackson Park after playing our country's National Anthem. It is nice to know we can give some monetary prizes to the category winners from the entry fee."
Parade winners were:
Youth — Gorge Kids Triathlon
Commercial — (tie) Western Antique Aeroplane and Automobile Museum and Doroski LLC (Gate Latch And Door)
Non-profit — (tie) Love Wins (celebrating Supreme Court decision on same-sex marriage) and Immanuel Lutheran Church
Music — Hood River Gold Stars
Special Mention — American Legion
Touched By Award — Hood River Fairgrounds' riderless horse, honoring deceased veterans; Sushi Okalani, supporting FISH food bank.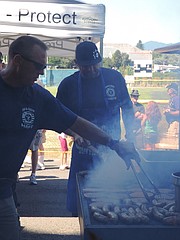 "My thanks to more than a dozen generous businesses who helped sponsor the music. Add to that the City of Hood River, Hood River Chamber of Commerce and the Hood River Rotary Club. I also thank all the volunteers who helped on the parade route and in the park," Yates said.
Yates noted that while there were fewer people in the park as usual, "we were fortunate to have the coolest days in this latest hot spell. The westerly breeze made both the parade and park activities tolerable. We also had some new vendors in the park."
FOUND HELMET
Yates reported that as the events were winding down a mother reported her son's lost green-colored bike helmet.
"With an announcement from the stage, it was found and is waiting for the family who asked for help. However, I didn't get the name of the mother except that her family lives up on the Heights somewhat close to the park. So, I hope she contacts the Hood River News (541-386-1234) so they can get word to me. One more good reasons why Hood River is such a great place to live."