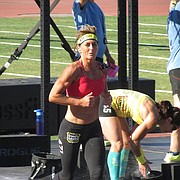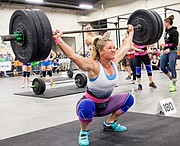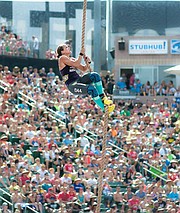 For the second year in a row, CrossFit Hood River Athletes are heading to the annual CrossFit Games in southern California to compete against some of the sport's best athletes on the planet.
Hood River residents Regan Huckaby, Christine Wells, and Karen McCadam will be attending the games that start July 21 in Carson, Calif., which serves as the world championships for the sport. This is the second year for Huckaby and Wells and the first for McCadam. All three are trainers at CrossFit Hood River, which is located at 1813 Cascade Avenue.
Jeri McMaster, owner of CrossFit Hood River, said this is the most individuals from her gym that have ever qualified for the games, which began in 2007. Huckaby, 28, qualified for the U40 open category after placing fourth in the west regionals in Seattle. Wells and McCadam both qualified in the Masters category, with Wells in the 45-49 age group and McCadam in the 40-44 group.
Worldwide, about 207,000 people try out for a chance to compete in the CrossFit games, with only the top 20 in each regional qualifier making it to the games. Each athlete has to complete a number of different exercises in a designated timeframe and meet a certain performance standard to qualify, McMaster explained.
"The concept is all-around fitness," McMaster said of the philosophy behind CrossFit. "The idea is that all the movements are functional-based movements. There's no machines — everything is going to be on the floor on a bar or with a barbell. You're scored for how quickly you can finish or how many reps you complete in a specific amount of time, or strength. We're testing strength and speed together."
Last year, Huckaby finished 30th overall in her category and Wells finished 10th after originally entering the contest as an alternate. McMaster noted that McCadam has been "almost making it (to the games) for several years" and is "real excited" to see what McCadam can do.
Getting down to and living in Southern California while the games are going on isn't exactly cheap, though, and CrossFit Hood River will be hosting two events to help raise funds for the athletes.
The first event will be a car wash on Saturday, July 11 from 12-3 p.m. in front of the gym on Cascade Avenue. The second event is a party and silent auction at Rack and Cloth in Mosier on Sunday, July 12. The event starts at 5:30 p.m. with a group bike ride (if you want) through the Mosier Twin Tunnels to Rack and Cloth. The auction opens up at 6 p.m. and live music starts at 7. The event concludes with a bike ride at 9:30 p.m. through the Twin Tunnels and back to Hood River.
For more information, call CrossFit Hood River at 541-387-4504.