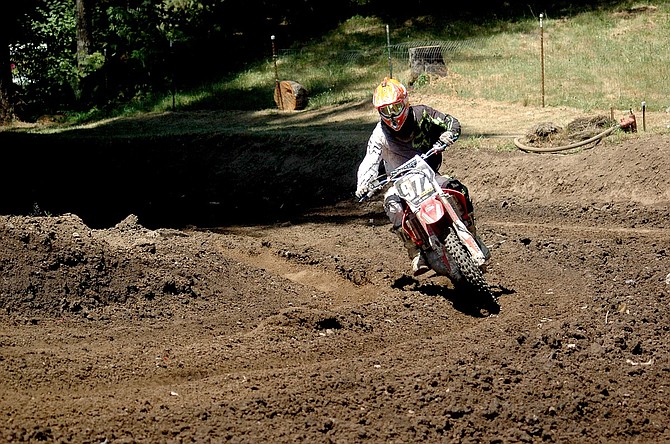 In the Columbia Gorge, there's certainly a wide variety of outdoor activities available for people to enjoy throughout the summer.
Many area residents participate in the family-oriented sport of motocross. Kids of all ages, adults, and even senior citizens compete at nearby motorsport facilities in Washougal, Wash., Sandy and Portland.
Hood River riders who enter motocross racing events every week include the McDowell family, Jason Dageus, Matt Kent, and Collin Sullivan. Other Gorge residents, such as Michael Spears and son Chris of Cascade Locks and Kevin Beloy of White Salmon also race often at Washougal Motocross Park, located on the far northeastern side of the city.
Kent rode his 250cc Suzuki motorcycle and he took eighth place in the 250 D Class race July 4-5 at Washougal. Beloy rides a Kawasaki in the age 25 and over class and the 30 and over class and he leads the Classic Series point standings in both classes. Sullivan rides a Suzuki in the 30 and over B Class and he recorded a season best finish May 24 at Washougal.
Ryder McDowell, who has a very appropriate name for motocross, rides a Kawasaki 250cc motorcycle in the Classic Series 250 C Class at Washougal and he took 23rd place in his last race there May 3. McDowell, 17, an incoming senior at Hood River Valley High School, also competes often in races at Mountain View Motocross Park in Sandy and he practices there every Tuesday with his friends.
One fact about McDowell competing in a physically challenging sport like motocross that makes his accomplishment even more amazing is that he's blind in his left eye. McDowell is also a member of HRV's varsity boys lacrosse team and is an avid kiteboarder.
Ryder's dad, Terry, also competes in motocross. Terry, 48, rides his 250 Kawasaki in the age 40 and over B class. Terry had a season-best third place Classic Series finish on May 3. Terry and his wife Melissa operate their own business in Hood River, McDowell & Son Heating and Air Conditioning. Terry's daughter Bleu, 15, is also beginning to compete in motocross and she participates in practices that are held frequently at Washougal. Bleu hasn't entered any competitive races yet, but she'll probably follow in the footsteps of her mom Melissa, who is a former motocross racer too. Bleu is an incoming HRV sophomore and she's on the Eagles cheerleading squad.
"Bleu is still a little timid on the track, but she likes going out on trails to ride," said Terry McDowell. "Washougal can be an intimidating course for beginners like Bleu, but she's become more comfortable out there now after participating in a few practice sessions and she really likes motocross."
Riders in the Classic Series compete for points, prizes and trophies which are awarded at the end of the season in September. The Classic Series is seven races that draw over 200 cyclists from around the Northwest who compete in many different race classifications of various age groups (age 4 through age 50 and over) and skill levels (beginner, intermediate, expert). Terry McDowell is ranked sixth in the over 40 class with 38 points and the McDowells will compete in the next race at Washougal on Saturday and Sunday.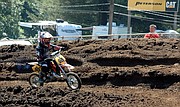 "I've been doing trail riding on motorcyles since I was age nine and I've continued doing it all my life," said Terry McDowell, who previously owned a KTM motorcycle dealership in Hood River, which closed in 2008. "When we had our kids, it was just a natural thing for them to get involved in motocross, because we all enjoyed riding. After we opened our business, we were pretty much doing trail riding and going to Washougal to race nearly every weekend."
Local cyclists who competed in the last race July 4-5 at Washougal included the father/son duo of Michael and Chris Spears. Michael took fifth place in the Age 30 and over B Class July 4 while riding his 250 cc Kawasaki. Chris, a third-year motocross rider, took fifth place in the 50cc age 4-8 Junior Class on July 4, followed by a sixth-place finish July 5. Chris, age seven, has recorded top-seven finishes in all six events this season. Chris is sixth in the standings with 47 points out of a total of 35 riders in his class.
"I've been doing pretty well in the 30 and over class and I've finished in the top three of the Classic Series point standings the last three years," said Michael Spears, 33, who works for the Cascade Locks Fire Department. "I love racing and I'm having even more fun teaching Chris how to ride too. He's getting better, he's improving every year and he really enjoys motocross, so he's doing pretty good."
Dageus, 23, took sixth place in the 250 C Class while riding his 100 Percent Goggles/Dunlop Tires sponsored 250cc Honda motorcycle. Dageus is ranked 21st with 23 points out of a total of 53 riders in his class. Dageus, who took fifth place in the 2014 point standings, has entered four of six races this year and riders have to compete in a minimum of five events to be eligible for awards at the end of the season. The final Classis Series race is Aug. 15.
"This is a very competitive sport, but it's a lot of fun and I had a great time while racing here all weekend," said Dageus, a 2010 HRV graduate who has been competing in motocross racing since he was age 15. "Even though the weather was really hot, I still enjoyed racing and I had lots of fun both days. This is my favorite track and I like to come here as often as possible along with my friend Matt Kent."
Washougal MX Park has events held every weekend through September. The track's premier race is the Peterson Cat/Lucas Oil Pro Motocross National Championship Series July 22-25. Races are four laps on the 1.5-mile-long densely forested hillside course consisting of steep downhill sections, sharp hairpin turns, jumps, and a bumpy straightaway. It's considered one of the top facilities in the country and is one of just 12 tracks in the U.S. to host the National Championship Series.