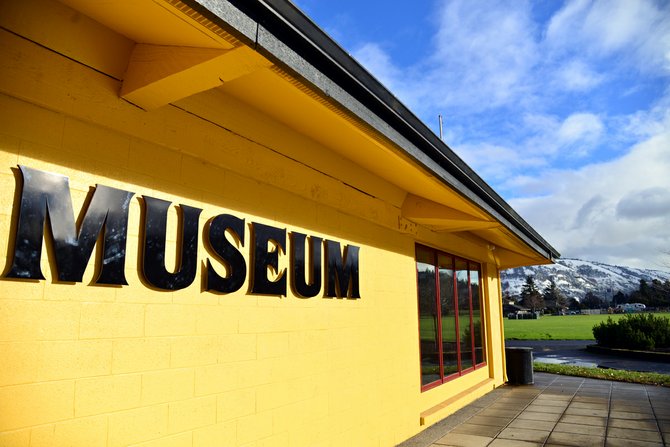 The Hood River County History Museum is re-orienting following the loss of its executive, as is the Hood River Heritage Council — one board member stepped down citing a need to spend more time volunteering elsewhere, as well as "frustrations" with the council.
Museum director Megan Shuemate was dismissed June 26, less than four months after moving from Wisconsin to Hood River to take the position. Later that month, Ralph Staley, Heritage Council Board Member, resigned from his volunteer position.
Staley, who had served on the board for three years, said he wanted more time to volunteer at his church, Seventh-Day Adventist in Hood River, and to work on his yard. However, Staley said he also stepped down due to "frustrations," specifically that he disagreed with the Heritage Council's decision to terminate Shuemate.
Staley said he was worried the council would get a reputation for "laying off our directors." Long-time director Connie Nice stepped down in 2014 for medical reasons following a protracted series of organizational changes sparked in 2013 by county concerns about record keeping.
"In my opinion, the Heritage Council makes opinions where the long term results are not addressed," said Staley.
Staley said he generally supports the council — and will continue to help out as a handyman on a couple of museum projects — but he was frustrated with the council on several matters, including Shuemate's termination.
He said he was out of town when the Heritage Council voted to terminate Shuemate's position. He received an email regarding their decision after the fact.
"I feel I really should have been there. I could have had my say," said Staley. "I wanted her to feel good when she moved on … that it wasn't because of her that it went bad."
Shuemate said that management had been "unprofessional" and "unethical" during her tenure. She also said her position had been made difficult by the museum's split from the County in 2013, in which the County closed the museum and audited its funds. She said the "fiasco" had made local businesses and stakeholders "weary of volunteering with the museum, having any business dealings with it and with visiting it."
Jean Harmon of the Heritage Council said conflicts between the museum and the County had been resolved before Shuemate took up the position.
"They've been well sorted out since before (the director) came. We talked things over. We worked it out," said Harmon.
Heritage Council Chair Dottie Gilbertson said the museum director job is "a tough position," and she named "experience" and "maturity" as factors the Heritage Council had taken into account when making its decision to fire Shuemate.
"At that time, where she was in her career and her experience didn't fit with where we wanted to go forward with the museum," said Gilbertson. "Dismissing Megan was a council decision ... we were thinking of what is best for the museum."
Shuemate argued that she made significant achievements while on the job. According to Shuemate, during her time as director she raised $1,400 at a wine tasting event, reached out to City and County leaders and implemented the main summer exhibit: "Outdoor Recreation: The Heart of Hood River County."
Staley, who helped Shuemate put together displays and historical pieces for the project, said she "exceeded my expectations on the exhibits we put up."
The Heritage Council has launched a nationwide search for a new director.
In the meantime, Gilbertson said, the museum will continue with its exhibits as normal, and consider adding paid hours to its AmeriCorps volunteer, Andrea Smith, who leads volunteer programs and museum activities.
"If there's some extra hours, we're gonna try to have her get paid for that," said Gilbertson.
Currently, the museum is hosting a gallery of paintings from the Hood River Art Club, and a bevy of other activities, including the Historic Downtown Walking Tours every Tuesday at 10 a.m. and Saturday at 4 p.m. until July 28.