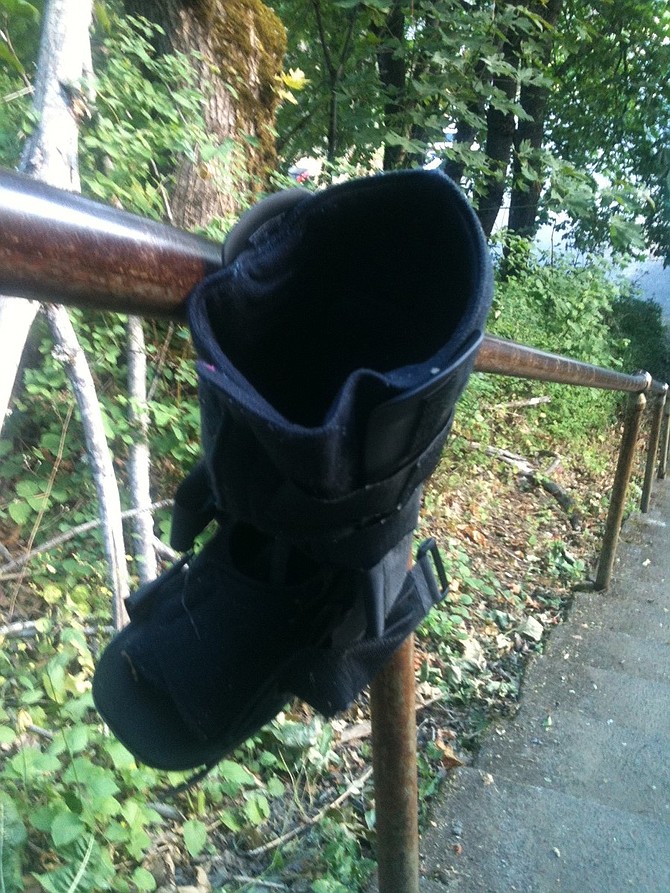 BOOT HILL: Someone strapped a black therapeutic boot to the railing on the 9th Stret-Montello stairs.
WELL SAID: "The love of one's country is a splendid thing. But why should it stop at the border?" – Pablo Casals
SEEN AND HEARD: Bumper sticker: "Occupy Your Garden" … kids keeping cool by bouncing on trampoline under tree with sprinkler hanging from branches … One Dad , after delivering toddler to pre-school, walking home with trike in hand and helmet in the other … Another Dad, riding unicycle and carrying tricycle ... Boy, about 10, managing to both kick soccer ball and hold small dog on leash, dog and ball going in different directions … "Dormant Lawns for Farms and Fish" signs going up … 8 p.m., Wednesday: patio full of diners at Apple Valley BBQ in Parkdale …
TIME IS an illusion but distance is not: why is it the blue ODOT attractions sign on Highway 35 at Van Horn Drive says Mt. Hood Winery is a "1/2 mile" east?
The winery is no more than 200 yards from Highway 35. The winery's own sign and indeed the building are hard to miss, but someone could drive right past them, up and around the butte, and get to the Pine Grove School – about a half-mile down – looking in vain for a place to partake of Pinot. Ironically, there is another blue sign for Mt. Hood Winery on the highway, just up from Pine Grove's other winery, Wy'east, that accurately reads 1/2 mile to Mt. Hood Winery.
SPEAKING OF PEAKS: Those two wineries are named for the same mountain – Wy'east being the indigenous name for Mt. Hood. And isn't it time for a collaboration between two other local businesses whose names extol local mountains? A brewer's dinner pairing Twin Peaks Restaurant and Double Mountain Brewery seems a natural.
SURF-board's up, surfboard's down: the surfboards decorating the former Pint Shack and the former Idlewild Market are gone, but you can see a piece of beach gear on display at Dog River Coffee: along with Michelle Yamamoto's paintings inspired by "The Big Lebowski" (see Walter shout!) is the Hood River artist's intricately-painted surfboard, just inside the door.
SKI TIP: Plenty of changes (soda fountain!) at The Old Trunk on Dee Highway, en route to Parkdale, including eye-catching road signs employing old skis.
SCANNER stuff: Strange to hear a 911 dispatcher, quoting someone reporting trespassing, saying one of the suspects wore a "wife-beater." The term, for a tight-fitting tank top generally associated with men who commit domestic violence, has apparently not become totally passe.
Dispatcher was just repeating what she had been told, but nonetheless a jarring reference to what styleite.com terms "fashion's most offensively-named shirt."
Want to "set a spell" on The Porch? It's part almanac, calendar, diary and conversation, and open to anyone. Readers are welcome to send brief items at the Hood River News office, by mail at P.O. Box 390, Hood River, or to kneumann-rea@eaglenewspapers.com.