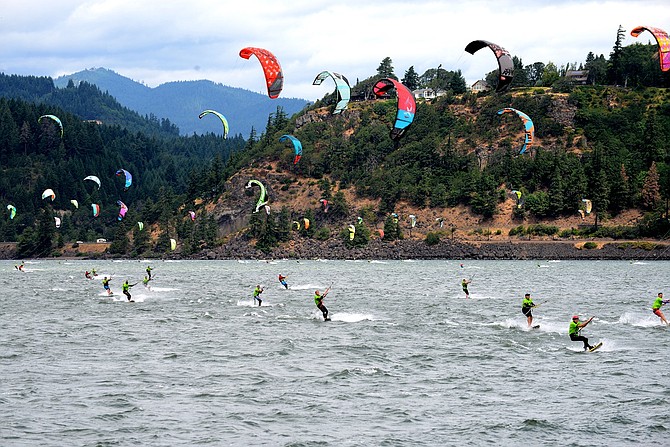 The dark clouds that gathered Saturday morning failed to dampen the spirits of those who gathered at the Hood River Waterfront to watch the 9th Annual Kiteboarding 4 Cancer kite derby get underway.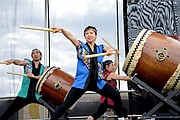 Legions of kiteboarders circled on the far side of the Columbia River, then bolted to the Event Site as the derby got underway, racing behind the pilot boat, bolstered by the thunderous sound of Japanese taiko drums pounded by One World Taiko, who opened the event. On that gray morning, the colorful kiteboard sails and shirts of the derby participants stood out more than usual on the Columbia.
By late afternoon at the conclusion of the derby, 225 kiteboarders sailed a total 3,303 laps around the approximately 3-mile course — some racing for the entire six hours of the derby. Event founder and organizer Tonia Farman said it was the most in the event's history and far exceeded last year's tally of around 175 participants.
"The turnout was ridiculous, in a good way. It was way more than last year," she said, adding that there were "a lot more spectators this year" as well.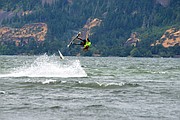 Farman, who lives in Hood River, began the event in 2007 after her only sibling, Scott, died from acute lymphocytic leukemia. He was only 19 years old. An endurance race, Kiteboarding for Cancer (KB4C) is an homage to the long fight those who are afflicted with cancer often have to face.
All proceeds from the event benefit Athletes 4 Cancer: a nonprofit that offers week-long adventure retreats called Camp Koru for cancer survivors ages 18 to 40. Fundraising efforts allow the camps to be free (minus airfare). The first year, the event raised $30,000. Last year, the event raised $112,000. As of Monday night, 2015's KB4C raised nearly $115,000 — and that hasn't even taken into account employer matches, which usually come in later, Farman reported.
Derby Results
Individual Women (Laps)
1) Rachel Callahan (65)
2) Carol Bolstad (55)
3) Savannah Boersma (47)
Individual Men
1) Grom Gorley (78)
2) Tony Bolstad (66)
3) Tamir Hayman (64)
Individual Foilboarding
1) Cynthia Brown (71)
Individual Grom
1) Bataya Boersma (51)
2) John Michael Harman (49)
3) Savannah Boersma (47)
Team Foilboarding
1) Ride Engine (Patrick Rebstock, Reed Brady, Sebastien Sutter, Brendan Richards)
2) Liquid Force (Brandon Scheid, Julien Fillion, Jason Slezak)
3) LP Foils (Drew Christianson, Fred Hope, Mark Ribkoff)
Team Kiteboarding
1) Naish / Cabrinha (74)
– (Naish: Michael Duhaime, Ewan Jaspan, Katie Potter, Jesse Richman)
– (Cabrinha: Matt Elsasser, James Boulding, Reo Stevens, Damien LeRoy)
3) Team OG 2nd Wind Sports (64) (Mark Barnes, Scott Edgar, Pepi Gerald, John Gilman)
The spirit and many of the activities of the event are the same as previous years, but some changes were made for 2015. Farman said the course was tighter and more exciting, with different buoy placements making for a faster downwind race, "which made it a really exciting spectacle for the Event Site." Farman had arguably one of the best views of all, hovering above the river in a helicopter, with her radio linked up to the PA system so she could offer commentary to spectators from her perch high above the Columbia.
"You can't really see all the chaos that ensues from the Event Site," she said. "I was speechless watching all these kites."
Also new this year was the Never-Ever Kiteboarded Race on Sunday, which saw so many participants that "we had to turn people away," Farman noted. Thankfully for the kiteboarding neophytes, the wind wasn't as strong as it was on Saturday for the derby, where Farman said the wind was averaging a healthy 18-20 m.p.h.
Like in past years, a kickoff party was held outside the Oak Street Pub (previously known as the British Pub), and the Boards of Hope auction occurred throughout Saturday, where event goers could bid on artwork created on recycled surfboard, kiteboards, skateboards, and other items. Music, food, drinks, games and other activities kept people entertained throughout the weekend.
Farman attributed the large turnout, in part due to the outreach done by lead sponsor Patagonia, which drew many people from outside the area this year, she said. But despite the large turnout, it primarily remains a grassroots, local event, with Farman noting that "the community is just so supportive and they give so much, so many volunteers and local business that give their time and services."
And though kiteboarding may seem like the focus of the event, that's not really the case.
"We're getting more people coming to this event for this purpose, for this cause," Farman explained. "People like to come and share their stories about fighting cancer, being impacted by cancer, or healing from cancer.
"It's more of a celebration of life," she added.