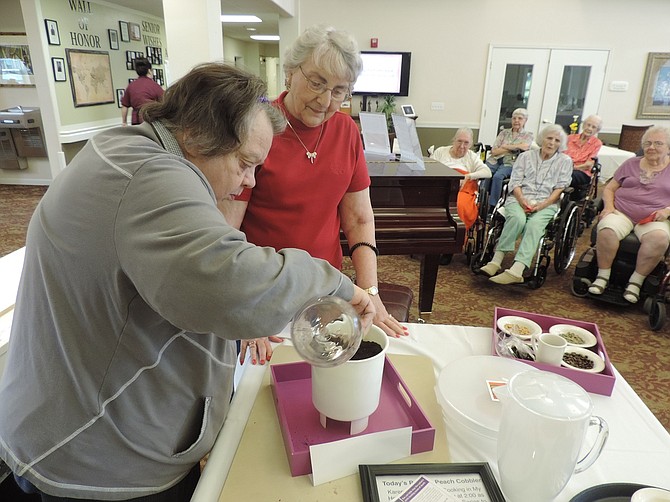 Hood River County Fair brings entertainment, activities for kids and adults, displays and exhibits, carnival and midway fun, horses, livestock, flowers, and food.
The fair won't open until Wednesday at noon but plenty happens Monday and Tuesday, including many opportunities to enter flowers, horticulture, baked goods, textiles and other categories.
Big Wids will desmonstrate wined sport gear on July 25, and July 23 is Oregbon State University Day at the Fair: meet Benny the Beaver in the kid zone.
Thursday is Senior Day and that night the 2043th Army Band will perform.
For full schedule details, the best resource is the Fair Book, available at businesses throughout the Gorge.
Also new this year: not one but two golf carts to transport those who need mobility assistance. Griffith Motors and Les Schwab Tires donated the vehicles to the Fair, and they will make the rounds between the fair office and parking and animal barns and other far-flung areas of the fair.
New to the fair is the first 50 Plus Expo on July 23.an opportunity to learn about a variety of services and programs for older adults in the Gorge. Thursday is Senior Citizens' Day – seniors pay $5 to get in.
Expo vendors and participants will include massage and acupuncture services, senior and assistand living centers, home care providers, health and rehabilitation services, exercise and recreation outlets, realtors, dentists, and more.
Columbia Cascade Housing Coproration is working with Mid-Columbia Se nior Cetner, Falstone Living, and Mid-Columbia Medical Cetner to put on the event.
OregonState University Extension, Providence Hopsice of the Gorge, Mid Columbia Fire and Rescue and Hood River Fire Department, and the Veterans Services offices of Hood River and Wasco counties will be on hand.
Learn about housing, life planning, weight control, services for disabled adults, health diagnoses, caregiver stress and other topics surrounding aging.
Regular general admission prices to the fair are $7 per adult Wednesday, Thursday and Friday, and $10 on Saturday. Admission for children aged 6-12 is $2. Children under 6 admitted free. Season tickets are available ($24 adults, $5 ages 6-12 inclusive).
The fair opens each day at noon; carnival rides begin at 1 p.m. Check the schedule, as FFA and 4-H events begin earlier. Many favorite displays have moved to the blue gym this year from the gold. Musical performances are free with paid admission.

Friday evening, beginning at 4:30 p.m., is the 4-H/FFA Livestock Auction in the livestock arena — the all-important culmination of a year's work for the 4-H and FFA livestock exhibitors. Check the schedule for all the 4-H and FFA competitions and activities.
Country music star trio Gloriana performs Saturday evening, July 25. Hood River's Ben Bonham will open.
Musical entertainment begins Wednesday evening on the park stage at 8 p.m., with a Patsy Cline impersonator. On Thursday at 7:30 p.m., the 204th Army Band performs on the main stage. On Friday, it's a full evening of Hispanic music on the main stage, with Oregon bands playing from 7-9 p.m., and California's Banda La Movida beginning at 9 p.m. Hood River Supply, Juanita's Fine Foods, and Hood River Taqueria are sponsors.


Gloriana debuted at No. 2 on the Billboard Country Albums chart, becoming the best-selling debut country act of 2009. They performed as Taylor Swift's opening act during her Fearless Tour, and have also opened for Jason Aldean, Alan Jackson, Brooks & Dunn, and the Zac Brown Band. Awards have continued to be come to the group, and in June 2015 they released their latest album — Gloriana THREE —which bolsters their signature harmonies with new musical styles. Brothers Tom and Mike Gossen and Rachel Reinert make up the trio.
Also free with fair admission are many other great attractions — many found in the park area, or around the fairgrounds. Kidz Dental is sponsoring many of the park activities.
SCHEDULE DETAILS
For additional information about the Hood River County Fair, call the fair office at 541/354-2865, or check the website at hoodriverfair.org.
Entry schedule for Adult baked goods, clothing food preservation, fruits and vegetables, textiles and youth baked goods (in Community Building) -- 11 a.m. to 7 p.m. Monday and 8 to 10:30 a.m. on Tuesday.
For Commercial exhibits, art, hobbies and handicrafts, photography and ceramics (Blue Gym) -- 11 a.m. to 7 p.m. Monday and 8 to 10:30 a.m. on Tuesday.
Open Class exhibits judging will be Tuesday from 1-7 p.m. and for Flowers, Wednesday noon to 4:30 p.m.
In the park, the "Walk on the Wild Side" exotic animal show displays a wide range of exotic animals and reptiles in a jungle atmosphere, and Godfrey the Magician serves up award-winning comedy and levitation tricks. Professor Bamboozle's Road Show brings laughs and fun — and balloons — to the park and fairgrounds. And look for Dr. Solar's Good Time, Traveling Medicine Show's unique magical and educational family-friendly entertainment.
"Wool Busting!" is back. Kids up to 55 pounds and younger than 12 can try their hand at riding sheep. It's a start for the next generation of rodeo stars. Shows daily! There's fun for bigger kids, too, including the Buck-A-Ewe mechanical sheep, and "Just for Fun" Roping Clinics. Kids can also enjoy more sedate pony rides in the park.
The Frank Herman Arena will be a busy during the fair. Wednesday at 6:30 p.m. is the Hispanic Horse Show. Thursday through Saturday featues popular Team Penning and Ranch Sorting clinics and competition, Youth Gaming Events, and more. Check the schedule for all of the arena activities. Friday morning, beginning at 9:30 a.m., a special competition — with prizes — is set for kids. Two classes, one for ages 8 and younger, the other for ages 9-13 will be held. Preregistration is required.

Every day is "Bracelet Day" on Cascade Amusements carnival rides. Save money on rides by purchasing a $22 ride bracelet ticket for just $17 in advance of the fair's opening. They're available in Odell at the fair office, Mid Valley Market, Hood River Supply, and G.G's; at McIsaac's in Parkdale; at Juanita's Market in The Dalles; and at Juanita's Market, Hood River Supply, and Columbia State Bank in Hood River, and must be purchased by 5:00 p.m., Wednesday, July 22. Each bracelet ticket purchased may be used on any one day of the fair, and is good for rides all day long. Carnival rides begin at 1 p.m. each day and continue until closing.