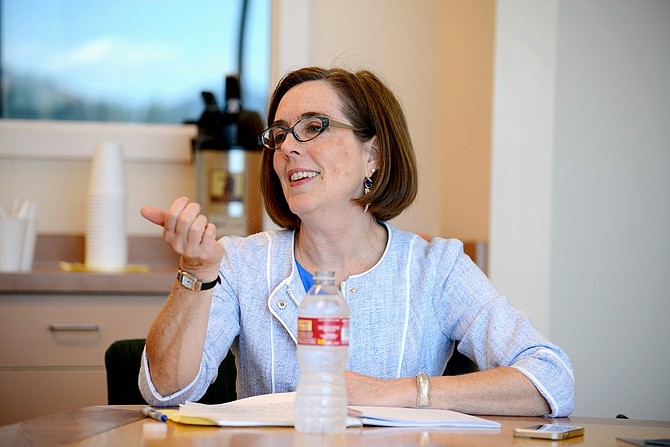 Oregon Governor Kate Brown sat down with the Hood River News editorial board Friday morning to discuss the prescient issues Oregon faces, part of her day-long visit to Hood River.
First, Brown signed the affordable college bill, SB 81, at CGCC Indian Creek. Then, she fit in a talk with the News between her speech at Leaders for Tomorrow and her business tours at Pfriem Family Brewers and Dakine.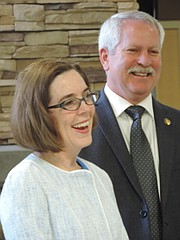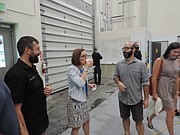 Brown fielded questions about numerous topics concerning the recent legislative session, from education and infrastructure spending to marijuana and the proposed Nestlé water bottling plant in Cascade Locks.
Education
Brown signed the Oregon Promise affordable education bill, SB 81, at CGCC Friday morning, then met with local education officials in a round table, discussing CTE and STEM education.
The complete total number of $7.4 billion (is) a significant increase from the last biennium.
Obviously the growing economy has something to do with that, but we were able to direct the dollars critically important to reducing class sizes, which I know is really an issue in this area.
We invested in Career Technical Ed and STEM education. I followed up the billing signing, Senate Bill 81, with a round table around that particular issue: how can we create an educational system — cradle through career — that will meet the needs of our diverse student body, giving the opportunity to expand their learning horizons but also meet the needs of our workforce, of the future.
We invested heavily in early childhood education, something I'm very passionate about, expanding access to Head Start, early funding, all-day kindergarten — something for the first time ever in Oregon's history — insuring access to more quality day care programs for working families, but also significantly investing in our K-12 schools.
We added $12.5 million to our ELL program and have revamped that. I hope it will be a more successful approach than our current system, as well as providing dedicated funding for GED programing in student absenteeism, and so I think there's some dedicated funding that will help different schools districts based on their makeup.
Also there was a significant investment in the Student Opportunity Grant. More than 16,000 students will be able to access these grants. These are additional students, after the current number.
So speaking as a whole I think we've made great strides in expanding opportunities for Oregon families across the state.
Sales Tax
I think we have to look at all the options, and I think the challenge for Oregon has been with our active initiative process, that it's really been a challenge to rewrite our entire revenue code. I know that we are an unbound stool. I think that question is, can we do it in a way that makes tweaks to the system that can survive the initiative process and I don't know what those answers are. At this point I wouldn't take anything off the table.
Nestlé water bottling plant
My job as governor in terms of this particular project is to facilitate the process and make sure that the laws are being enforced — state laws are being enforced. I guess what I would do is encourage Oregonians to get in touch with my office, which they seem to feel free in doing both through social media and paper and phone calls, but I would strongly encourage folks (who) are concerned or supportive of the project to be contacting directly the City of Cascade Locks.
Drought declaration
Hood River submitted an emergency drought declaration June 24 to the Governor.
We're moving very quickly on these drought declarations. I (have) declared 20 at this time.
So we move very quickly on them because we want to make sure that the communities can access all the available resources, including federal resources. You should know, obviously, the drought and its nefarious companion, wildfire, are at the (top) of my radar screen this summer, particularly with the warm, dry weather we're seeing. Unfortunately, we don't anticipate that this is a short term issue. This is a long term changing of our climate brought about by global warming and we're gonna need to take proactive measures to tackle these issues.
One of the things I'm doing next week is signing an executive order asking my agencies to develop water conservation plans, to submit those plans to the Water Resources Department and make sure they have metrics about their water usage and how we can measure if they're working to conserve energy.
And I'll just tell you personally, I'm reducing my shower time and I'd encourage my fellow Oregonians to do the same.
Oil and coal trains through the Gorge
In terms of our agency processes and my commitment on new projects … are to facilitate the process and make sure Oregon laws are being followed … that if there is a public process that it be a transparent one and that Oregonians are able to participate in that process and have their voices be heard.
I will be upfront, I did have a meeting with the governor of Wyoming and they're certainly encouraging us to move forward on coal projects, but I committed to making sure Oregon laws are begin followed.
Marijuana
This has been an interesting issue for Democrat and Republican legislators to come together. They've passed multiple major bills on this issue.
For me, I wanted to make sure that we kept marijuana out of the hands of young people —that means under legal age — and secondly, that we increased adults' awareness of marijuana, and third that we work to reduce or minimize the amount of marijuana going into the black market.
So toward that end, the bills I have signed I think move us in that direction.
When the legislature adjourned, I get 30 days to sign whatever I have not signed, which is including the bill you just mentioned, and during that, up until August 17, we have legal counsel doing very thorough legal reviews of the bills.
So until that legal review is complete, I don't commit to signing a bill either way, which is why I think it was a surprise on SB 81. Certainly it was a surprise for legislators.
Transportation and infrastructure
For the Oregon Business Council, business plan, investing in infrastructure and modernizing was a priority for the session and, obviously for me, coming together around a bipartisan package in terms of transportation was critical.
Whether you're just talking about congestion time in metropolitan areas so people can spend more time with their families, whether you're talking about businesses getting goods around the state, you know what a quagmire the metropolitan area can be but it's not just impacting Portland.
When I was in Medford a few weeks ago, companies (said they) are shipping goods to the Port of Oakland instead of the Port of Portland because of the congestion on I-5. It's not just Portland anymore. It's impacting all of us and it's a statewide issue.
Despite the fact that we have strong Democratic majorities in both houses, we need super majorities. And I think it's really important for major policy initiatives for there to be bipartisan support.
We couldn't get there is legislation and that is certainly a disappointment for me, but I think we laid the groundwork and built a framework for future discussion about a transportation package.
Rural speed limit bill
A proposed bill would raise speed limits in rural stretches of state highways, including I-84.
It's still in legal review.
One of the things that I heard from legislators is that on certain highways, if we can do so in a safe manner, that increasing the speed limit makes sense for their communities, so I heard that message.
I would say that the bill picks on some particular roadways and not others; that is what I will need to take a look at.
Just to kind of push back, I'm hearing from Oregonians who are concerned about increasing the speed limit, and one of the reasons that we went down to 55 (mph) and then raised it again was it increased gas mileage. So that is one of the concerns.
One of the challenges for Oregon's future is as more and more folks are driving fuel efficient or electric or hybrid vehicles, our revenue goes down in terms of the gas tax. So that is a very real challenge that we're going to need to face.