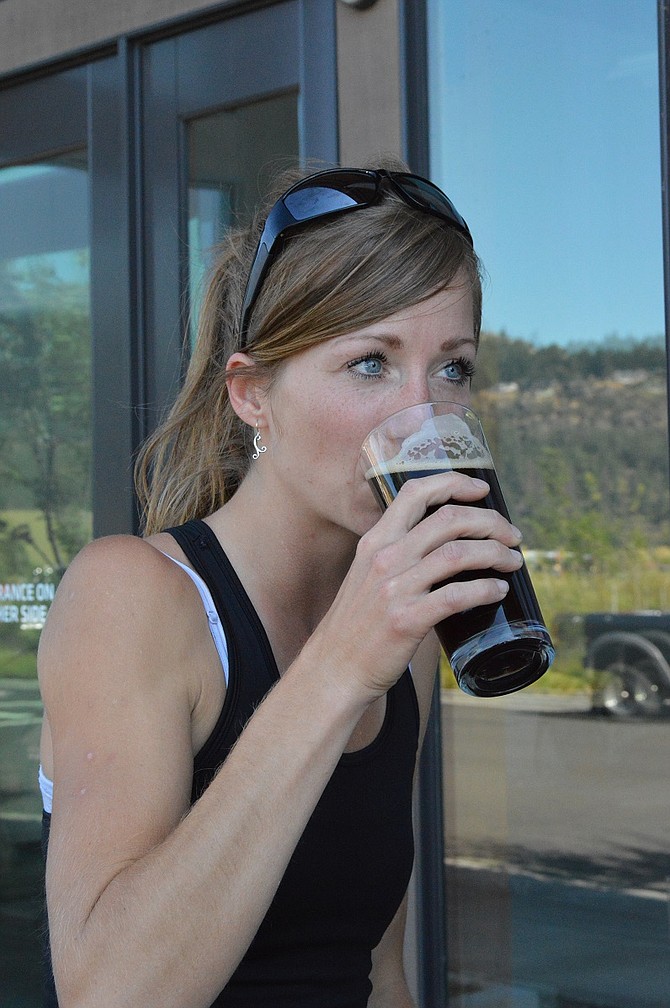 There's no real secret behind Cold Pressed Porter at Stoked Roasters in Hood River — but that doesn't mean this unique new ale is not deceptive.
As in surprisingly light and refreshing for a porter — and look out for the buzz.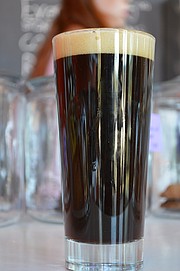 It's keg 2.0 in the first-time collaborative between Stoked and Everybody's Brewing in White Salmon. The inaugural keg came out in May at Everybody's — and went fast. The first Cold Brew Porter keg blew quickly at the brew pub.
"Now, we have it at Stoked, which is what we had hoped all along," Jax Koudele said.
"To be able to serve beer with our coffee in it is so cool," she said.
The porter is also on tap at Everybody's.
Jax and her husband, Lance, opened Stoked, on Portway Avenue, across from Waterfront Park, in early 2014. They offer an expansive menu of their own espresso drinks and smoothies made with beans they roast in the open, on premises. They also serve beer, sharing their taps with local brewers.
"Before we even opened it had always been our dream to do a coffee beer," Jax said. She talked with other brewers in the area but the venture never took off. Then this spring Doug and Christine Ellenberger of Everybody's approached the Koudeles about switching to Stoked as their house coffee, and after one tasting that agreement was made.
"They said, 'If you ever want to do a collaboration, it would be fun,'" Jax said. Two days later Stoked had a gallon of extract from First Tracks blend ready for Doug Ellenberger and brewmaster Jess Caudill, and a week later the brew was on.
Jax said roastmaster Derek Cerretani is looking forward to working with Everybody's on designing cold brew ales using different blends, and bottling or canning the concoctions.
Cold Pressed Porter is smooth, but not exactly sessionable, though that's not so much due to the alcohol content; it comes in 5.4 ABV and 45 Bu.
"First Tracks is a blend of two origins. We were going for a real bold flavor and roasted it right below a French roast," Jax said.
"It's pretty caffeinated and it also has the alcohol content," Jax said.
"If you have a couple, you're pretty wired," she said.
2nd Solog fest set for Aug. 22
Solera Brewery and Logsdon Farmhouse Ales have scheduled their second annual brewfest at Clear Creek Station, in Parkdale for Aug. 22 from 3 to 9 p.m. Unique seasonal beers, one-offs and collaborative brews will be offered by the two breweries. Enjoy live music, food and local vendors. Minors and nondrinkers are permitted for free. Tickets will be available for purchase at the gate and will cost $20. Price includes a commemorative glass with five tasting tickets. Additional tasting tickets will be available for $2 each. Apple Valley BBQ will be offering food for sale.
Double Mountain adds Peche Mode
Double Mountain has added a third beer to its sour ales line up with Pêche Mode, brewed with peaches. In addition to the much anticipated bottle release of the 2014 vintage of the Devil's and Tahoma (Rainier) Kriek Sour Ales brewed with Cherries, the sour series will be available on draft and in custom designed 375ml (12.7oz) split champagne bottles for purchase at Double Mountain Brewery and Taproom in downtown Hood River and in specialty bottle shops throughout the Northwest, Pêche Mode will be distributed the first week of August.
A Double Mountain seasonal favorite, the Homestead Northwest Pale Ale, is bottled for the first time and released to coincide with the renowned Oregon Brewer's Festival in Portland, this weekend. This refreshing straw hued pale ale (5 percent ABV, 50 BU) is currently available on draft and by bottle at the taproom in downtown Hood River. Homestead can be found throughout the Northwest, British Columbia, and Southern California.
"It is really exciting to have the Homestead in bottles and I think it is a great addition to our bottle line up." Head Brewer and Homestead creator Greg Balch said. "This refreshing and full flavored pale ale is sure to be a hit at any potluck with friends or the ideal beer to kick back and relax with at the day's end."
pFriem Family Brewers celebrates 3rd
pFriem Family Brewery announces their 3rd Anniversary Party on Saturday, Aug. 1, from 4 to 9 p.m. at the Hood River Waterfront Park's amphitheater directly across from the brewery. This event is open to all ages. The Portland based band "Scott Pemberton Trio" performs at the amphitheater at 7 p.m. In addition to live music, there will be a free bouncy house for kids from 4 to 8 p.m. food carts, and a pFriem beer tent, and the brewpub will be open with all wares flowing.