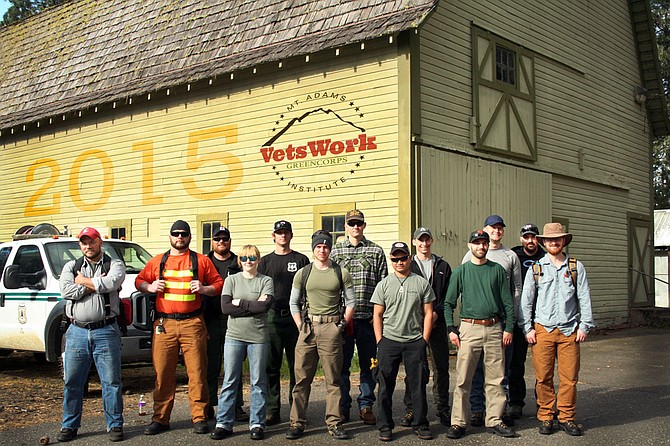 TROUT LAKE — The Mt. Adams Institute, based in Trout Lake, Wash., was awarded over half a million dollars to fund its VetsWork program for military veterans interested in careers in public lands and natural resources management. Funding for the program comes from the Corporation for National and Community Service (AmeriCorps).
The VetsWork program combines hands on training and direct service opportunities in which participants learn while engaging in public lands and natural resources management projects. Program partners include the U.S. Forest Service, U.S. Fish and Wildlife Services and other state and community partners. The program currently serves more than 50 participants in Washington, Oregon, Missouri, North Carolina and Virginia.

"The VetsWork program is intended to support military veterans as they transition back into civilian life by providing them with this opportunity to explore a potential career in service to public lands and the natural resources that abound in the region," said Brendan Norman, Executive Director of the Mt. Adams Institute.
"The goal is to help participants find employment in the sector and to that end, we've experienced success. 80 percent of our recent graduates in our VetsWork GreenCorps program (wildland firefighting training) were offered positions by the Forest Service," said Norman.
AmeriCorps grant funding will allow the program to continue into its third year, with possible expansion to new states.
Mt. Adams Institute is a nonprofit organization with a mission to strengthen the connection between people and the natural world through education, service learning, career development and research. In addition to VetsWork, Mt. Adams Institute also operates the Public Lands Stewards and Cascade Mountain School. More information about the organization and its programs can be found at: www.mtadamsinstitute.com and www.face-book.com/Mt.AdamsInstitute.