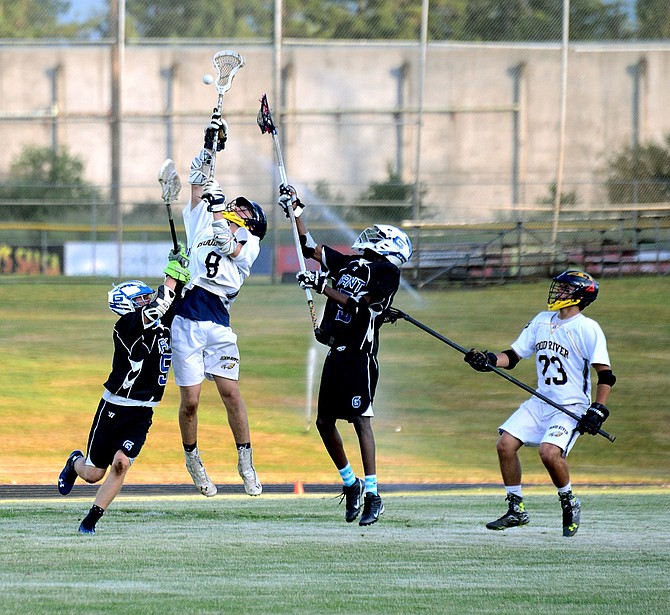 The HRV boys lacrosse team received its first true test Friday on its quest to win the school's first-ever Cascade Cup, erasing a two-goal deficit and holding in check a furious late rally by HRV's opponent, the Grant Generals, whom the Eagles defeated, 12-8.
No. 3 HRV faced off against No. 6 Grant in Hood River Friday night in home quarterfinal game that oftentimes felt more like an away game thanks to a sizable and raucous contingent of Generals fans who made the trek to Henderson Community Stadium to watch the two Portland League teams duke it out.
The Eagles didn't get the start they were looking for, coming out sluggish and giving up two goals within the first five minutes of play to go down 2-0.
"I think Grant came out and played a hell of a first quarter; they came out fast and I give them huge props. They played great all around," HRV coach Matt Luchsinger said, while noting that "it took (HRV) a quarter to realize, 'Wow, these guys came out to play.'"
A goal from attack Levi Glass with about three minutes left allowed HRV to somewhat salvage the first quarter. The second quarter, the Eagles sunk their talons into Grant, scoring four goals in just over six minutes to grab 5-2 lead and wrest control of the game from the Generals.
The key to the momentum shift, Luchsinger said, was the ability of long stick midfielder Alex Ellifritz to grab ground balls, which lead to scoring opportunities.
"Alex Ellifritz, personally, I believe he changed the game for us, by starting to win the ground ball battle at the midfield line, especially on the face-offs," he said. "We ended up scoring three or four goals off his ground balls."
Grant, however, was far from out of it, with the two teams horse-racing for the rest of the game. The Generals tightened things up, trailing 6-4 at the end of the half and then coming within one after scoring with less than eight minutes to go in the third quarter.
HRV pushed back, scoring five goals without a response from Grant to pull far out in front with a 10-5 and 9:25 remaining in the game. Again, Grant refused to go down, scoring goals at 8:29, 7:01, and 4:47 remaining to come perilously close to HRV, clinging to a 10-8 lead. As the Grant fans stomped on the stadium's metal bleachers and roared their approval at the momentum shift that prompted Luchsinger to call timeout, HRV assistant coach George Dolack advised his players that the next goal, regardless of which team scored it, was crucial.
Attack Torsenn Brown, apparently, was listening. After HRV took control following the faceoff, Brown ran to the right side of Grant's net and with a quick flick, scored a behind-the-back goal to put HRV up 11-8. Attack Henry Barton put in one more with 1:19 remaining to seal the deal for the Eagles.
"That was a huge momentum changer," Luchsinger said of Brown's goal. "I definitely believe that broke Grant's spirits. That's one of the best behind-the-back goals I've seen in high school lacrosse."
Goals were once again by committee, with eight players scoring on HRV's roster, with Luchsinger mentioning that the well-roundedness of the Eagle offense was a huge strength because "there's no one person (opponents) can take out of the game. The more guys involved, the better."
HRV's goals leader was Brown, with three, followed by Barton (2) Bruce Ostler (2), Jackson Lebsack (1), Elliot Cramer (1), Cody Wheat (1), Ben Van Hoose (1), and Jackson Lebsack (1), who also had a team-high three assists. Goalie Mikey Hall made nine saves for HRV.
HRV will now face the No. 7 Canby Cougars in the semifinals on Wednesday and will be looking for revenge after Canby defeated HRV, 17-7 in last year's Cascade Cup semifinals. Due to graduation setup, the game will not be at the high school as it would normally be. Instead, the game will be at the boys lacrosse practice field at Westside Elementary at 5:30 p.m.